Hero's stand at the Auto Expo 2018 will showcase the brand's latest and future offerings. The bike maker is expected to launch its new scooter and showcase the XPulse, in addition to few other concepts. These concepts will hint at future production-spec machines from the company, one of which could be a 200cc-plus high-capacity offering.
New 125cc scooter
The 125cc scooter market in India has seen a fair bit of growth in the recent years. Scooters like the Suzuki Access 125 and the Honda Activa have recorded decent sales figures, setting up this nascent segment to grow even further. So it's no wonder that even Hero MotoCorp wants to get a piece of that action. Word has it that the company is working on its own version of a 125cc scooter which should arrive sometime this year. This, of course, is not the first time that Hero has discussed a 125cc scooter. At the 2014 Auto Expo, the company had displayed a 125cc concept scooter called the Dare. At this point, however, there is no information on the new scooter, apart from the fact that the boffins at Hero's CIT (Centre of Innovation and Technology) in Jaipur are hard at work getting it ready, and the Dare concept should be a good indication of what it will be like.
Hero XPulse concept
Hero MotoCorp recently took the wraps off the much-awaited Impulse replacement – the XPulse concept. Taking the legacy of the Impulse forward, the concept presented a sharper focus on off-road performance, thanks to its ground clearance, off-road tyres, wind protection and an accessible seat height. The fuel tank, with pronounced knee recesses, features a flush-fitting fuel tank cap. As seen in the teaser, the bike features an upright and commanding stance, with a one-piece seat that extends onto the fuel tank – an expected element on an enduro motorcycle. The engine in the concept is shrouded with ample protection, which comes in the form of a compact, functional-looking crash guard (in white) and a drilled underbelly bash plate. While the XPulse is only a concept, Hero has indicated the possibility of it being production-ready by the end of 2018. The X-Pulse is expected to hit the market in the fourth quarter of this year and be priced around Rs 1 lakh.
Concepts
Hero is expected to display a few concepts at its stand, including one with a capacity of over 200cc. This high-capacity concept should draw interest and may even take centre stage at the stand. Along with it, the manufacturer is expected to display other concepts which will make it to production. Hero is also set to launch the Xtreme 200S by end-January and will have it on display at the Auto Expo.
Also see:
Hero Super Splendor, Passion Pro & Passion XPro first look video
2018 Hero Passion Pro, Passion XPro review, test ride
2018 Hero Super Splendor review, test ride
Hero Karizma XMR video review
8311 Views|29 days ago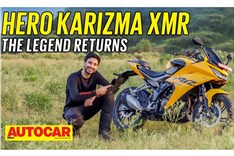 Hero Karizma XMR walkaround video
4222 Views|1 month ago
Quick News video: July 30, 2023
3098 Views|2 months ago