Harley-Davidson is all set to roll out a new model powered by the 1,250cc Revolution Max engine that debuted in the Pan America. This bike was earlier believed to carry the 1250 Custom nametag, but documents submitted to the US NHTSA confirm that the upcoming model will instead be called the Sportster S.
Will get the Revolution Max engine but in a lower state of tune
At 121hp, it will be close to 30hp down on the Pan America
An official unveil is expected on July 13
Harley Davidson Sportster S: power output
What the documents also reveal is that, though the Sportster S will be powered by the same Revolution Max engine as the Pan America adventure bike, it won't share the same power output. Probably due to a different state of tune, the Sportster will produce 121hp compared to the Pan America's 150hp. This is likely because H-D has focused on mid-range torque instead.
Even despite this 29hp deficit to the Pan America, the Sportster S will still be the second-most powerful machine in Harley's line-up, comfortably beating out the 107hp CVO Tri Glide. Its name also has some interesting implications.
Harley Davidson Sportster S: variants
The company usually uses the 'S' suffix to denote a more powerful version of a model, indicating that there could also be a standard Sportster coming in the future, with less power and/or less displacement. The Revolution Max engine was originally conceived to be a modular platform, with displacements ranging from 500cc to 1,250cc, so it's possible that the standard Sportster could feature a downsized Revolution Max motor.
All will be revealed soon enough, because the upcoming Harley-Davidson model is all set to debut on July 13.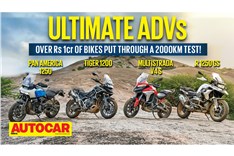 BMW vs Ducati vs Harley vs Triumph - 2000km ADV road trip...
6178 Views|7 months ago
Harley-Davidson Road Glide Special video review
6652 Views|11 months ago