In retaliation to the Trump administration's decision to tax aluminium and steel, the EU has introduced a 25 percent tariff on all motorcycles above 500cc from the USA. India also proposed a similar retaliation, recently, and has already written to the World Trade Organisation (WTO) regarding the same.
Every single motorcycle sold by Harley-Davidson and Indian Motorcycle in Europe comes under this new tariff, including the Street family of bikes that is manufactured in India. Meanwhile, electric motorcycles have been exempt, leaving Zero Motorcycles unaffected by this move.
Harley will certainly feel a sting from getting caught in this trade war, especially since the company's sales in the US have been on a steady decline over the past few years. While domestic US market sales still account for a majority of the brand's business, a good extent of the decline has been off-set by its growth in overseas markets. As things stand, Europe is Harley's biggest overseas market.
Sales in Europe grew by 8.3 percent from 2015 to 2016, before it plateaued out at a reasonably healthy 39,773 in 2017. In the same period, US sales plummeted by more than 12 percent from 1,68,240 to 1,47,972, showing just how much the Milwaukee manufacturer is struggling in its home market.
Meanwhile, Polaris-owned Indian Motorcycle will not be as badly affected as Harley-Davidson by these tariffs. It will still certainly suffer to some extent, though. According to Polaris' financial reports, Indian Motorcycle has out-paced a declining US market to show respectable domestic growth and it has mirrored this in its international business. Still, the new tariffs will surely put a dent in the bike maker's overseas sales. It will be interesting to see how the company copes, since it is one of the few companies in the Polaris portfolio that is showing growth.
Now, we wait to see whether similar duties will be implemented in India, as well.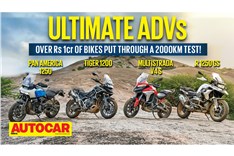 BMW vs Ducati vs Harley vs Triumph - 2000km ADV road trip...
6194 Views|7 months ago
Harley-Davidson Road Glide Special video review
6673 Views|11 months ago