Fresh images have emerged overseas of the long-awaited motorcycles being jointly developed by Triumph and Bajaj. Two bikes have been spotted so far, one that appears to be a standard naked and a scrambler style version of the same bike. It is quite likely that there are even more iterations of this platform, but this is what has emerged so far.
Bajaj-Triumph motorcycle: Engine
Both bikes run a single-cylinder engine with triangular-shaped engine cases that look similar to the bigger Bonnevilles. This motor has cooling fins, but these are purely aesthetic because there is a large radiator visible up front which means they are liquid cooled. Like the KTMs, this engine will use a 4-valve, DOHC layout. The street bike and the scrambler appear to be using different exhaust designs, with a twin stack exhaust on the scrambler, similar to what you'll see on the TVS Apache RTR 200 4V.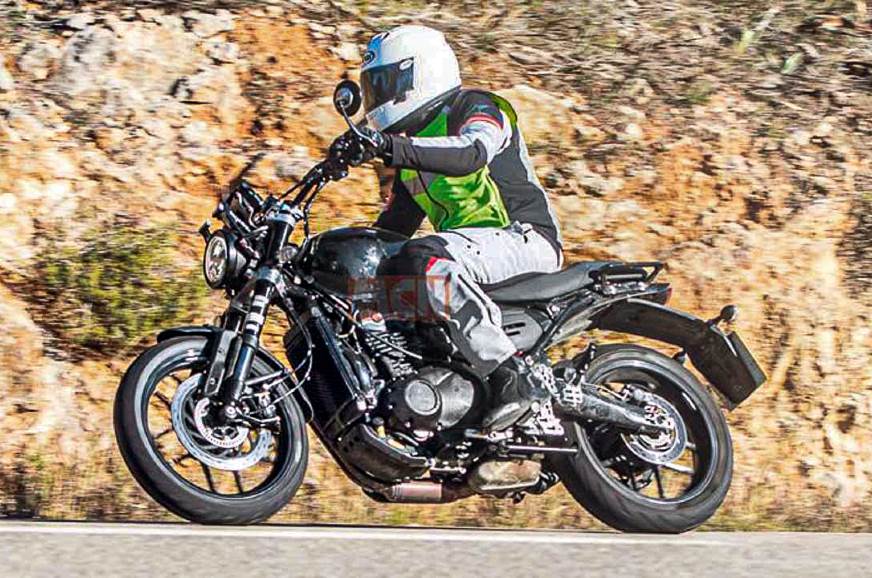 It's uncertain what size of engine this is and the Bajaj-Triumph range was expected to start with a 200-250cc motor. However, given the physical size of these engines, it could well be that these ones here are 350-400cc engines. Interestingly, the chain is situated on the right hand side of the motorcycle, which is opposite to what you'll see in the KTMs.
It will be interesting to see if the Bajaj Triumph bikes (like the KTMs) come in two or more engine sizes. Equally interesting will be whether these engines have any similarities to the existing KTM range – an idea not totally out of reason given that KTM CEO Stefan Pierer was present when the formal Bajaj-Triumph announcement was made in Pune in early 2020.
We also reported last year that Bajaj had patented a relatively cost-effective variable valve actuation concept, and these new motors could be the ideal recipient of such a technology.
Bajaj Triumph Motorcycle: Chassis
Both bikes are built around a tubular steel frame, which is more like what you'll see in the new Pulsar 250s, rather than the trellis frames in the KTMs. They both have bolt-on rear subframes and a USD fork, although the scrambler's seems to have longer travel. The rear suspension is taken care of by a monoshock, unlike the twin shock set-up on Triumph's larger modern classic range.
For the brakes, there's a 4-piston radially mounted caliper with a single front disc and both get alloy wheels, although the scrambler seems to be running a larger 19-inch front wheel. We can't tell what tyres the street bike is using, but the scrambler is on Metzeler Karoo Street tyres.
The images suggest that the scrambler will have a taller seat height that may be somewhere in the 830-840mm ballpark – where the current KTM Duke range is at. The street bike will probably be lower. The scrambler also has different, serrated footpegs with removable rubber inserts.
Triumph-Bajaj motorcycles: Design
Both bikes have immediate Triumph visual cues, particularly in the rounded fuel-tank with knee recesses. The round LED headlamp is another nod to Triumph's modern classic range, although the large rectangular digital display behind the headlamp looks quite out of place. Closer inspection reveals the shape of this display to be suspiciously similar to the unit on the current KTMs – it's quite possible that this is just there for testing purposes and the final production bikes will have a more aesthetically cohesive design for the instrument console.
The images of the street bike show a single-seat design, while the scrambler has a split seat set-up. Some images show the scrambler with handguards, a handlebar brace and a windscreen as well as a luggage rack. These items could also be offered as optional accessories – something Triumph tends to do with all its bikes.
Triumph Bajaj motorcycles: Expected price
Two years ago at the official partnership announcement, Rajiv Bajaj stated that the entry level Triumph Bajaj motorcycles would start at under Rs 2 lakh ex-showroom. A lot has changed since then, including the delay of this project to 2023 as well as much larger increases in raw material and transportation costs than could have been foreseen before the pandemic.
It is worth considering that Triumph prides itself on a high level of quality and you should expect to see that here too, not just in terms of technology, but also in the things like materials used and the general finish. We don't know whether these are 200-250cc, or 350-400cc bikes, but either way, it will be reasonable to expect pricing around the same region as the equivalent KTMs, if not at a slight premium.
As for when these bikes will hit showrooms, expect the bikes to go on sale sometine next year.
Image credits
2023 Bajaj Pulsar NS 160, NS 200 video review
6473 Views|2 months ago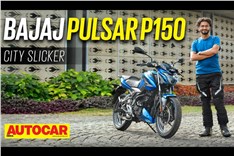 Bajaj Pulsar P150 video review
5255 Views|5 months ago
2022 Bajaj CT 125X video review
7597 Views|7 months ago