Tarun Mehta, co-founder and CEO of Ather Energy, believes that up to 40 percentof the Indian scooter market can be electric by FY2025.
Support from central and state governments is driving demand for EVs
Ather is targeting nearly 30 new showrooms by end-2021
It believes that the limiting factor for EV sales will be supply, not demand
Ather started off with a new showroom in Mumbai in January, and then expanded to Pune and Ahmedabad in February 2021. Since then, the EV maker has quickly taken its flagship experience centre – Ather Space – over to cities like Kochi, Hyderabad and Delhi. Its previous business model of company-owned showrooms has been revised, and the brand is now tying up with dealer partners.
There have been plenty of EV industry-friendly announcements and investments in the past couple of months, and there is a perceptible growth in demand for electric scooters across the country. To make sure that it is future-ready, Ather has drawn plans to scale up to nearly 30 more cities by end-2021, and is eventually aiming for up to 100 cities for showroom activity.
Ather's management is convinced that demand for EVs is on the rise and that customers "have bought into the idea of electric mobility".
"There is a ton of demand for EVs from all over the country," says Tarun Mehta, co-founder and CEO, Ather Energy, in an interview with our sister publication Autocar Professional. Mehta is bullish on the recent subsidy support from revisions to the FAME II incentive scheme, which have made the Ather models cheaper by around Rs 14,500, ex-showroom.
Additionally, states like Gujarat have announced EV policies of their own, with lucrative incentives given to the early adopters of zero-emission technology. These will also play a critical role in driving encouragement towards EVs.
"With the new subsidy support, I believe as much as 40 percent of the Indian scooter market can go electric over the next five years. The only constraints, however, would be the number of products available to the customers and the production capacity," says Mehta.
Nearly 4.5 million petrol-engined scooters were sold in FY2021, so Ather Energy's co-founder believes that there is potential for 1.8 million or 18 lakh electric scooters to be sold in FY2025.
Supply chain challenges
Ather is currently witnessing challenges to scaling up production and supply chain to remain in-sync with demand. In February this year, Ather's new manufacturing plant went online, with a production capacity of 1,10,000 e-scooters and 1,20,000 battery packs per annum.
"The problem is not going to be on account of demand, the only constraint would be in our ability as an industry to scale up," says Ravneet Phokela, chief business officer, Ather Energy.
"If the supply side gets sorted out, I don't think there's anything that can stop electric two-wheelers from capturing up to 50 percent of the market or even higher," he adds.
One of the factors driving adoption of electric two-wheelers – the 'low-hanging-fruit' of e-mobility in India – is the wallet-busting price of petrol, which has crossed Rs 100 in most metro cities and is nearing that mark in other regions. With an Ather e-scooter promising one-sixth the running cost of a petrol scooter, and more new players entering the field soon, it's safe to say that FY2021 will set a new benchmark for two-wheeler sales.
Ather Bikes
Ather 450S
₹ 1.54 - 1.69 lakh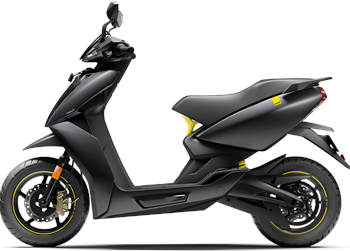 Ather 450X
₹ 1.63 - 1.64 lakh