Almost exactly a year ago, people in Mumbai stood witness to some gravity-defying motorcycle stunts, with Red Bull bringing its FMX Jam to Mumbai. The line-up of performers included renowned freestyle motocross riders like Robbie Maddison, Red Bull X-Fighters World Tour Champion Tom Pagès, Martin Koren, Radek Bilek, Julien Vanstippen and Russian FMX champion Alexey Kolesnikov. Alexey is widely regarded as the most prominent FMX athlete that Russia has ever produced, and he returned to India to perform as part of SRM University's Milan Colosseum sports festival in Chennai. We got to sit down with him for what turned out to be a quick, but fascinating chat.
"I started off taking part in motocross and enduro races and even took part in some national championships for about five consecutive years. My favourite part was the jumps and the reaction it got from the crowd and that's what I started chasing. Little by little, I started to create my own tricks and it just took off from there. It's great because you feed off the audience's energy and just flow with it."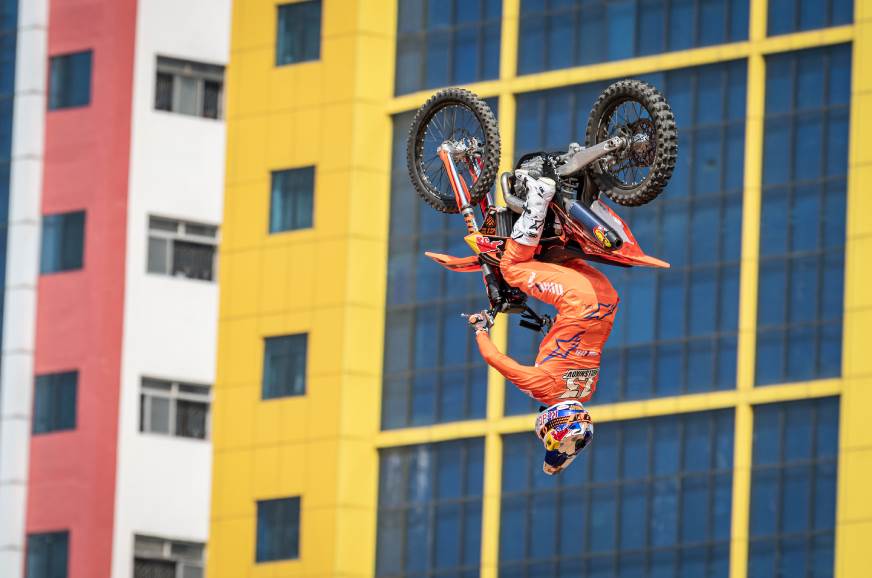 Kolesnikov is the first Russian rider to land a backflip.
Having watched him perform, I knew exactly what he meant. Alexey's show at SRM University was part of the opening ceremony of the sport fest, and it was spaced out into multiple sessions. This meant every time he went out to perform over the day, the conditions would be slightly different from the last time he was out. "This trip for me was harder than usual because of multiple factors. I couldn't practice yesterday because some parts for the bike reached us only at the last moment. And so I got to ride it and test the ramp only a few hours before the show. I found that the ramp was too steep, so we had to make some changes to the angle, and it's always sketchy when you have to make big changes just a few hours before the show."
Adding to all of this were the crosswinds on the particular day. Alexey had a flag hoisted at the top of the ramp so he could judge wind speed and direction. "The spectators can't really see how it affects us, but the wind is definitely the biggest factor to consider. You can perform in the rain or even in snow, but strong crosswinds will take the bike away from you and that's not something you want when you're 30m up in the air."
The Red Bull athlete is one of the most talented and reputed FMX stars to come out of Russia.
Despite the adversities, Alexey was thrilled about the opportunity to perform in India again. "This is my second time in India and when you look around, even here in the university, you can see the number of bikes there are. People here love motorcycles, and hopefully the next time I'm here I get to see some beginners having a go at the ramp. Every country starts out like this. If someone from this crowd, or someone who sees a freestyle motorcyclist perform, is inspired, that's all that's needed."