The Ducati team turned out to be an unbeatable force at the 2019 JK Tyre Indian National Racing Championship in the 1,000cc category, held at the Buddh International Circuit this past weekend. The championship itself comprises just two races held over one weekend.
The Italian manufacturer fielded two teams – Factory and North Star Automotive; the latter being the brand's dealer partner in the region. All riders lined up on the grid astride the Ducati Panigale V4 S. The bike maker says that the motorcycles were running in stock form, with the exception of slick tyres. It is worth noting that the Panigale V4 uses a 1,103cc engine, but is allowed to participate in this championship.
In Race 1, star rider and multiple-national-championship winner Rajini Krishnan, pulled into the pits after a technical issue while Ducati North Star Automotive's Bhumik Lalwani secured the top spot. Rajini Krishnan emerged victorious in Race 2, after putting up a thrilling performance, having started from last but regaining the lead within two laps. His teammate, Dilip Lalwani came home in 2nd place at the end of the same race, closely followed by Simranjeet Singh.
All in all, 11 Ducati Panigale V4 S bikes were ridden by participants in the races. The V4 also set a new record at the 2019 Autocar track day at the MMRT.
Speaking about Ducati's victory, Sergi Canovas, managing director, Ducati India said, "We are extremely proud of our riders' performance at this year's JK Tyre National Racing Championship which is not only one of the biggest but also one of the most competitive racing events in the country. I heartily congratulate Rajini Krishnan, Dilip Lalwani and Bhumik Lalwani for a stellar performance with the supremely capable Panigale V4 S being their weapon of choice. Personally, it feels great to witness and interact with the growing motor-sporting community in India. I am confident that next year will be even bigger, and we can't wait!"
Ducati Streetfighter V2 video review
2831 Views|19 days ago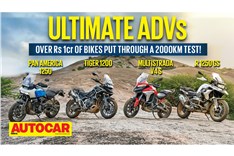 BMW vs Ducati vs Harley vs Triumph - 2000km ADV road trip...
4548 Views|4 months ago
2022 Ducati DesertX video review
7007 Views|5 months ago