Fernando Alonso says he has 'much more' confidence about Ferrari's potential for the title battle ahead, after ruling out the possibility of a start to the campaign as bad as last year.
The Spaniard helped Ferrari bounce back from a troubled pre-season testing programme in 2012 to take the title fight all the way to the final round in Brazil.
With the lessons learned last year, allied to recruitment of new aerodynamicists, Alonso said at Ferrari's Wrooom media event on Thursday that he was optimistic the Maranello outfit will hit the ground running in 2013.
"I am more confident, no doubt," he said when asked about his optimism for the season ahead.
"The rules are continuing more or less the same as last year in terms of aerodynamics. In the 2012 winter we changed completely the exhaust position compared to 2011, and it was a little bit of a guess what we found on the car.
"But this year everything should be much more normal and we are much more confident.
"We can be faster or slower [than the others] but not 1.5 or two seconds off the pace, because it was a record what we had last year. It is maybe impossible to be worse than last year, so I am confident."
Alonso believes that Ferrari will be better off in terms of its aerodynamic development because it has understood the Maranello wind tunnel correlation problems that marred its efforts last year, and has forced it to close the facility down for an upgrade.
He thinks that focusing all its efforts on using the Toyota wind tunnel in Cologne will be a positive.
"I think this decision should help us and gain consistency in the results we have," he said.
"An F1 team is extremely complex. Aerodynamics is one of the main components, and the wind tunnel as we have said more than once had some problems during the last season.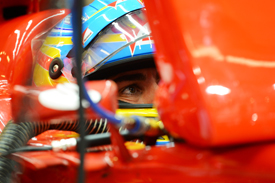 "We had a front wing that would give us two tenths of a second [in the tunnel]. We would keep testing it, bring it to the race track and then it would go even slower.
"There were times when what we were testing in the tunnel did not correspond to what would happen on the race track.
"So simply we remained a bit behind in the last few seasons. Starting from 2013, we hope we are the ones who will innovate and we will have good correlation between what we find in the wind tunnel and on the race track."
He added: "We have changed many things and not just the wind tunnel. We have been strengthened with new members in the team; we trust our technicians and we have total trust in the new arrivals in team, total trust on the heads and bosses.
"We must be focused on driving and both Felipe [Massa] and myself, we are sure more than in the past that this can be a bit better, both in terms of wind tunnel results and in terms of innovation.
"So we have to wait and see the result. From here to Australia there is still plenty of time."