Fabio Quartararo took his 4th win of the season to extend his advantage at the top of the championship table.
Quartararo is now 34 points ahead of nearest rival Johann Zarco
Maverick Vinales finished 2nd to give the Monster Energy Yamaha team a 1-2 result
Bagnaia led the opening stages but eventually finished 6th after a long lap penalty
The summer break
Yesterday's MotoGP race at Assen in the Netherlands was a rather important one. It determined how well most of the riders would sleep for the next 5 weeks. Because with the summer break now upon us, that's how long they'll have to wait before they can go racing again.
Race start
Fabio Quartararo will probably sleep the best of them all. The Frenchman picked up yet another win at Assen, his 4th of the season. In doing so, he has now extended his championship lead to 34 points over nearest rival and fellow Frenchman Johann Zarco. Quartararo nailed his start from 2nd on the grid, narrowly getting past and almost colliding with poleman and teammate Maverick Viñales on the run to turn 1. But Ducati man Francesco Bagnaia got an even better start and secured the holeshot, in typical Ducati fashion, pushing Quartararo back down to 2nd. The close call with Quartararo caused Viñales to check up, allowing Takaaki Nakagami to come past on his Honda, dropping Viñales down to 4th place.
This order remained for the next few laps, because even though Quartararo was clearly faster than Bagnaia ahead of him, he kept catching up with the Italian at sections of the track where it was almost impossible to overtake. And even when Quartararo did get past, Bagnaia was able to use his Ducati's horsepower advantage to reclaim 1st place down the home straight. Until he wasn't.
Quartararo breakaway
Quartararo changed his passing point to overtake Bagnaia early on lap 6, then using the remainder of the lap to unleash his pace, pulled away from the Ducati man. His win was pretty much signed, sealed and delivered by this point. Viñales was the only man who seemed capable of challenging Quartararo's pace on the basis of free practice form, but he was still mired behind Nakagami in 4th place.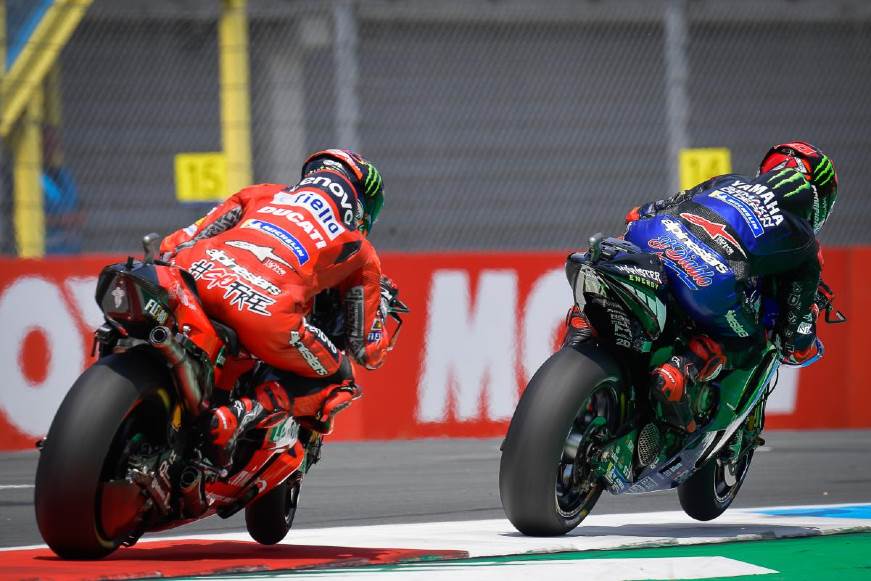 Making hay while the sun shone, Quartararo put in a couple of blistering laps to eke out an advantage ahead of Bagnaia, who now had his hands full defending his 2nd spot from Nakagami and Viñales behind.
Bagnaia gets penalty
The defense would prove futile, because the Ducati rider exceeded track limits one too many times in his desperation to stay ahead, earning himself a long lap penalty and dropping back down the order. Just as this happened, Viñales finally managed to get past Nakagami, and inherited 2nd place when Bagnaia took his penalty. He then set about chasing down Quartararo, but it was a case of too little, too late. Even though he could match and sometimes even better the leader's lap times, the gap was too large to bridge, and Viñales came home in 2nd place to complete a Monster Energy Yamaha 1-2.
Viñales jumps ship
Even though this is Viñales' best result since his win at the opening round, it's highly unlikely that the Spaniard will sleep soundly during the summer break. And that's because he has just prematurely terminated his contract with Yamaha. Even though he was signed up to ride for Yamaha in 2022, the two parties have mutually terminated their agreement, and Viñales will depart the Japanese manufacturer at the end of this season. The grape vine suggests he will make a shock switch to Aprilia – a move that is sure to give him some sleepless nights in the coming weeks.
The Hondas
After being passed by Viñales, Nakagami plummeted down the field to eventually finish a disappointing 9th place, which is sure to keep him up over the summer break too. He was the top-placed Honda man for most of the race, but that honour eventually went to Marc Marquez who came home in 7th place. If Marquez is indeed human and does require things like sleep, he can sleep well knowing that he's already racked up his first win since his comeback, but at the same time there is likely to be some insomnia induced by his still imperfect physical condition.
Joan Mir picked up his 3rd podium of the season with 3rd place at Assen. It was his teammate Alex Rins who many expected to feature at the front, but an aggressive overtaking move from Johann Zarco early in the race pushed Rins off track, into the gravel, and down to last place. From there, he fought back valiantly to 11th spot, but will definitely be forced to wonder what might have been. Zarco himself finished in 4th, ahead of top KTM finisher Miguel Oliveira. Having taken his long lap penalty, Bagnaia found himself embroiled in a fierce battle for 6th place with Marquez and Aleix Espargaro, and eventually won that tussle, ahead of Marquez.