Airbag vests made mandatory and new digital roadbooks to give aural warnings

Speed to be limited to 90kph in 'slow zones'

New 'Dakar Classic' category for rally vehicles made before 2000
The iconic Dakar Rally has officially released the route map and revised rules for its 2021 edition, which will once again take place in Saudi Arabia. Overall, the new rules focus on making the gruelling event safer for competitors and also see the introduction of a new 'Dakar Classic' category.
Here's everything you need to know about the 2021 Dakar Rally:
2021 Dakar Rally route
2020 saw the Dakar Rally kick off a new chapter in Saudi Arabia, ending the event's decade-long stint in South America. It was suggested that organisers could add a second country to the 2021 edition, with Egypt and Jordan listed as possible host countries. However, it has now been confirmed that the 2021 Dakar Rally will once again run entirely in Saudi Arabia, largely due to COVID-19-related travel restrictions.
Organisers have revealed that the 2021 route will be entirely new – while the bivouac will revisit some of the places where it set up camp a few months ago, the specials will be completely different. The 2021 Dakar Rally will be held from January 3 to 15, with Jeddah set to host the start and finish.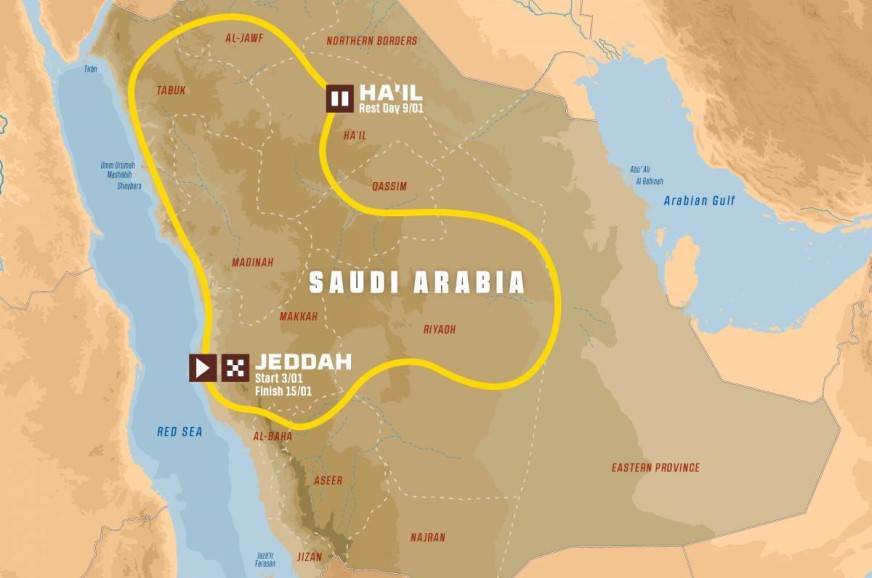 Safety takes the spotlight
This year's Dakar Rally unfortunately saw two riders – Paulo Gonçalves and Edwin Straver – tragically lose their lives. With that in mind, the event will be introducing some key measures to ensure the safety of competitors.
As reported earlier, airbag vests will be made mandatory for all bike and quad riders. These vests are already in use in MotoGP and have proven to reduce the severity of injury in a serious crash.
The roadbooks will now give all competitors aural warnings, around 100-200 metres before approaching level 2 and 3 difficulty zones. Moreover, the older paper-based roadbooks will be replaced by a digital version in certain categories. This should help the competitors focus on the road ahead instead of flipping through pages in the middle of a stage.
Additionally, especially tricky and hazardous sectors will be categorised as 'slow zones' where speed will be limited to 90kph.
Roadbooks to be handed before each stage
This year, the Dakar Rally trialled handing out the roadbooks just minutes before select stages. This practice will now be made standard, with the roadbooks being handed out to competitors in all categories just 10 minutes before the start of each stage.
This will in a way level all the participants, regardless of how much rallying experience they have, since they won't be able to study and prepare the roadbook in advance.
Penalties and limited tyres
From next year, competitors are going to have to have to be careful with just how hard they push their machines. No tyre changes will be allowed in the car category during the marathon stage – not even between competitors. Meanwhile, all the elite bike competitors will only be allowed a total of six rear tyres for the entire rally.
Also, from 2021, time penalties will be applied starting from the second piston change, even if the rest of the engine remains the same. Additionally, bikers will no longer be allowed to work on their bikes at refuelling stations.
Dakar Classic
Next year's Dakar Rally will also see the addition of a new 'Dakar Classic' category for vehicles that participated in the Dakar or other major rally-raid events before 2000, as a tribute to the event's roots. These vehicles will compete on a dedicated parallel course alongside the main rally
Also see:
Ricky Brabec, Carlos Sainz win Dakar 2020; TVS finishes 12th