Blaze of Glory: Dakar 2020
We witnessed the rally's arduous nature first-hand in it's new venue, Saudi Arabia.
Published On Feb 09, 2020 06:00:00 AM
7,066 Views
Follow us on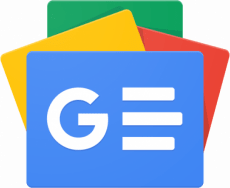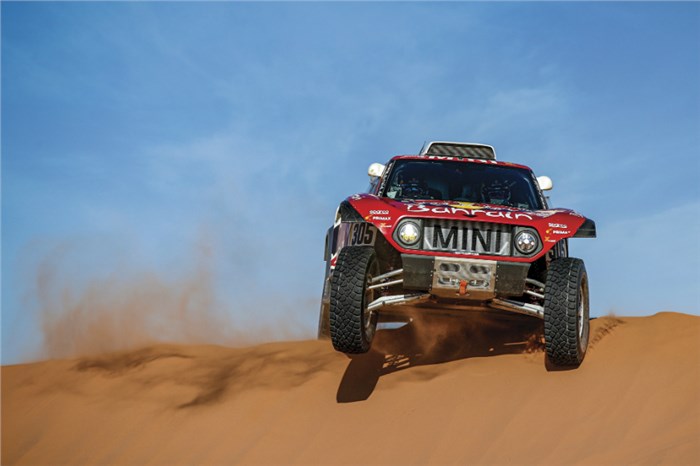 Carlos Sainz put up a brilliant performance to clinch a third Dakar victory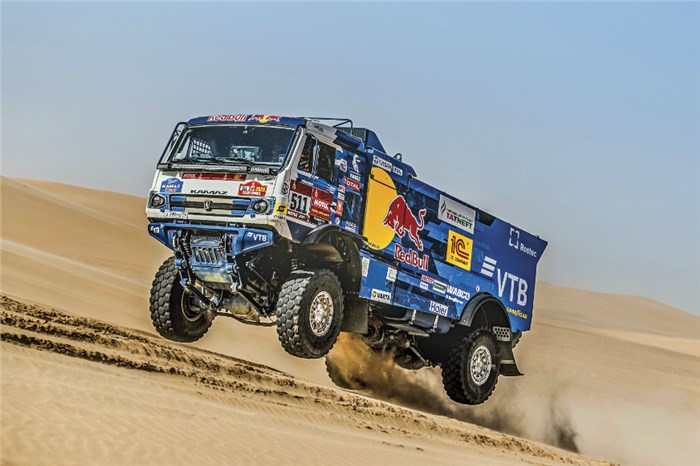 The Kamaz Master team dominated the rally in a spectacular fashion.
The tension in the air is palpable, as I stand at the top of a massive hill, waiting in anticipation. There are about 30 people scattered around me, holding on to every vantage point possible. In the distance is a magnificent mountain range situated somewhere in Yanbu, Saudi Arabia. With our eyes peeled for any sign of movement, we wait.
And then it begins. Far off in the distance, a motorcycle emerges out of the valley and onto the sandy plains, the dust cloud behind it resembling the contrail from a shooting star! The orange spec moves towards us at astonishing speed and appears larger with each passing second. Within minutes, 2019 Dakar champion Toby Price, astride the KTM Factory Rally motorcycle scales the near-vertical incline and breezes by, amid cheers and rapturous roars from the spectators.
What a way to see your first Dakar machine in action, no? But before I go any further, let's back this truck up a bit, shall we?
I've been a big fan of the Dakar Rally for years and have dreamt of covering the event ever since I took up automotive journalism as a career. So it goes without saying that I couldn't contain my excitement, sat in a plane bound to Saudi Arabia, a brand-new destination for the Dakar. I wasn't the only one who felt that way. Even the immigration officer at Jeddah airport was quite enthused about "Rally Dakar." With a big smile on his face, and a typical Arabic accent he warmly greeted me and a bunch of scribes saying, "Welcome to Saudi. Have a great time!"
At that point, I thought I had a fair idea about his upbeat attitude, but I only truly understood it when I saw the Dakar competitors and their mega machines at the opening ceremony. The sight was nothing short of arresting, as each competitor – be it the Moto, Quad, Car or Truck category – drove onto the stage and proudly displayed their vehicles; some of them proudly wrapped their nation's flag around them.
Ricky Brabec became the first American to win the Dakar.
But amid the fervour in the air and the big smiles on every competitor's face, you could sense some trepidation. After all, the 2020 Dakar was a first for everyone. New country, challenging terrain and close to 8,000km (including SS, or Special Stages, and the long transport stages in between) to be
clocked over the course of 14 days. I wonder how many would've felt intimidated and thought of raising the white flag even before starting Stage 1.
You see, the Dakar isn't just another cross-country rally. It has redefined the meaning of the word 'challenging'. Actually, come to think of it, there is no word that can truly define the Dakar. It's maddening to see the level of preparation that goes into developing a machine, working on physical and mental fitness, figuring out the logistics – it takes pretty much the whole year between two Dakars! All of that effort culminates in a fight against the clock for the most intense fortnight of a competitor's life. But that's not all – it's a battle against the elements, decoding the road book, and praying that the machine holds up against the punishment of traversing the harshest terrain imaginable. And despite all of the preparedness and exercising caution, it could all come undone in a matter of seconds.
Harith Noah soldiered on to deliver an exemplary ride.
Back to that Stage 1, then. Somewhere deep inside the super-special section, we waited with bated breath to cheer fellow Indian, and Sherco TVS Racing's Dakar rookie, Harith Noah. With most of the field having gone by, we grew anxious at no sign of him. A few moments later, our hearts sank as we watched him ride past, with most of his RTR 450's front end missing. Later that evening at the bivouac, we caught up with Harith to learn that he crashed 140km into the first stage of his first-ever Dakar. Talk about a blow to your confidence! To make matters worse, he hit his left eye on the navigation tower while going over the handlebar. While his vision was okay, one of his eyelids were swollen shut and had to be bandaged for the night. Despite the obvious pain, he bravely said, "The crash was my fault, as I failed to see a hole in the sand. I'll be more focused tomorrow and make up places." I thought he was insane to continue the rally – but doesn't that just go to show what these Dakar junkies are made of? Harith was so determined that, in Stage 2, he managed to ride past a significant number of riders to move up the overall rankings; with one and a half eyes open! Sadly, he suffered a technical issue and couldn't participate in Stage 3. That brought a cruel end to his Dakar campaign.
Thankfully, the organisers have introduced a 'Dakar Experience' category for those who had to retire midway. It takes participants out of contention for the overall prize but allows them to complete each stage and set a time. For the remainder of the rally, Harith kept improving his stage results, showing the world that setbacks are nothing but a means to bounce back stronger and fight harder.
Harith Noah (#83) sacrificed his throttle cable to help teammate J Aubert.
On Stage 6, his grit shone extra bright when he sacrificed his throttle cable to help his stricken teammate, Johnny Aubert, who was still in the race at the time. Surely this would be the end of his rally; but no – incredibly, Harith managed to use a shoelace, along with Aubert's broken cable, and actually brought the bike back home that day!
Locals enjoyed the spectacle that is the Dakar.
Stories like these are a testament to the fact that a Dakar competitor's mental fortitude is way above that of a normal human being. How else would it be possible to get in the saddle, buckle-up and pilot a vehicle for 350-500km every day, fighting dust and the bitter cold of an arid desert in the winter? Here, danger lurks around every bend and damage to the vehicle is only a tiny miscalculation away. And in case one can't avoid the crash, they'd scramble every little brain cell and muscle in the body to fix the vehicle quickly and continue the Rally.
Hero MotoSports' Paulo Goncalves lost his life after suffering a crash. The team withdrew from the remainder of the event to honour him.
As a spectator all I could do is stand gobsmacked and, at the time, revel in the incredible sight and sounds of a Dakar Rally making its way past an unimaginably vast stretch of land. To see multiple-time Dakar winner, Carlos Sainz going sideways in his Mini X-Raid; to jump in joy as the big Kamaz Master truck thunders past; to cheer every biker who's giving it all to keep the motorcycle upright – the Dakar is one emotional roller coaster that can only be comprehended when you're there to experience it in person.
At the same time, the same roller coaster can sometimes crash to a heart-breaking low, as we witnessed this year, with the absolutely tragic loss of Hero rider Paulo Gonçalves. Paulo was a true legend of the sport and a wonderful human being to those who knew him. His loss shattered this year's rally and we extend our heartfelt condolences to his family, team and friends.
The Kamaz Master Motorsport team has the biggest service set up at the bivouac; you'll see several technicians toiling well into the night.
I walked away in awe at how the folks at Dakar attempt the unfathomable, even in the face of the worst possible outcome. That's probably why it's regarded as the triumph of man and machine over the impossible. Human will – how amazing!
Copyright (c) Autocar India. All rights reserved.