On 70 years of Ferrari
The 70th anniversary of Ferrari is a great opportunity, not only to look into the future but also to stop and look back. This is because, in this company, as you know, the best Ferrari is the next one. This comes from founder Enzo Ferrari no less. So, this anniversary is a great opportunity to look back at our history and share with our clients. We are having a big event in every country, a celebration that will allow our clients and collectors to join us in sharing the passion.
On the Indian market
India is a very important market. We decided to enter (it) some years ago, making some mistakes; that unfortunately happens sometimes in the choice of your partner. After that period, the key priority for us was to reestablish credibility. In India, we are not looking at volumes or numbers. What we are looking at is establishing a brand presence that makes it a pleasure to own a Ferrari.
On plans for an SUV
One of the reasons for the success of Ferrari is that we have been able to remain consistent with our history. Our 812, for example, has a low slung driving position [slouches right down in the chair to demonstrate it, hands and feet stretched out]. This is the driving position of a sportscar. When you drive an SUV, you sit like you are driving a truck; that's my personal opinion. It can be a very fast truck, but the experience of driving it is very different from driving a sportscar. The GTC4Lusso, which is a shooting brake, is our idea of an SUV. A Ferrari cannot be a car that is far off the ground and roll like a ship. No. So, though our future execution will be different, we will be consistent with our history.
On naming the cars
Let's say, there are some rules that we like to follow. First of all, we use some clues from the past. Many of our cars are named in line with engine displacement, horsepower, cylinder capacity, etc. The 812 is 800hp, 12 cylinders, for example. Then, normally, we try to use another name from our history, like Superfast. Sometimes, we are good at it and sometimes we are not. There are names (even) I don't like, but that's life. We have a selection process that is run by our marketing department. They come up with three or four names and then the final decision is taken by the executives.
On evolutionary cars versus revolutionary ones
Porsche is very consistent. Their car is always a 911 and every single car is similar to the previous one. I'm not saying one is right and the other, wrong. But the strategy at Ferrari is exactly the opposite. We consider every single car a piece of art, and you cannot just improve a painting; you have to make it different. We don't want to just change a few lines and keep the same profile.
Also, every special edition we put out in the market is not just a car where we take out 20 kilos and add 10 horsepower more; which is what most other players are doing. We always have something different from a technological point of view that makes the car different. The Tour de France (F12tdf), for example, has four-wheel steering; it was the first car we developed with it. So, every time we launch a new car, even a special edition, there is something special. It makes our job and that of our technical team much more difficult, but we believe it also makes the car that much more interesting.
On switching back to front-engine, 12-cylinder cars
We had mid-engine V12 (180deg) cars in the past. But, many years ago (1996), Ferrari took a decision that it wanted the 12-cylinder engine back in the front. This was done (in the 550 Maranello) for two reasons that I still believe are the right ones. The first is that we are probably one of the few supercar makers that can deliver uncompromised performance with the engine in the front. It's easier if you put the engine in the back. We think we have the technology to deliver performance that no one else is able to achieve with the engine in the front.
Also, when you put it in the front, you increase the space on board. Try to enter a mid, rear 12-cylinder car of one of our competitors, sit in the car and do this, take out your phone ... there's no place. The space on board is very little. In our car you have space in the boot for luggage, you have space to put your jacket and even space for your telephone!
2023 Ferrari Roma Spider image gallery
4514 Views|6 months ago
Ferrari Purosangue image gallery
6816 Views|1 year ago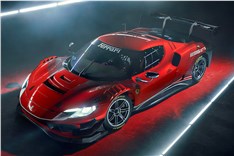 2023 Ferrari 296 GT3 image gallery
8938 Views|1 year ago