"Just thinking about it gives me goosebumps". You know you have something monumental at hand when you've got Narain Karthikeyan – India's first-ever Formula 1 driver – buzzing.
Come February 13, Racing Team India will embark on a historical outing as the first all-Indian team to compete internationally in endurance racing, participating in the 2021 Asian Le Mans Series, with an eye on the fabled 24 Hours of Le Mans. And as the team's three drivers – Karthikeyan, Arjun Maini and Naveen Rao – explain to us, this is only the beginning of what they're hoping will inspire a whole new generation of young racers in the country to adopt endurance racing.
How it all started
"The fact is that I was watching an IMSA race and then I saw this guy with an Indian-sounding name winning everything. Then we connected and that's how this whole thing started off," quips Karthikeyan.
If you haven't heard of Naveen Rao before, then it's probably because he's spent almost all of his relatively short motorsport career in the American sportscar racing scene. "This is more of a career passion," Rao admits, adding that aside from some amateur karting, he didn't really give motorsport a go until 2017.
But the Bronze-rated driver boasts some hefty accolades. He kicked off his career in the Ferrari Challenge in 2017, where he finished 2nd in his debut season. In 2019, he switched over to racing LMP3 cars in the IMSA Prototype Challenge, where he's the reigning 2020 champion after finishing on the podium in every race, barring one.
Crucially, he also had his first outing in an LMP2 car – in the same prototype car that Racing Team India will use – at the 12 Hours of Sebring in November last year. "It's much faster than the LMP3s that I was driving last year mostly – much more downforce, better brakes, everything is just a step up. So, for me it's like a new challenge and I look forward to getting more time in it."
The right support
Both Karthikeyan and Rao admit that the team will be relying heavily on Maini's extensive experience racing in LMP2. After competing in Formula 2 and even serving as the Haas F1 team's development driver, Maini made the switch to sportscar racing in 2019, competing in the full season of the 2019 European Le Mans Series. He was even running in the LMP2 top 15 at the 24 Hours of Le Mans that year when a mechanical issue forced his squad to retire just four hours from the finish.
"It's been a dream of mine as well to be part of an India team, and I have a newfound love for endurance racing since I moved over a couple of years ago from single-seaters," says Maini.
Reigning Asian Le Mans champions, Algarve Pro Racing, will provide full technical support to the team. Maini believes this support is crucial, especially since the revised calendar will see LMP2 cars race at the Dubai Autodrome for the very first time – "It's going to be a harder season this year because there's going to be a lot of competition, but I think the support that we get from Algarve Pro is obviously very important."
"The fact is that nobody knows the track in the LMP2 car. It's going to be the first time the LMP2s are running there, so it's going to be down to us to do the best we can during the test days and try to give the team as much information as we can and move forward together like that."
Crucially, Maini also worked with Algarve Pro in the 2020 European Le Mans Series. He was supposed to undertake a full season, but the pandemic threw a spanner in the works and he had to settle for two outings in Monza and Portimao instead.
Nevertheless, the 23-year-old believes he's gathered some key learnings from this experience. "To learn the team and see how they work and everything, it was great. There's lot of engineering and a lot of work that goes on behind the scenes. So, you have to get to know the engineers, the mechanics and stuff. So, in that respect, I feel like I've already got some experience," he says.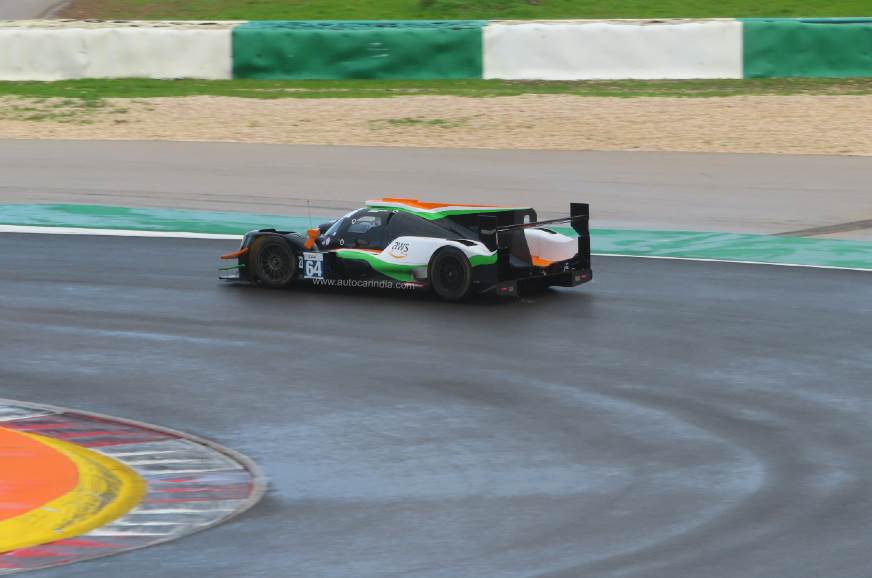 Oreca 07
The team will race the Oreca 07 LMP2 prototype – a machine that happened to win last year's 24 Hours of Le Mans for United Autosports in the LMP2 class. "It's truly the car to have," says Rao.
All three drivers had the chance to get a taste of the car during a test in Portugal. When asked about his first impression of the car, Karthikeyan says, "For me the car was quite nimble from what I remember of the Audi R10 diesel – the LMP1 car I drove more than 10 years ago. I think it has a lot of downforce and it's quite easy to drive."
"My biggest challenge would be that I've been out of a race car for a long time now, a year and a bit because of the pandemic. So, I think once I have a couple of hours, the car should be okay. We aim to be quite fast and we have Arjun who is experienced with the car, so he's going to show us the way and we'll all try to push each other and get the best result we possibly can," he adds.
Road to Le Mans
The winner of the Asian Le Mans Series will get an automatic entry into France's iconic 24 Hours of Le Mans. And that's a goal that Racing Team India is very much chasing. "That's why we put this whole thing together; the whole thing revolves around the 24 Hours of Le Mans," says Karthikeyan.
"India is a big nation and to represent India at one of the biggest races in the world, I think it's going to be awesome. But we need to show our pace and then hopefully we will get an entry into Le Mans."
Maini adds that racing at Le Mans is a dream for any driver, and "to do it as a part of the team representing your own country is something else entirely." But he prefers to remain focused on the first task ahead – "First we've got Asian Le Mans in front of us, we need to get onto a good start. So, I think it's important that we keep our feet on the ground, focus on the task we have ahead and then move forward step-by-step."
Another shot at Le Mans for Narain
For Karthikeyan personally, he's been itching to have another go at Le Mans for a while now. He was part of Team Kolles, Audi's LMP1 line-up for the 2009 edition when rather infamously, he had to pull out of the event at the last moment after he slipped off the pitwall and dislocated his shoulder.
"It's a big deal for me for sure; I've done everything in my career and Le Mans is something that I would love to do and do it right. I think we have a good line-up of drivers, it's a great package and we need to optimise everything. It's a very difficult race; things like what happened to me can happen and it was very unfortunate, but nevertheless I think all of us are looking forward to it eagerly," he says.
In fact, he's gone ahead and touted this as the "most exciting project" he has undertaken in his career. "When the team represents your nation, it's quite a big deal for us because it will be the first Indian team at the 24 Hours of Le Mans. Just thinking about it gives me goosebumps because it's such a special occasion with the tricolour there."
The project, which will be his first competitive outing since his 2019 Super GT stint in Japan, will also resurrect his winning partnership with Stewart Cox, who happens to be Algarve Pro's team principal. "Stuart was my mechanic in Formula Ford. This is way back in 1994, and then we met again after nearly a decade, in F1 he was the chief mechanic. So, we go back a long way; we're happy we connected again and we're working as a team, so I'm really looking forward to it," he says.
It's a team effort
Teamwork is pivotal in endurance racing and Maini believes the three of them are already off to a great start. "We met for the first time at the test in Portugal and I think we kicked things off really well. We worked really well together at the test and we had a really good understanding between us. It seems like we want similar things from the car as well, which is the right way to go."
"I use the same seat as Naveen, so pitstops should be quite easy," Karthikeyan jokes.
The three of them will now head to Dubai where they have some more fine-tuning to do in the pre-season tests. "It's really going to come down to how quickly we can get the car sorted when we get there in terms of setup and get our driving worked out between the three of us," says Rao.
Karthikeyan adds that the Dubai Autodrome itself will be the biggest challenge, considering it's uncharted territory. "It's a very slippery and technical track. Not so many high-speed corners, but there are elevation changes and so on. It looks quite technical on the simulator, so we need to figure that one out. But Algarve Pro runs two other cars, so we'll have some data. So it should be fairly straightforward, we hope. And as long as it's reliable, I think we can do a very good job. I'm very confident."
Inspiring the next generation
While the focus right now is on Le Mans, Karthikeyan also envisions Racing Team India as a platform to introduce young Indian talent to the world of endurance racing. The new cost-effective hypercar and LMDh rules have already attracted a slew of manufacturers like Porsche, Audi and Peugeot to the WEC. And considering how sportscar racing is far more accessible than single-seaters, endurance racing could very well be the next big thing for India on the global motorsport stage.
"Once we establish the team, we aim to promote other young Indian drivers; whether it is Kush [Maini] or Jehan [Daruvala] or whoever may be interested. That's the ultimate goal, for Racing Team India to sustain itself and promote young Indian drivers, and it's another avenue for them to show their skills," he says.
"It's a good career path, the world of endurance racing. It's easier to get into, it's a lot more cost-effective than single-seaters and with big manufacturers knocking at the doors, I think it gives a different outlook. So we're going to go this way and try and see how we can package all of this together."
Maini hopes that the team's Asian Le Mans outing will do for endurance racing what Karthikeyan's F1 stint did for the sport – "I think India as a country in general requires sort of a figure or a hero in order to get into something. We had that with Narain when he entered F1 and F1 picked up big time in India. And I feel like if we can deliver results, then we can have a similar impact on the Indian people on the endurance side as well."
"That's a key here, showing that there is a path forward, there is actually opportunities for Indian drivers, there's a ladder system," adds Rao. "The country has 1.3 billion people; we can definitely find the talent and funnel it and have a huge impact on the sport."
The 2021 Asian Le Mans Series will kick off with two rounds at the Dubai Autodrome on February 13 and 14. The paddock will then head to Abu Dhabi's Yas Marina Circuit for the final two rounds on February 19 and 20. You can also visit Racing Team India's Instagram page to stay up-to-date with their Asian Le Mans outing.
Also see: