Tata Motors has just announced that its alliance with the Volkswagen Group has been called off. A release from Tata Motors today stated that after a joint technical feasibility study and commercial evaluation, both sides agreed that the planned partnership areas may not lead to desired results.
In the statement, Guenter Butschek, CEO and Managing Director, Tata Motors, said, "We have evaluated the technical feasibility and degree of synergies for the envisioned partnership. We have concluded that the strategic benefits for both parties are below the threshold levels."
On the sidelines of the Geneva motor show earlier in March, the companies had signed a memorandum of understanding (MoU) to explore using Tata's AMP platform to underpin the VW Group's cars for the Indian market.
Both VW and Skoda would have benefitted from this low-cost platform in a market where the company is struggling to find a foothold. For Tata Motors, the partnership would have meant significant income to offset the development cost of the AMP, as well as access to other advanced technology.
As reported by us in June, the German camp was divided on this decision as the costs for development of its own 'top hats' could total 140 million euros (around Rs 1,000 crore). Skoda engineers were convinced that for this amount, the group could develop a low-cost version of its own MQB-A platform.
While the development of the AMP will go ahead at Tata, to offset costs, the Indian auto maker is likely to seek a new partner for the project.
What remains to be seen, however, is VW's next move. Any re-engineering of the MQB-A platform will take time and new cars would roll out only by the end of 2019. During this time, the brand will have to soldier on with the lower-segment models built on the older PQ25 platform.
Shailesh Chandra on Tata Sierra launch, Harrier EV range,...
4206 Views|15 days ago
Auto Expo 2023: Tata Curvv walkaround video
4910 Views|21 days ago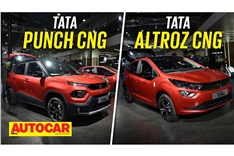 Auto Expo 2023: Tata Punch, Altroz iCNG walkaround video
3164 Views|21 days ago