Japanese carmaker Suzuki has overtaken BMW to become the most profitable carmaker with profit margins of 11.8 percent, in comparison to the German manufacturer's 11.4 percent. The Munich-based company has had a tough few years after losing the title of world's largest seller of luxury vehicles to rival Mercedes in 2016.
According to a study by Ernst and Young, BMW's lower profits can be attributed to ongoing diesel scandals and, more recently, losses from US trade tariffs. However, they still remain the most profitable carmaker for the year as Suzuki went past them only in the last quarter.
Meanwhile, Suzuki has seen a strong demand for their vehicles in developing countries such as India. India is one of Suzuki's primary markets where profits have soared 68 percent year-on-year as of February 2018.
The Japanese automaker's operating profit has also risen to an impressive 374 billion yen (approx. Rs 23,648 crore) and is set to take the title of most profitable outright from BMW.
New BMW i5 image gallery
1713 Views|4 days ago
New BMW 5-series image gallery
5417 Views|4 days ago
2023 BMW XM Label Red image gallery
2652 Views|1 month ago
BMW i7 India video review
6624 Views|18 days ago
Triumph Trident 660 vs BMW M340i drag race video
3303 Views|29 days ago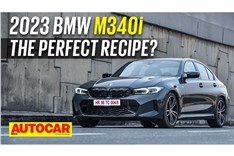 2023 BMW M340i facelift video review
8981 Views|1 month ago