Battery EVs are touted to be the future of cars, especially in urban environments. We have a go in one of the smallest of the type.
Toyota's eQ is a BEV or battery electric vehicle that was first showcased at the 2011 Geneva motor show. Based on the petrol-powered iQ hatchback, the eQ was launched in international markets in 2012 with a 63hp electric motor and a 12kWh battery pack.
On a full charge, the EV is said to do 100km, and while that sounds insufficient today, back in 2012, that was the sort of range expected from a small electric vehicle. Also, a larger battery pack would make the eQ heavier, more expensive, and less compact than it currently is. As far as charging the battery goes, the Toyota EV will take 3 hours for a full charge on a 200V AC outlet. DC fast charging is also part of the package, with the eQ taking just 15min to reach 80 percent charge from 0.
Given its dimensions, the eQ EV has been targeted for city use only and is best used as a two-seater as space in the rear is virtually nonexistent. The compact dimensions and light controls make the EV an ideal everyday runabout for crowded cities; it could even make city drives fun. The healthy 163Nm of torque served up by the electric motor will not only help it keep up with traffic but also help carry out quick overtaking manoeuvres. In fact, performance came across as quite brisk when we drove it out on Toyota's test track.
Drive modes also feature on the eQ, with the differences between them being more apparent here than in the other Toyotas. Progress in Normal mode is smooth and linear, while in Power mode, it feels peppier and more responsive to throttle inputs.
63hp electric motor makes the compact eQ feel peppy.
Also, the absence of a combustion engine makes it much quieter than the other forms of xEVs. You are well isolated from the outside world – there's barely any road and tyre noise filtering into the cabin.
The eQ serves as a perfect demonstrator that EVs for the city need not have a large battery packs. The adequate range and performance make it the perfect vehicle for the daily home-to-office commute.
In terms of BEVs, Toyota has been behind the curve thus far, and that's quite evident by the EQ's vintage. And that's because Toyota has been putting all its muscle behind hybrid powertrains. Going forward, however, the Japanese auto giant will shift its focus towards mass-market BEVs, and has confirmed that a new compact city BEV will be introduced in India by 2021.
Also see:
Toyota Vellfire India launch on February 26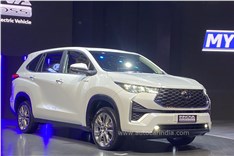 Toyota Innova Hycross image gallery
65367 Views|11 days ago
New Toyota Prius image gallery
8202 Views|20 days ago
Toyota Innova Hycross video review
8950 Views|18 hours ago
Toyota Innova Hycross walkaround video
20133 Views|11 days ago