We drive Tesla's fastest all-electric SUV that can ferry an entire family, as well as put most sportscars to shame.
What is it?
Disruption is the buzzword in today's times and that's exactly what Elon Musk-led Tesla brought to the automotive world. Established carmakers were pipped to the post by Tesla's high-end electric vehicles that people would want to buy. Of the models on sale is the Model X – an all-electric, full-size, seven-seat SUV that can humble supercars with its performance. And that's in standard guise. With us is the maddest one of the lot – the Model X P100D. Powered by a 500kW (about 670hp) motor, the P100D blasts from 0-100kph in a blistering 3.1sec (claimed), with a top speed of 250kph.
What's it like on the outside?
One look at this car and there's no mistaking it for anything else on the road. It's unique and it doesn't have a butch SUV-like presence – instead, it appears to be a large hatchback, one that's over 5m in length and wider than an Audi Q7. The styling is clean with minimal lines, and the lower half of the car gets black plastic cladding for that SUV-like styling. Other highlights are its large 22-inch multi-spoke black wheels, frameless windows for the front doors and rear doors that go up like a falcon's wing. Not only do these facilitate easy ingress/egress due to a wide cavity, they require very little room on the sides, hence these can be opened in really tight spaces too. Approach the car and the doors can be set to open automatically, and they shut when you put your foot on the brake.
What's it like on the inside?
'Minimalist' best describes this Tesla's interiors. The white colour theme looks posh, and while the quality of bits is acceptable, it isn't as good as an Audi or even a Volvo XC90. There are just two physical buttons on the dashboard, one for the glovebox and one for the hazard lights. The gear lever is positioned on the stalks like a modern Mercedes and everything else is controlled via a huge vertical 17-inch touchscreen. It's a bit overwhelming at first, with so many controls and functions to speak of, but you get used to it soon and the touch-sensitivity is one of the best we've experienced so far. It can be distracting to use while on the move, so it helps to some extent that there are eight cameras all around and radar-based technology to keep you from veering off course.
What's nice is that despite the massive greenhouse area – with the largest panoramic windscreen in a production car – the cabin was cooled very quickly on a sunny afternoon. The seats, although appear to be slim, are very comfy and supportive. The car I drove was a six-seater, (there's also a five and seven-seating configuration available); so the second row had two bucket seats which were electrically adjustable. There's ample space here. The entire battery pack is placed beneath the floor, so there's no central hump and the floor is flat. Press a button and the middle row seats slide forward, giving you access to the third row. The last row can accommodate adults; however, it feels a bit dark here due to the large middle row seats and small quarter glasses.
In terms of features, the Model X gets all-LED headlamps, 22-inch wheels, electric doors, keyless entry and go, 17-inch touchscreen infotainment, electric seats and radar-based tech including adaptive cruise control, pilot assist, emergency braking, etc. A really cool feature on the infotainment screen is that the SUV can be programmed to do a bit of a dance by flapping its doors and mirrors, with blinking LED lights and music played via the speakers adding to the drama.
What's it like to drive?
We didn't have the opportunity of a full day of driving in the Tesla Model X, but even in the little time with it, it felt far removed in character to any internal combustion engine car. Of course, the first thing is the sound or lack of it. There's absolute silence when starting off, and because of this, road and tyre noise creeps inside the cabin. It moves effortlessly with the gentlest of inputs. Throttle responses are instant and the electric motor is extremely quick to respond. On the few occasions where I got to flex my right foot, the immediate power on tap literally pinned me to the seat and this 2.5-tonne SUV lunged forward like a scalded cat. You have to be very careful with throttle inputs to just keep within the speed limit. To put things into perspective, the way the Model X built speeds was similar to how a 610hp Audi R8 V10 accelerated – power delivery is that brutal. Then, its electric motor can drive up to 465km on a single charge (depending on driving style), which takes roughly 6-8 hours, so it's possible to use the Tesla Model X as an inter-city commuter without range anxiety getting the better of you.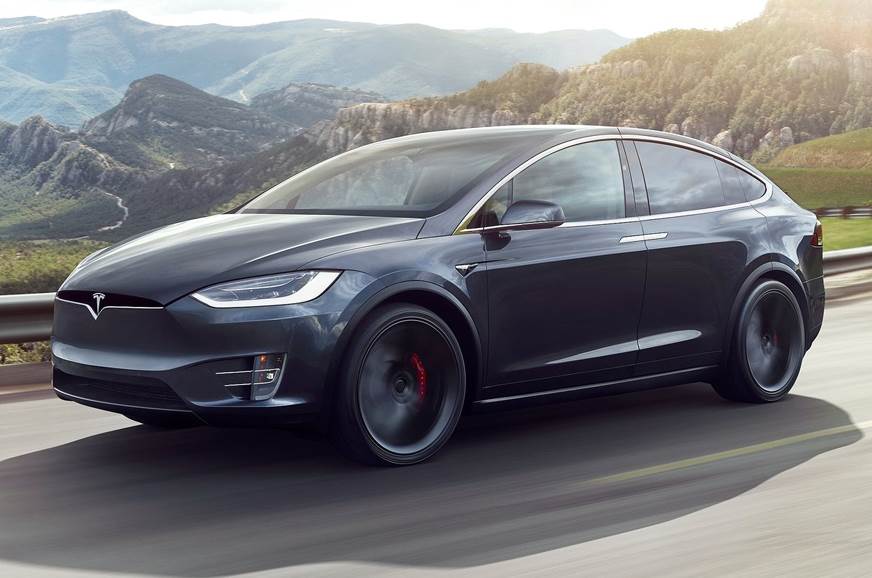 The Model X's steering is light and consistent, although a bit large in diameter. And because the regenerative braking function was on, the car shed speed the moment I lifted off the accelerator; so I was predominantly driving it with just one pedal, without any real need to use the brake pedal often. The ride though is firm and it crashed over some sharp potholes, but it wasn't uncomfortable at any time despite the large wheels and low-profile tyres.
Should I buy one?
Tesla has spoken of coming to India and there has been the odd sighting of a privately imported Model X in India too, but the fact is you can't buy one for the moment. And that is a shame.
As a car, the Tesla Model X is quite the package. It stands out for its looks, has green credentials you can boast of and even has the performance to smoke a supercar or two at the drag strip – all that while offering seating for up to seven passengers. Oh, and there's self-driving tech too, though we were happy to keep the hands on the wheel. With all options checked, at 2,20,000 CAD (approximately Rs 1.14 crore), this Tesla Model X is a car from the future, on sale now.