Though not the first vehicle of its kind, the Porsche Cayenne Coupe certainly seems to justify its existence with incredible driving dynamics, as we found out on France's Cote d'Azur.
You'll have read Hormazd's exclusive review of the Cayenne Coupe in our 20th-anniversary issue two months ago. In it, he was quite taken with the immense performance of the 680hp/900Nm, V8-hybrid powertrain, and also its ability to whisk you along with a clean conscience in EV mode. He wasn't as much a fan of the body style, however.
Hate it or love it, though, the sleek, slammed roof of a sportscar stretched over the chunky, wide base of an SUV is here to stay, and that's why I'm driving the Cayenne Coupe again. What isn't here this time around is the V8 Turbo S e-Hybrid powertrain. While that could come to India at a later stage, a pair of more conventional turbo-petrol engines will arrive first, and those are the ones we're driving today.
A-pillars are more steeply raked in the Coupe, but there's no escaping the fact you're piloting a massive SUV.
It's Turbo time
It's hard to think of this non-hybrid V8 as the 'lesser' powertrain, when it has 550hp and 770Nm and can hurl this 2.2-tonne gorilla from 0 to 100kph in just 3.9sec. That kerb weight, incidentally, is about 260kg less than the range-topping e-Hybrid's, so despite this car being 130hp and 130Nm down, it's only 0.1sec slower from 0-100kph. And despite the e-Hybrid's vast reserves of power, it has to be said that this Turbo feels like a purer driving experience, which is funny because this is exactly what we used to say of naturally aspirated engines when turbocharging was new. But then turbo engines have come so far since then.
Rear seat height lowered, but headroom still tight.
Though it's not quite as free-revving as, say, the 911's turbo flat-six, this iteration of the VW Group's twin-turbo 4.0-litre V8 does a tremendous job of masking lag and delivering power on demand. It helps that the ZF 8-speed auto is ever-ready, particularly in Sport+ mode, to slam in a new gear with urgency and a surprising amount of ferocity. And though some of the engine note, I suspect, is artificially piped into the cabin via the speakers, I don't care, because it sounds great on the move. It's got a battery of mechanical and electronic driving aids – rear-wheel steering, adaptive air suspension, active anti-roll bars and the like – to make it wrap itself around you, and prevent you from wrapping it around a tree. But all this holds true of the regular Cayenne Turbo as well, so what sets the Coupe apart?
Active spoiler raises by 135mm to create downforce.
Not just a pretty face
It's 18mm wider at the rear than the regular Cayenne and has a correspondingly widened rear track. This should aid cornering grip, but frankly, the narrow mountain roads we're driving on today aren't giving us the chance to truly experience the difference. What might seem more obvious is the lowered centre of gravity, thanks to the sloping roof, but here too, the difference feels far too subtle; this is still a big, high-riding SUV after all. Incidentally, you can't get a conventional metal roof with the Coupe, nor can you get one that opens. As standard, it gets a fixed panoramic glass roof, and as an option, a lightweight carbon-fibre roof. The other difference is that, while the regular Cayenne's active spoiler is mounted on the roof, the Coupe's is mounted beneath the rear glass and rises by as much as 135mm above 90kph to create downforce.
Though the boot capacity has dropped from the Cayenne's immense 745 litres, you have to admit that 598 litres in the Coupe is not exactly shabby. And here's a fun fact: the sloping tailgate uses more glass than the normal one, and so this car is actually 25kg heavier! To compensate for the sloping roof, the rear seat has been placed lower, but that only makes you feel a bit hemmed in, and six-footers will still find headroom to be a little tight.
At 598 litres, there's still plenty of boot space.
Less is more
The second engine that will be launching in India is the base 340hp V6, which we tried as well, but frankly, it doesn't quite have the go to match the show. This will be the model that gets you the attractive look at a more attractive price, and for some that will be enough. The Cayenne Coupe is far from the first SUV of this kind (the BMW X6 is over a decade old and now in its third generation), but Porsche finally felt the time was right to go down this route. Be as cynical as you like about coupé-SUVs, but there is a market for them. The 'entry-level' V6-powered Cayenne Coupe costs a Rs 12 lakh premium over the equivalent standard Cayenne, while the Turbo variant is priced Rs 5 lakh higher Cayenne Turbo. Rest assured that, at least in the case of the Turbo, you are getting a car that drives as nice as it looks.
Porsche Cayenne Coupe India video review
35747 Views|2 years ago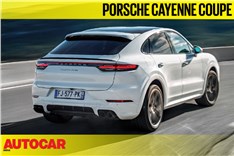 Porsche Cayenne Coupe video review
14313 Views|3 years ago