Our sister magazine Autocar UK takes a short spin in the India-bound Nissan crossover.
What is it?
The Kicks is Nissan's foray into the booming small crossover/SUV market. This new SUV will soon be on sale in not one but over 80 countries, and India is likely to feature in the list. But these countries are mostly emerging markets, and the Kicks may not make its way into markets like the UK. The Nissan Kicks actually sits at the bottom end of Nissan's global crossover portfolio which includes popular models like the Juke, Qashqai and the X-trail. For India, it will most likely be positioned above the Terrano.
The crossover is based on the same V-platform that underpins the Micra, the Sunny, the Scala and the Pulse in our market. However, this architecture is slightly tweaked for the crossover and it gets a newly designed rear twist beam. As far as dimensions go, the Kicks is 4,295mm long, 1,760mm high and 1,590mm wide, which makes it a tad smaller than the Terrano (4331mmx1822mmx1671mm).
The Kicks sticks to its crossover genes and comes only as a FWD. Power comes from a 1.6-litre petrol motor good for 113-118hp depending on the market. The petrol Kicks sold overseas comes with a five-speed manual or an optional CVT gearbox. For India, the crossover could come with the option of a 1.5-litre K9K dCi diesel.
The Kicks is equipped with some cool tech too. It gets Active Ride Control, which essentially performs the same functions as adaptive dampers, only without the adaptive dampers. Instead it applies individual brakes to prevent body pitch off the back of large bumps and crests, allowing softer spring rates, while still retaining body control.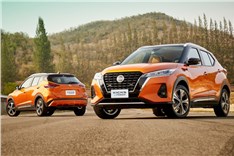 2020 Nissan Kicks e-Power image gallery
8039 Views|3 years ago
2019 Nissan Kicks India image gallery
30808 Views|4 years ago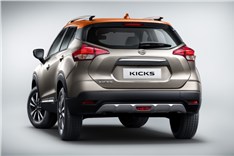 2019 Nissan Kicks image gallery
38171 Views|4 years ago