Toyota will launch the all-new Camry Hybrid in January. We go down to Thailand to get a first drive of the tech marvel headed here.
New cars, that's what we are all about, here at Autocar India. Often, however, new cars aren't strictly new. This is because, in today's world, the term 'new car' can be stretched and distorted sufficiently to accommodate even cars that have just been majorly updated. A new bonnet, a new nose a new interior, new tail and, hey presto, it is an all-new car.
But is it any wonder that carmakers do this? The cost of development gets halved, the already-stretched engineering department saves years and years of development time, and then evolving and working with an entity you already know is much easier the second time around. Clever.
The car I'm sitting behind the wheel of, however, is clearly new – of this, I have no doubt. No, the new Camry hasn't suddenly turned into a corner-carving BMW 5-series, and nor has Sport mode turned it into a track star. It's just that this new car feels so much 'tighter' and so much more comfortable at speed, even at first acquaintance, it's a big step ahead in driving manners. Where the previous-gen car felt like the chassis was made of tightly bound spaghetti, and it flexed and squirmed every time it was presented a challenging situation, this new car feels so sure-footed and confident, it truly bodes well for Toyota's all-new TNGA platform. But is it really as good as this brief first impression? I have to get more of this.
As luck would have it, I stumble on the perfect road, an as-yet-unopened section of elevated freeway that snakes and weaves its way through some suburbs near Bangkok's Suvarnabhumi Airport. Yes, there is some light traffic on the first bit due to an early off-ramp, but after that, the road just goes on and on.
Lap one is more a voyage of discovery, an exercise in restrain; I don't want to run into a carelessly discarded concrete block around a blind corner. So I tippy-toe through the tighter bits and don't carry much speed at all. But again, the car feels so much nicer to drive, even at these speeds. The steering has more weight in 'Sport', it actually feels like it is connected to the front wheels (finally), and some communication even filters through to my fingers when the front wheels load up in a corner. Yes, it does roll when I go faster and it does feel like it is 5m long, but, there's plenty of grip and the Camry just hangs on gamely, even when I start to push harder. Wow.
The new Camry Hybrid is a big step up when it comes to how it drives.
Just how has Toyota managed to take such a massive leap forward? Well, to begin with, the torsional rigidity of the car has gone up by a huge 30 percent on this new TNGA platform. The company has even dipped into its deep pockets and pulled out enough money to pay for an independent rear suspension. The steering system has been designed with drivers in mind.
There's sufficient grunt from under the bonnet as well. In 'Sport', combined power from the petrol-and-electric hybrid powertrain is 211hp, and this comes flooding in when I lean hard on the right pedal. You first get a serious hit of torque from the electric motor, the 2.5-litre motor seems to have a nice strong mid-range and though there's no tachometer and the eCVT automatic isn't the sportiest gearbox around, the Camry even accelerates hard all the way to redline if you use the paddles behind the steering wheel. And while performance isn't huge, it still is brisk; expect a 0-100 time of around 10sec. Also, please remember, this new car will deliver between 16-18kpl, even in real-world conditions.
The previous Camry was all about comfort, while this new car rides extremely well too. In fact, over bad roads, where the previous-gen car would get tossed around a bit, this one feels much more absorbent and much less reactive. It even rounds off bumps better, taking the edge off nicely. Even the brakes are very reassuring; there's plenty of bite earlier on, and when you squeeze harder, retardation increases in a linear manner. It's just that at low speeds, in start-stop traffic, the brakes tend to grab a bit, making you unnecessarily pay more attention to them.
Ride is much improved over that of the earlier model.
We hit a patch of traffic, and it's here that the new Camry finally begins to run in pure EV mode. It has a less powerful e-motor, but truth be told, I can't tell the difference. What I do notice is that the car is even more silent and refined. Insulation is significantly better, there's no real whine from the motor, and when the engine finally does kick in, the integration of the two powertrains is much more seamless. When traffic is light, I quite enjoy driving in this mode. The torque from the motor makes cruising along feel effortless and there's even enough grunt to overtake with just a tap on the accelerator. Unfortunately, the Camry's pure-EV range is negligible.
While weekend warriors are sure to enjoy driving the new Camry more than the current version, in India, this new car will be more about travel in the rear. So eventually I stop, jump out and get into the back. Here, I'm once again impressed by the reclining rear seat, super lower-back support and width of the cabin. The seat is placed a bit low, but once I stretch out, comfort levels are quite high. There's even a good amount of support for your thighs and the seat cushioning seems just right; not too hard, not too soft.
What I also really like is that the elbow rest has a screen and feather-touch controls. From here, you can control the rear air-con, the seat-recline function and the audio system. And, as earlier, you can electrically adjust the front passenger seat for more legroom too. The new Camry also has an electrically operated rear sunblind, manual side blinds and a pair of conveniently located USB ports below the rear air-con vents. Legroom is a bit more than the current car's, but there's still no competing with the Skoda Superb, which clearly seems to have been engineered with basketball players in mind.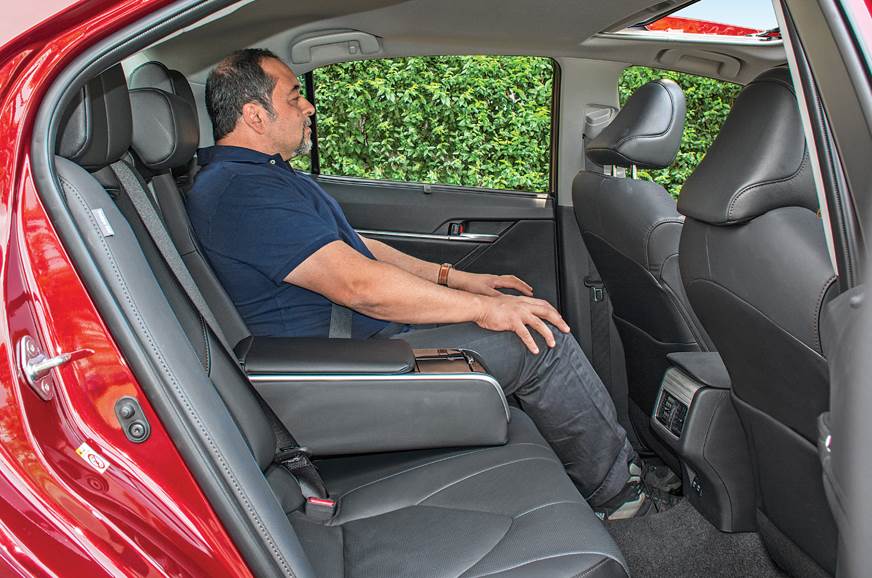 You are sat a bit low, but seat comfort and support is just excellent.
The seats up front are even more comfortable. Built on massive frames, good enough to keep most XXXL-size American drivers comfortable, they offer fantastic support for the upper and lower back, and good shoulder and thigh support as well. The seats are also cooled, and finding a comfy driving position is also easy as the power-adjustable steering has a wide range of adjustment. What also helps is that visibility has been improved. The A-pillar has been made slimmer, the side mirrors have been moved to the door and, as a result, the blind spot is much reduced now.
The layout of the dash, however, is typically Toyota – and, truth be told, a bit boring. The touchscreen and the buttons around it work well, as do the buttons and knobs. But we've seen this theme on so many Toyotas, a degree of fatigue has set in now.
And while the touchscreen works well, the interface is outdated. A software upgrade is long overdue here. There is, however, a nicely executed colour screen in between the dials, and what's impressive is that the driver gets a head-up display.
Quality levels on the inside are clearly improved as well. The door pads are solidly constructed, the buttons and switches on the steering have a quality feel to them, the gear lever and its leather shroud are beautifully put together too. There's even a feeling of solidity in the cabin. This is especially true of the leather-covered lower half of the dash and the vents that feel built to last. Even the door shut is quite impressive. However, some plastics, like the buttons on the right of the steering wheel and the cupholders, aren't impressive and I'm not a big fan of the faux-whitewood finish, either.
The Camry in this HV Premium trim comes loaded with kit. Not all of it will be available to buyers in India, as the focus will be more on rear-seat passengers, but you can expect it to come with paddleshifters, wireless charging, a sunroof, traction control, stability control (ESC) and brake assist.
You can sip your latte and raise the sunblind from here.
The car in Bangkok also gets cross-traffic alert at the rear (it helps you reverse out of a parking lot safely), blind-spot monitoring, dynamic radar cruise control, lane-keeping assist and even pre-collision brake intervention. It also comes with phone-based features like geo-fencing (that sounds an alert if your car goes out of a pre-designated area), parking alert, Find My Car, vehicle tracking, and in-car WiFi.
Nicer to drive, more comfortable to sit in, more efficient, and blessed with Toyota's halo of reliability and dependability; the new TNGA-based Camry Hybrid has a lot going for it.
Toyota is set to launch the new Camry here in January at an expected price of Rs 39 lakh. This high price is sure to limit appeal. What a shame that FAME 2.0 – the scheme in support of hybrid cars – never really took off.
2022 Toyota Camry Hybrid video review
16524 Views|1 year ago
Sponsored: Toyota Camry - Peak Performance feature video
6928 Views|4 years ago
2019 Toyota Camry Hybrid video review
18153 Views|4 years ago