Want a luxury SUV with serious go-anywhere capability? The Grand Cherokee just might fit the bill.
For the CEOs that want to shift their desk on a mountaintop or a beach, Jeep has a solution. The Grand Cherokee is a unique proposition that offers the luxuries you would want from a top-tier SUV, but with the capabilities of a go-anywhere off-roader. But exactly how good is it?
2022 Jeep Grand Cherokee: exterior design
In its fifth generation now, the Grand Cherokee has matured and caught up to today's times, and it has done that without disrupting its core character, which is that of a tough, bullish SUV. It's got the road-presence box ticked measuring almost five metres in length and almost two metres in width. And if you think it is an amalgamation of the Compass and Meridian, you'd hold back a bit once you spot one in flesh, especially in black.
It is a simple design with the seven slat grille dominating the front and adding some perceived width as well. The sleek and traditionally rectangular LED headlamps fit the role well, and in the rear-view mirrors of other puny cars, it does have an imposing look. Over to the side, the chunky 20-inch wheels are a snug fit for the wheel arches, but Jeep could have done with a funkier design, for the dual-tone alloys for added appeal.
20-inch wheels enhance butch appeal.
At the rear, it is as simple as they come with a single-piece chrome strip on the bumpers, and sleek LED tail-lamps. No brawny exhaust tips or dramatic lighting. It is all clean and simple, which doesn't do much for the typical luxury car audience that wants a bit of bling and jazz, but it is true to its roots and personality.
2022 Jeep Grand Cherokee: interior, space
Step inside, or rather climb in, and you'd be greeted with a layout that is not just modern but also rough and tough. The all-black, functional interior is easy to look after on adventures, and the roominess of the cabin is a huge plus. The cabin width makes enough room for two large seats that are hugely comfy and supportive, along with the right amount of cushioning.
Furthermore, the front seats also get 8-way power adjust and the driver's seat is equipped with a memory function too. Ventilation and heating are also available for the front seats, meaning you have everything you need to spend long hours in here. Although a massage function after a day of toughing it out would have completed the package.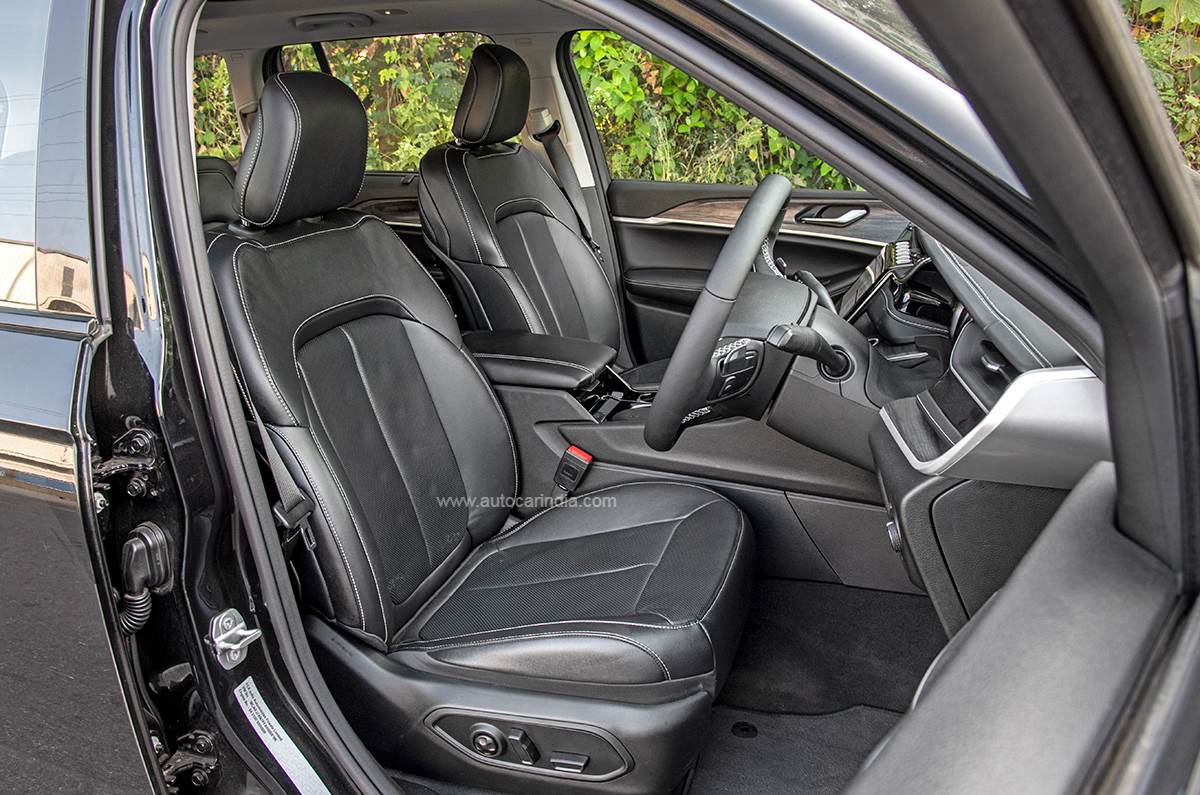 The centre console is dominated by the touchscreen, but there is also a good blend of dark open-pore wood, plenty of piano black and brushed aluminium, and thankfully, a plethora of physical buttons and knobs that are effortless and convenient. The centre armrest is large enough for loose items and the door pads have enough storage too. And although the extensive use of leather feels plush, quality in some areas and plastics should have been better.
The chunky steering wheel also gets a heated function, and you might wonder about its need in India, but winters up north are cold enough to make it seem like a charm. What is also superb is the driving position and placement of the dashboard that allows the driver to have a commanding view. Small details like the sun visor with an extender to cover the full window, are appreciated.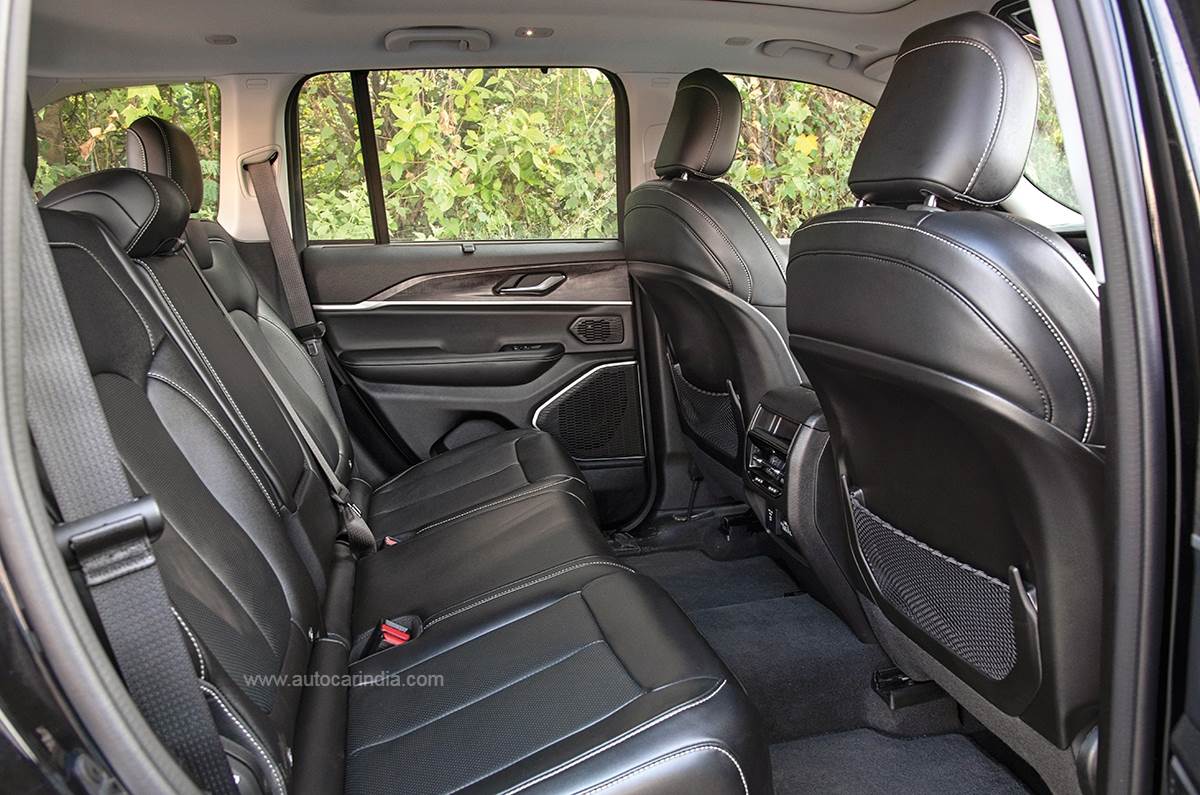 Rear seats set low, but are comfy and spacious.
At the rear, since the Grand Cherokee in India is the standard version and not the 'L', you have a bench seat with no third row. As a result, space is good enough, and despite being an AWD, the transmission tunnel is relatively flat as well. The seats, like in the front, are comfy, but the position is low, and that restricts it from having a theatre-like seating position of most SUVs and also requires you to sit knees up. The seat squabs might seem short, especially if you have long legs, but they are sufficient for most adults.
However, kneeroom and headroom are good enough with some space for your feet under the front seats as well. For added comfort, you can also recline the back rest, which does make the seat a lot more comfortable. The huge panoramic sunroof is a bonus along with sunblinds for the rear windows. Passengers sitting in the middle won't be too uncomfortable either, since there is enough legroom and headroom.
Capitalising on the lack of a third row is the boot, which can swallow up to 1,076 litres of luggage, and is quite easy to load as well. The electric tailgate opens up swiftly and the boot also houses an 18-inch space-saver wheel under the floor.
2022 Jeep Grand Cherokee: features, equipment
True to its luxury SUV tag, there is plenty of kit in the Grand Cherokee. The 10.1-inch touchscreen is slick and responsive, and although it takes a while to get a hang of, it comprises a lot like wireless Apple CarPlay and Android Auto, off-road information and temperatures for the essentials like oil, engine and transmission. Then there is the 360-degree camera with washers for the front and rear that are no less than a navigator when you are between a rock and a hard place.
Rear view display is hugely helpful.
Also impressive are the power outlets on offer. Two type C ports along with two USB A ports, wireless charging, an HDMI port, a 3.5mm AUX port and a charging socket in the front. And two type C ports along with two USB A ports and a three-pin socket at the rear make it the perfect excuse to make it your workstation.
There is also a seat heating function for the rear seats, strictly for when you take your family to the Himalayas. A neat touch is a crisp display screen in the rear view mirror projecting real-time footage via the rear camera and an individual screen for the front passenger for entertainment. However, the audio output isn't connected to the 9-speaker Alpine system, which means if you are playing a movie on the screen, you need to have your own audio in the form of Bluetooth speakers/earphones or AUX cable.
Passenger screen has limited uses.
Safety has been focused on too with eight airbags, ABS with EBD, ESC, TPMS, hill start and all your basic electronic nannies along with level 2 ADAS features like blind spot monitoring, adaptive cruise control, lane keep assist, automatic braking and cross traffic alert.
2022 Jeep Grand Cherokee: engine, performance
Powering the Grand Cherokee is a 2.0-litre petrol engine that makes 272hp and 400Nm, and is mated to an 8-speed automatic transmission by ZF. Right from the word go, the engine squashes all assumptions of being ill-suited to a car of this size. It is refined and smooth and the linear acceleration makes it diesel-like as well.
2.0-litre petrol engine is smooth and has adequate punch.
The twin-scroll turbocharger does take a while to come into play and after slight hesitancy, the Grand Cherokee lunges ahead. The mid-range is where the magic is. Keep the rev needle here and the Cherokee can cruise with little effort. Being a petrol, however, there is a better response to throttle and as a result overtaking is easy too.
The gearbox is smooth and yearns to upshift early, so a stab on the accelerator requires it dropping down a couple of gears before surging ahead.There is also a Sport mode that hurries the engine and gearbox, but the initial lag remains. Refinement, however, is impressive and it is only when you push the engine past 4,000rpm that it sounds strained. But for a 2.0-litre turbo-petrol unit that has to move a shade over two tonnes of SUV, it does the job very well.
2022 Jeep Grand Cherokee: ride and handling
The suspension on the Grand Cherokee is a highlight as well. Available with steel springs instead of air suspension might seem less sophisticated, but on Indian roads with more sharp bumps than undulations it is the better bet. Also, unlike air suspension, a conventional set-up is easier to maintain and a lot more rugged for offroading. On out battered roads though, the Cherokee rides with superb confidence muting out the cracks and potholes. That said, at high speeds, over expansion joints, there is a bit of vertical movement thanks to the soft set-up.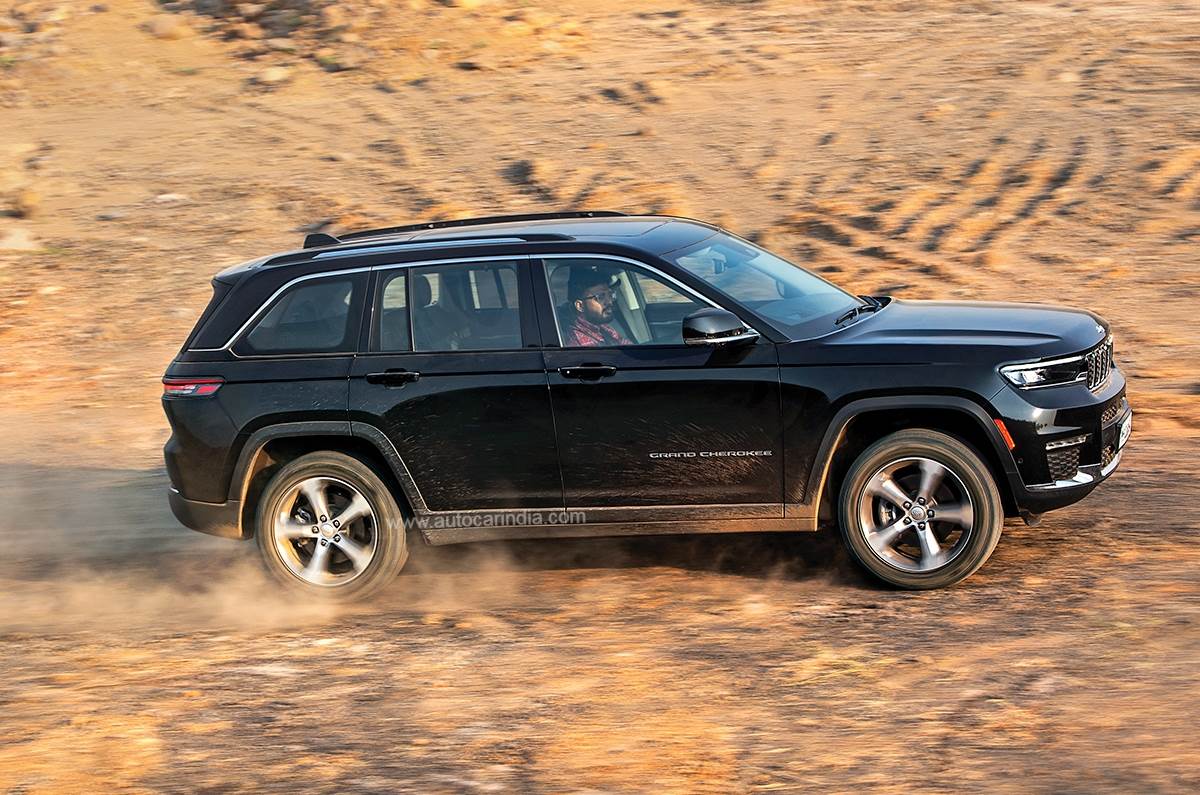 Speaking of which, the soft suspension also results in a noticeable level of body roll in corners, and handling, as a result, is like you'd expect of an SUV weighing over two tonnes. The new Grand Cherokee is based on the same platform as the Alfa Romeo Stelvio – an SUV aimed at driving enthusiasts – but there have been some alterations to the chassis set-up and it is more India-proof. Hence, in corners, it leans over, and even though the 265 section tyres are wide enough for grip, it does have a fair bit of understeer. That is, of course, should you drive it like a sedan. Over the rough stuff, the Cherokee comes into its own.
Off-road modes to go the extra mile.
The Quadra-Trac 1 four-wheel drive system is advanced enough to take you to the remotest locations along with the Selec-Terrain modes that allow you to choose between Auto, Mud/Sand and Snow. Safe to say if there is even a slight trail to where you want to be, the Grand Cherokee will take you through it.
2022 Jeep Grand Cherokee: price, veridict
With the earlier iteration, the price was the biggest obstacle for the Grand Cherokee. With this new version, however, it isn't anymore. The Grand Cherokee is assembled at the Ranjangaon plant, which has allowed Jeep to price it at Rs 77.5 lakh (ex-showroom, India). Now, if that seems like a steep ask, know that every similarly sized European SUV is around Rs 10 lakh more and a whole lot less capable. Yes, the Jeep isn't as flashy as a Merc, as fun-to-drive as a BMW, or as sophisticated as an Audi, but it has an appeal that none of those SUVs have.
It is simple and no-nonsense with more focus on function over form.
It can actually take you places that are unexplored and connect with the adventurist in you, and it is there, specifically, for a specific set of audience, who want to do specific things. If you can do away with the badge value, need a tough, go-anywhere SUV with plenty of kit, and will actually use it for what it's meant to do, the Grand Cherokee is unrivalled.
Also see:
New Jeep Grand Cherokee India video review
Jeep Avenger SUV image gallery
10173 Views|4 months ago
2021 Jeep Commander image gallery
19538 Views|1 year ago