We've finally got our hands on the relatively affordable 1.5-litre petrol engine-powered Seltos, and the news is good.
60,000 – that's the number of Kia Seltos units sold in the first six months of its launch in India. For a debutant car brand in the Indian market, that's a huge number and quite an accomplishment. The Seltos' success in initial stages can be credited to its smart design, long list of equipment, and the option of multiple powertrains at different price points.
As you may know, the Seltos' engine line-up includes a 115hp, 1.5-litre naturally-aspirated petrol engine; a 115hp, 1.5-litre diesel; and a 140hp, 1.4-litre turbo-petrol. And while a 6-speed manual gearbox is offered as standard, each engine gets a different type of automatic transmission option. The 1.5 petrol gets a CVT, the 1.5 diesel is available with a 6-speed torque converter auto, and the 1.4 turbo-petrol is offered with a 7-speed dual-clutch gearbox.
We've earlier sampled the turbo-petrol and the diesel engine, and this time around we have the 1.5 petrol paired with a CVT automatic with us. So, does this make a sensible buy over the 1.4 turbo-petrol if you are on a budget? Let's find out.
What's it like to drive?
The 'base' Seltos uses a 1.5-litre, four-cylinder, naturally-aspirated petrol engine, which puts out a reasonable 115hp and 144Nm of torque. And while Kia has the needs of performance-oriented buyers covered with the 1.4-litre turbo-petrol version, this 1.5 unit is all about an easygoing nature and a relaxed driving experience. Right from the moment you start the engine, it is refined and runs quietly at low to mid revs. It's only in the upper reaches of the powerband that it feels strained and the engine noise is intrusive. Off the line, power delivery is smooth and the engine is responsive to slightest of throttle inputs. It doesn't have the mid-range punch of its turbocharged, but it doesn't feel gutless either like many naturally aspirated engines. Beyond 4,000rpm the engine starts running out of breath, and although it revs all the way till 6,500rpm, there's very little performance to be extracted in the top end.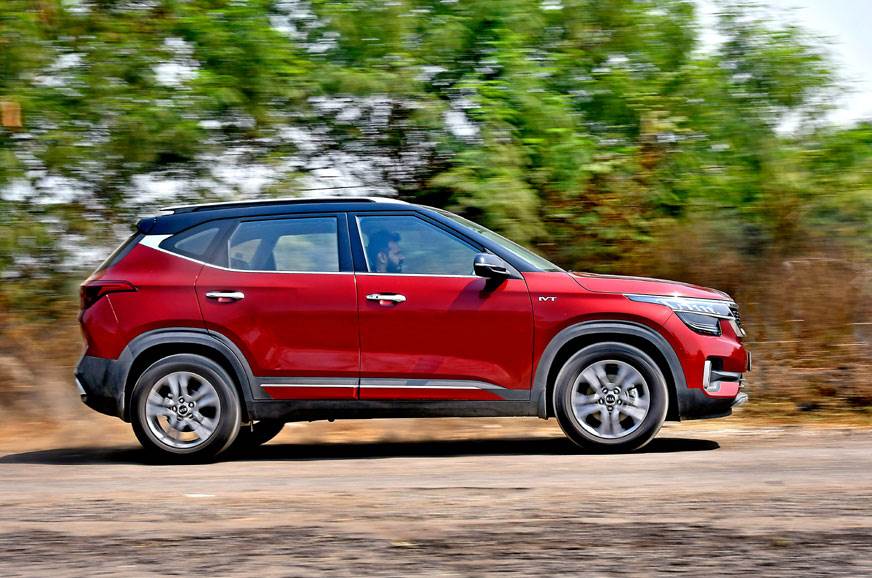 We sampled the 1.5 petrol engine in its automatic avatar, and we can tell you that the CVT (continuously variable transmission) does its job well. Yes, it does have the typical rubber-band effect you experience in most CVTs, where you accelerate hard and the engine rpm rises, but the same isn't translated into speed. However, the good news is that this undesirable effect has been kept to a minimum, which means there's enough power while overtaking on the highways. What the CVT does really well is it responds instantly at low speeds, especially on part-throttle, making it easy to close a gap in traffic or make a quick overtake. There's a manual mode to flick through predefined ratios but it doesn't allow aggressive downshifts, say to maximise engine braking.
During outright acceleration, however, the manual mode holds on to each ratio slightly longer than in 'D' mode, before jumping to the next ratio. Hence, in the manual mode, the Seltos petrol CVT did the 0-100 run in a respectable 12.06sec. For reference, this is 2.3sec slower than the 140hp, 1.4-litre turbo-petrol engine with the 7-speed DCT automatic, but 0.85sec quicker than the 115hp, 1.5-litre diesel engine with the 6-speed torque converter automatic. Apart from outright acceleration, the Seltos feels at home while cruising on the highways with the engine speeds just below 2,000rpm at 100kph. All in all, this combination works really well if you have a relaxed driving style.
The suspension setup is on the firmer side, and sharp potholes and bumps register themselves in the cabin, more so because of the 17-inch wheels, but it doesn't feel very uncomfortable. As you gain speed, vertical movement is kept in check and it is stable while cruising on the highways. Even on twisty roads, thanks to the firm suspension and a tight chassis, the Seltos feels balanced. Body roll is well contained while driving around corners and quick direction changes don't feel very unnerving. And although the steering weighs up as you gain speed, there's very little feel and connection. Brakes provide good stopping power and have a progressive feel to them.
How well equipped is it?
Available only in the Tech line, this 1.5-litre petrol engine can be had in four variants – HTE (base), HTK, HTK+ and HTX. The CVT, however, is offered only on the HTX variant and you cannot opt for this engine transmission in the top-end HTX+ variant, which gets electric sunroof, ventilated seats, front parking sensors, wireless charger, powered driver seat, BOSE 8-speaker sound system and a bigger 7-inch MID for the driver. What you do get on this particular HTX variant is 17-inch alloy wheels, LED headlamps, LED DRLs, 10.25-inch touchscreen with UVO connected car tech, inbuilt navigation, push start button, 60:40 split rear seats, air purifier and tyre pressure monitoring system.
Should I buy one?
As mentioned earlier, this powertrain is available in the HTX variant, which is priced at Rs 14.09 lakh (ex-showroom, India). Just to give you a perspective, the comparable manual variant costs a lakh rupees less. And if you wish to go for the comparable variant (GTX) of the more powerful 1.4 turbo petrol with a DCT automatic, that would cost you an extra of Rs 2.2 lakh (GTX+ is Rs 3.2 lakh more). However, you do get a more powerful engine, a quicker gearbox and few more safety features like six airbags and hill hold assist. So the question still remains, is the naturally aspirated petrol a good buy if you don't wish to spend too much on the turbo petrol? The answer is yes; this 1.5 petrol engine with the CVT automatic has just the right amount of power, refinement and smooth driving experience. So, if you have a laidback driving style, this Seltos will surely cater to your needs and even surprise you if you ever wish to test its limits.
2023 Kia Seltos facelift image gallery
16079 Views|3 months ago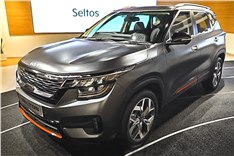 2021 Kia Seltos X-Line image gallery
15615 Views|1 year ago
Volkswagen Taigun vs Kia Seltos drag race video
21864 Views|8 months ago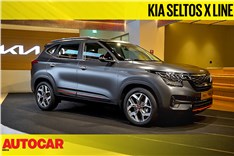 2021 Kia Seltos X-Line first look video
28851 Views|1 year ago