All-new 1.5-litre 98.6bhp diesel motor in Honda's first compact saloon, Amaze, claims a record fuel efficiency of 25.8 kpl.
With the Amaze, Honda embarks on a landmark innings in India. This is the company's first compact saloon and first diesel car rolled into one and it has enormous potential here. The Japanese carmaker has a lot riding on the Amaze and it could very well catapult Honda to the pinnacle of the entry-level saloon segment. So, have they managed to get it right?
Based on the successful Brio hatchback, the new Amaze is almost specifically targeted at India. Its sub-four-metre length and options of a less than 1200cc petrol motor and less than 1500c diesel engine go towards ensuring that Honda can avail of the excise (tax on manufacturing) sops for small cars and make it affordable for the value-conscious Indian buyer.
What sets this car apart from other sub-four metre saloons is the cohesiveness of the design. Unlike the Maruti Dzire, which is the best seller in this class, the Amaze does not look severely truncated or chopped from the rear. The lines of the car flow smoothly over the Brio's nose, onto the elongated roof and down over what is a very traditional looking boot. The reason it doesn't look like an afterthought is because it isn't one. Honda planned this Brio-based saloon from day one. In fact it looks positively attractive, with the two slashes across the side of the car and the nicely styled tail-lights. What allows the Amaze to keep this regular saloon profile is the fact that, unlike the Swift Dzire, it has a very short and compact nose.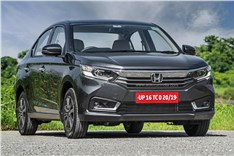 2021 Honda Amaze facelift image gallery
9125 Views|1 year ago
New Honda Amaze image gallery
92484 Views|4 years ago