After stubbornly refusing to give in to the dominating diesel trend in the Indian market for the longest time, Japanese carmaker Honda has finally succumbed. It made a 1.5-litre diesel motor specially for India and plonked it in the new Honda Amaze saloon.
Honda is dedicating a lot of its resources to ensuring that the i-DTEC powerplant is heavily localised in order to keep the price competitive and to make sure the demand is met. It also makes a lofty promise, claiming this to be the most fuel-efficient engine in the country with a 25.8kpl Indian Driving Cycle rating, despite also being the most powerful in its class.
The Amaze is less than four metres long, its petrol engine displaces less than 1200cc and its diesel less than 1500cc, so it qualifies for the government's excise benefit on small cars. There are lots of other small but significant features on the car that are a direct result of feedback from Indian customers too, so Honda does seem to have done its home-work. Priced from Rs 4.99 lakh (ex-showroom, Delhi) for the petrol and Rs 5.97 lakh for the all-too-important diesel, it is very competitive. There is definitely a lot riding on this car, so let's see how well it fares on the road.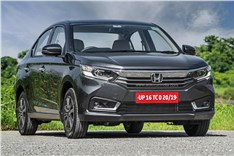 2021 Honda Amaze facelift image gallery
11575 Views|2 years ago
New Honda Amaze image gallery
94650 Views|5 years ago