Honda Amaze gets styling updates to its face and on the inside; new CVT gearbox on offer.
What is it?
Since its launch in 2013, Honda's Amaze has had a pretty successful run. However, in a segment as important and competitive as that for compact sedans, frequent updates to keep customer interest alive is the name of the game. What you see here is the refreshed Amaze. It's identifiable by its bolder styling, particularly so at the front-end. The petite smiling grille has been ditched in favour of a chrome-heavy one that now extends from headlight to headlight. Below this bold new grille sits a large, all-new bumper which features a revised air dam and large faux air intakes with fog lights in them. The side profile of the car remains unchanged though the re-profiled tail-lights do give this up as the new Amaze.
What's it like inside?
Honda had received a lot of negative feedback on the original Amaze's Spartan dashboard and it's good to know the Japanese manufacturer has made amends. The Amaze receives a new dash that's similar to the Jazz's in layout and design. However, the centre console is all-new and is user-friendly in how it houses the audio system high up. Existing Amaze owners will also notice the addition of automatic climate control. Interestingly, the Amaze doesn't get the touchscreen-type control for the air-con system as in the City and Jazz. The Amaze uses a more conventional arrangement and to be honest, it's nice and straightforward to use. Honda has also changed the instruments and what you get now is a more informative cluster.
Elsewhere, though the steering wheel, gear lever and window switches are unchanged, there's been an overall improvement in functionality – the buttons are intuitive to touch and two additional cubby holes make more space for knick knacks.
The equipment and feature list has been expanded too. You now get Bluetooth connectivity, along with the option of the Honda Connect package. ABS is standard across all variants (except the base petrol) and airbags are standard on all but the base models (entry-level E and S trims get airbags as an option).
The cabin is as spacious as before with ample legroom for the rear passengers. The thin seats from the earlier Amaze have been retained and though they look flimsy, they continue to offer adequate support and comfort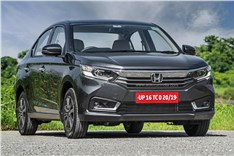 2021 Honda Amaze facelift image gallery
10839 Views|2 years ago
New Honda Amaze image gallery
94007 Views|5 years ago