Does Ferrari's most affordable GT blend practicality and thoroughbred performance?
Enzo Ferrari would have really liked the Ferrari Roma. There are several reasons for this. For one, he always believed in putting the "horse before the cart". Front engine cars were his thing. Then he seemed to prefer GTs or Grand Touring cars over more hardcore sports cars. He would have liked the design too. Yes, the Roma has classical flowing lines, but what it also has is a distinct identity; and that was always important to Ferrari.
So, just how usable and comfortable to drive is the Roma, especially in our conditions? Just how practical is it? And does it drive like a thoroughbred Ferrari when you flip the switch?
Ferrari Roma: an award-winning design
There's little doubt, Flavio Manzoni and his design team have done a fantastic job with the design. The Roma embodies an extremely modern design language, but also blends classical forms and balanced volumes.
The Roma blends a modern design with classical forms and balanced volumes.
The profile is sharp, clean and confident. It feels like it has been designed with bold strokes and a confident hand. The shark nose and bulging bonnet live together happily and then the new slot like taillights work superbly too. I'm not a big fan of this body-coloured version of Ferrari's traditional 'cheese-grater' grille, but would a chrome one with a prancing horse look better? Maybe.

Watch Ferrari Roma India video review here
Ferrari Roma: technical evolution
Under the stunning skin the Roma's all-aluminium chassis and body-in-white share a fair bit with the Portofino. Interestingly the two wheelbases are almost identical. The Roma however has the more planted stance. Roof height is lower, so is centre of gravity, and it's also nearly 100kg lighter.
620hp, 3.9-litre, V8 related to the one in the Portofino but packs in new tech for improved performance
The Ferrari Roma's twin turbo V8 makes 620hp. It's closely related to the one in the Portofino, F8 and a host of other Ferraris. New tech here includes a speed sensor that measures revolutions on the turbo. This allows the maximum revs per minute (on the turbo) to be increased by 5,000 rpm, strengthening top end performance. The pair of twin scroll turbos and flat-plane crankshaft also help deliver instant power on demand or what Ferrari call 'zero lag'. In addition, Variable Boost Management, a control software, varies maximum torque delivered in successive gears. As the car goes up through the gears the amount of torque delivered increases all the way up to 760Nm in 7th and 8th gear. This helps deliver a feeling of smooth, ever increasing performance.
The car's new 8-speed dual-clutch gearbox is also more compact and 6kg lighter, and dry sump lubrication here also helps keep things smooth when driving in town.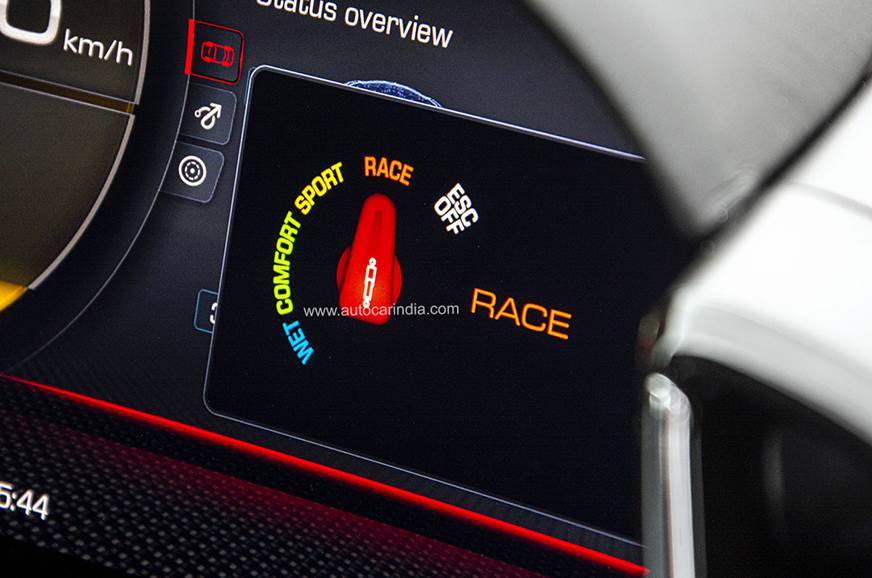 Drive modes let you alter performance; Roma also gets a Race mode.
Ferrari's manettino switch on the Roma also lets you choose between five drive modes including Race (not on the Portofino), which give you increasing freedom to explore the handling balance and rear-driven throttle-adjustability of the chassis. The latter is helped by a suite of class leading driver aids like Side Slip Control 6.0, electronic differential control (E-Diff), F1-Trac or adjustable traction control and Ferrari Dynamic Enhancer that makes all these systems work seamlessly as one.
Ferrari Roma: driving experience
First up, let's look at just how easy to drive the Roma is.
With the manettino set in comfort the Roma is surprisingly comfortable over bumps. It rides over expansion joints beautifully on its slightly higher profile tyres, there isn't too much up and down movement, and it even clambered over some filled in humps in the road with surprising ease. Clearance is so good, it doesn't have a lift function.
The Roma is surprisingly comfortable over bumps though large potholes do unsettle it.
You do have to slow down for large potholes and some bad patches unsettle it, but what Ferrari has again done here, is used some pretty nifty suspension technology to outwit physics, and that's impressive.
Also surprisingly light is this steering. And the Roma is easy to drive. The engine is very tractable and responsive, the pedals are well weighted, and because the gearbox is smooth at low speeds, the Roma immediately puts you at ease. So, the Roma is positively friendly to drive.
But it also has an edge, and a Race mode something the Portofino doesn't get. And when you put it in race, it turns into a popper Ferrari, a fire breathing monster. This V8 is extremely responsive and leaps forward as soon as you hit the throttle. While initial responses are very positive and thrilling, what takes your breath away is the catapult-like performance in the midrange. And the new faster gearbox then helps you stay in the powerband. Select 'Race' and there's even more urgency and seamless thrust. And Ferrari has now improved the top end of the V8 as well, so it pulls in a cleaner manner high up in the rev range, past 7,000rpm. Performance is extremely strong, especially in race, it will do a 0- 100kph sprint in just 3.4 seconds and 200kph comes up in at a claimed 9.3 seconds. To put things in perspective, the Ferrari F8 is around a second and a half quicker to 200kph, but that's a far more compromised and hardcore driving machine.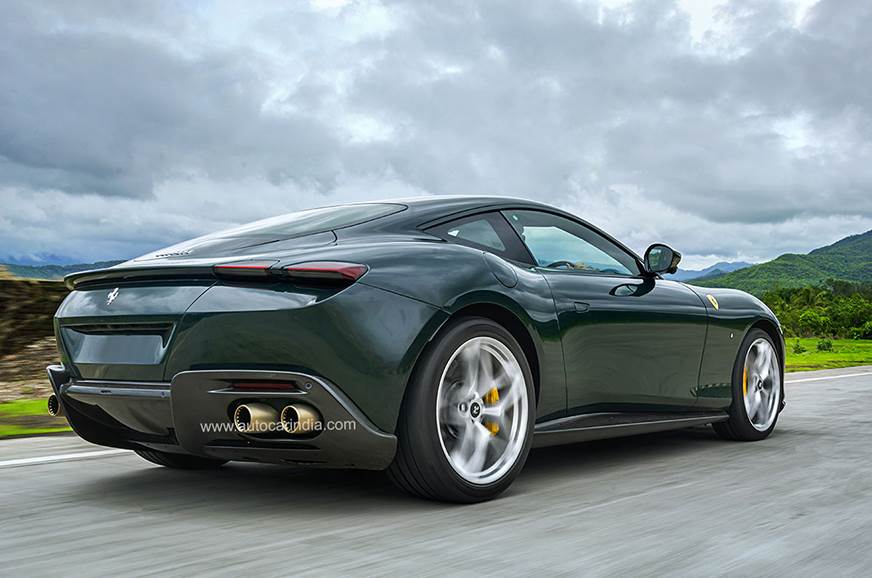 Performance in race mode is extremely strong with 0-100kph completed in just 3.4 seconds.
The Roma also has its own distinct sound. While the engine is used on many Ferrari cars, this one has a soundtrack of its own. It's got a nice rumble at low speeds; it rasps when you put your foot down and spin it fast and it even sort of whoops in delight towards the top end. You can't compare it with the blare of a naturally aspirated high-capacity supercar engine, but in isolation, this is pretty good. If only the idle of the flat plane crank engine were smoother, and the exhaust, in Comfort, a bit more silent.
The Roma will also plant a big smile on your face around corners. The steering is a bit light, and it doesn't have that limpet like grip that the F8 does, but oh boy can it thrill. What you notice first is the innate agility, that feeling that it is happy to dive into corners. Then there's the poise, something it maintains even when being cornered hard. And finally, it does something all good Ferraris seem to do; goad you into driving harder. What amps it all up is that in 'Race' the Roma allows you a fair degree of slip, before it gently nudges the car back to a more neutral position. Very nice.
The Roma stays poised through the corners even when cornering hard.
Ferrari Roma: digital cabin
On the Roma, the interiors are also built from a new style sheet, a lot of which is digital. There's a fair sized vertically aligned touchscreen on the centre console, the instrument panel is one big screen and you get Ferrari's new steering wheel that is sporty and compact; but also full of interesting tech. There for example is no push button to start the engine, only capacitive touch. All you need to do is press down near the base of the steering wheel where it says Engine Start. A similar system is also used to toggle between the various screens on the instrument panel, you use your right thumb, again capacitive touch and similar controls are there on the left spoke of the steering wheel too. Like other Ferraris, there are no stalks either; so, turn indicators are on the steering wheel, and you have rollers and buttons for headlights and wipers.
Cabin blends in plenty of digital elements with a central touchscreen, instrument display and one even in front of the passenger.
This cabin is also neatly divided into these two binnacles and here it gets this nice yellow demarcating line. You also get a screen for your passenger and of course a chrome Roma badge above the glovebox. Can't identify a modern Ferrari; this is where you have to look.
There are other new bits too. You press a button to open the doors, adjusting the mirrors is also via capacitive touch, and then on the centre console, there's what looks like the gate of a manual gearbox- only here you have buttons that control gearbox modes and launch control.
Buttons controlling gearbox modes and launch contol styled to look like the gates of a manual gearbox.
Apart from the fact that you can only adjust fan speed from the screen, always a pain on the move, it's a thoughtfully put together cabin too.
Ferrari has smartly provided a couple of places to securely place your mobile phone. There are a couple of felt lined pockets along the centre console, there's a rubberised tray in the elbow box, and although you get only one cup holder, you can safely use this for your phone as well.
Central touchscreen houses the controls for the climate control system.
The rear seats, if you can call them that, are however too small and far from usable. The 272-litre boot will however easily hold a couple of cabin bags, and that's probably all you'll need. There's no spare, but you can buy a space saver, an essential piece of kit in our conditions. But at the cost of bootspace.
Ferrari Roma: a fine balance
On the one hand, the Roma is clearly Ferrari's most practical and useable car. It rides well, is easy to drive and use good judgement, and it even has sufficient ground clearance for our roads and conditions. It's also a proper Ferrari when you flip the switch and mash down the throttle. Seriously quick in a straight line, very engaging to drive fast in corners, it also comes with a full suite of Ferrari driver aids. Adding to that, it is extremely attractive, beautifully built, and at Rs 3.76 Crore, the least expensive Ferrari you can buy. It's a Ferrari that ticks all the right boxes, and then some. It won't quite make you feel like a driving God, like the F8 can, and it will be more expensive once you spec it up, but if you are looking for a Ferrari that you'll want to drive almost every day and take everywhere, this is it.