With its 245hp now coming from a smaller 1.4 TSI and an e-motor, is this still the sports sedan we know and love?
Right now, Skoda's ICE range is going strong, but at the other end, it's launched a range of EVs under the Enyaq iV umbrella. Where the two meet in the middle is this car – the Octavia RS iV – a plug-in hybrid performance sedan, which is a tantalising bridge between ICE and EV. So just what are we working with here?
2022 Skoda Octavia RS iV: exterior, interior
The iV is almost indistinguishable from the ICE versions, save for a badge on the tailgate and the charging port on the front left flank. Compared to a regular Octavia, there are the usual changes – black grille, subtle bootlid spoiler, bigger exhaust tips, sportier bumpers and wheels (now 19 inches) and RS badges front and rear.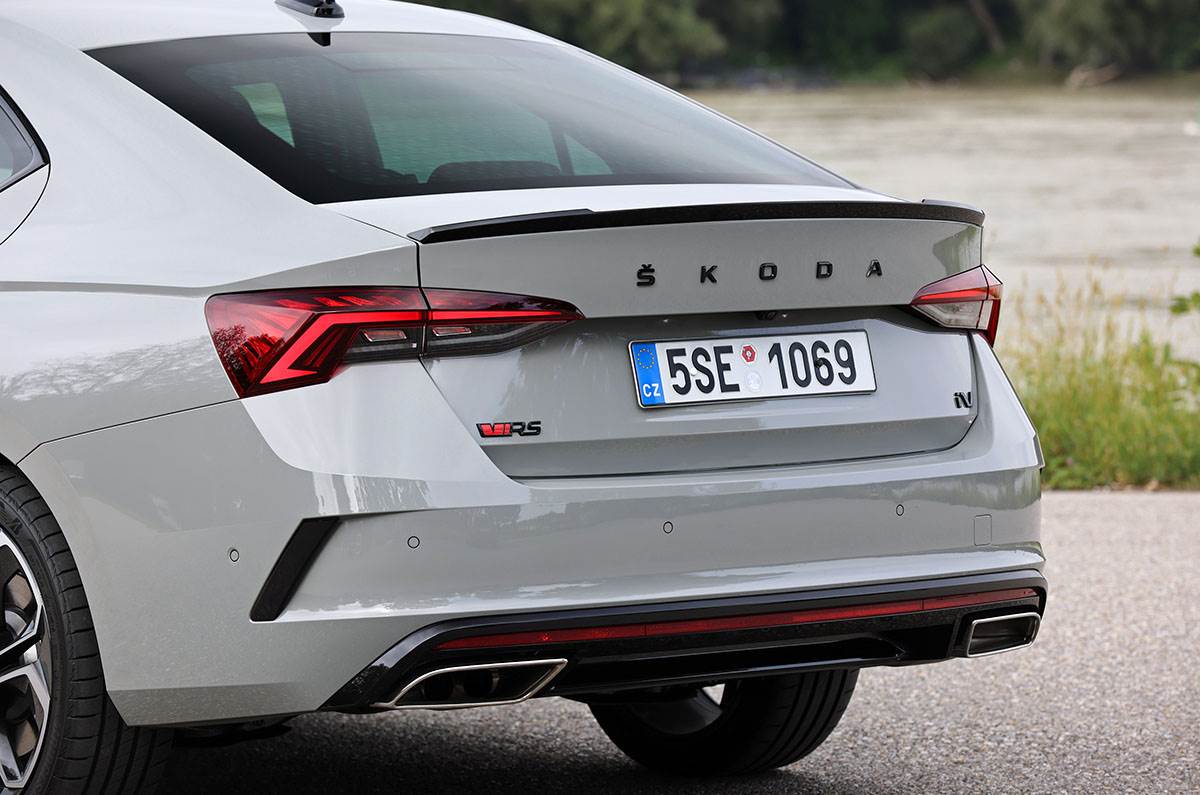 Sportier bumper, 19-inch wheels and RS badging some of the subtle updates on the Octavia RS iV.
Inside too, the RS updates are subtle. There's a flat-bottom steering wheel, Alcantara and carbon-fibre trim on the dash, and that's about it. The heavily bolstered seats are the big giveaway, and like the ones in the old RS245, they are superbly comfortable and supportive. The rest of the interior is that of the Octavia we know and love, and at times don't. It's spacious and comfortable wherever you're sat, it's got a premium design and is incredibly well equipped.
Plush sports seats are a highlight.
This European version even features ADAS tech and an HUD. But, as before, the brilliant 10-inch touchscreen has swallowed up far too many basic controls, and you cannot have a sunroof. What's more, the Octavia's trademark 600-litre boot is down to 450 litres thanks to the hybrid's battery pack.
2022 Skoda Octavia RS iV: engine, gearbox and fuel economy
You'll be pleased to know the RS iV makes an identical 245hp to its petrol-only counterpart, and torque is up from 370Nm to 400Nm. The 1.4 TSI engine makes 150hp and 250Nm on its own, while the additional power and torque comes from an electric motor drawing power from a 13kWh battery. The real advantage is that claimed fuel consumption (on the WLTP cycle) is up from 14.38kpl to 83kpl compared to the 2.0 TSI, while CO2 consumption is down from 160g/km to just 28g/km. It is even claimed to do 62km on electric power alone on a full charge!
The Octavia RS iV showcases rapid performance on a fully charged battery.
With a full battery charge and tank of fuel, the RS iV is at its performance-car best. It launches you off the line with the same sort of urgency you remember from the RS245, the six-speed DSG (not seven) slamming home effectively every time. You feel the full complement of electricity and internal combustion at your disposal, filling in torque gaps and masking turbo lag.
The Octavia RS iV can also be driven in pure EV mode for up to 62km
If you still have battery left, you can let it drop into EV mode around town, cruising silently and emitting no pollutants. Incidentally, you can manually select EV mode, or you can let the car do it automatically. Sport mode, incidentally, introduces an artificial engine note into the cabin, which, depending on where you stand on this sort of thing, will either irk you or encourage you to drive faster.
Spirited driving can drain the battery of the Octavia RS iV very quickly.
Where you will find yourself muttering "there's no replacement for displacement" under your breath in frustration is out on the highway. At three-digit speeds, an overtaking manoeuvre lacks that effortlessness you'd have got from the bigger 2.0 TSI, and it doesn't feel like the electric motor helps much here. More worryingly, a bout of spirited driving can drain the battery all too quickly, and then you have no electric assistance at all, which really can be felt. Charging it on regen takes far too long, and plugging in is the realistic way to regain those kWs.
Surprisingly good ride on 19-inch wheels.
The old RS245 was perhaps the dynamic gold standard for front-wheel-drive cars in India, and that hasn't changed. The steering is easy around town yet sharp; quick, but not to the point of making the car twitchy. It's surprisingly comfortable on its 19-inch wheels, and even this European car – 15mm lower than the standard Octavia – appears to have plenty of ground clearance. Yet, the RS feels incredibly controlled around corners and at highway speeds.
2022 Skoda Octavia RS iV: will it come to India?
While Skoda hasn't officially confirmed it, sources have told us the Octavia RS iV is on track for a 2023 India launch. Like its immediate predecessor, the last-gen Octavia RS245, it will be a CBU import brought over in limited numbers, which means an ex-showroom price likely north of Rs 40 lakh. That puts it in an even smaller niche than the old 245, and closer in price to the likes of the BMW 2 Series Gran Coupe and Mercedes-Benz A class Limousine, but what it will offer this time is something entirely different.
The plug-in hybrid Octavia RS will be a unique offering if it arrives on our shores.
With almost no plug-in hybrids in India, apart from at the 1-crore-plus end of the market, this will be a unique offering at its price point. Some will miss the purity of the TSI-only 2.0-litre petrol version, but this more complex machine has a far bigger role to play. Though not quite as effortless as the 245, it still delivers that driving pleasure you want. Moreover, it will offer buyers a blend of performance and efficiency that will help ease those on the fence towards the full-electric Enyaq iV, which is also due to launch next year. The Octavia RS iV is really a car that lets you have your cake and eat it too, and we feel that, like the RS245, it will become a collectors' item for a select few lucky enough to get their hands on one.
Also see:
2022 Skoda Octavia RS iV hybrid video review