To improve on its bestselling SUV, Hyundai, of course, piled on the equipment and added more engine options, but it seems they went even further.
What is it?
It couldn't have been easy to make the second-generation Hyundai Creta, especially considering the old one was at the top of its game, right until the end of its life. Love it or hate it, there's no two ways about it, it was nothing short of a blockbuster.
Well, the new 2020 Hyundai Creta is here, and its job is a lot tougher this time. There are some stronger rivals now (one in particular from Hyundai's own backyard), and many more just around the corner. Can it prove to be the sequel that surpasses the original?
What's it like on the outside?
A big contributor to the first Creta's success were its strong, SUV-like proportions. It wasn't very large or imposing, and in fact, before the facelift, you could even call the looks quite dull, but it had just the right shape and that worked. The new Creta, a visibly larger vehicle, also has superb proportions, with a chunky, square-shaped front end, thick creases over the wheel arches, broad shoulders and a roofline that has a nice silver accent on the C Pillar. However, the smaller details will likely polarise people. The 17-inch alloys (dual-tone and diamond-cut on some variants) are of an interesting but unexciting design. The flat nose of the car is home to a big grille and lighting is via an unusual, three-part C-shaped LED DRL pattern, with the actual LED headlamps in a cluster lower down (the indicators and fog lamps are lower still). The LED tail-lamps mirror the headlamps, with their C-shaped design and brake-light cluster, although a neat black strip housing the high-mount stop lamp adds some relief. The design is quirky at best and fussy at worst.
Indicators and fog lamps sit in base of front bumper.
What's it like on the inside?
The interiors are quite the opposite, and you're welcomed by a clean and simple dashboard design, with a rather elegant V-shaped flowing centre console. Exclusive to the 1.4 Turbo model is this all-black interior with red highlights, while the others get a more conventional beige and black. There's even contrast stitching on the leather-wrapped steering wheel and the throttle-like gear selector – both of which bear an uncanny resemblance to what you'll find in a modern Audi. Sporty as this colour scheme is, though, it highlights the Creta's liberal use of hard shiny plastic, and places it right in your face. While the plastic quality itself is pretty good for the class, it lacks soft-touch materials like many rivals offer, and there's very little brightwork anywhere, which takes away from the perceived quality.
Big screens, smart steering wheel stand out on an elegant, but simply designed dash, which uses too many shiny plastics.
What buyers will like are the front seats, which are large, wrapped in contrast-stitched artificial leather, supportive, and very well cushioned – not overly soft like the previous car's. Hyundai has paid special attention to the rear cabin this time. There's a bit more legroom than the old car's already generous amount, but there's significantly greater width, so a third passenger would be more comfortable, but they'd have to contend with the central armrest jutting into their back. You sit higher up, so getting in is easier and the view forward is better, and here too, the contours are really well judged. You can even get a set of cushions that can be attached to the rear headrests – a la the Mercedes S-class – for an additional layer of rear-seat comfort.
Rear bench is large, comfortable and supportive. Note the cushion strapped on to headrest.
There are, of course, rear AC vents, and here's a nice little tray to store your phone alongside the USB charging port. Rear window blinds are also present, and head room, while pretty decent, is eaten into somewhat by the frame of the sunroof, but only the tallest of passengers will find this an issue.
What kind of equipment does it have?
In true Hyundai fashion, the Creta's equipment list throws everything and the kitchen sink at you. Auto headlamps, wireless phone charging, an auto-dimming rear-view mirror, a powered driver's seat, a tyre pressure monitor, an onboard air purifier and auto climate control are known entities by now; what Indian buyers will really love are the ventilated front seats, a tremendous-sounding Bose audio system, the electronic parking brake and, the big one, the full-length panoramic sunroof.
10.25in touchscreen is clear and packed with features.
The big attraction, however, is the 10.25-inch touchscreen that sits flush with the surface of the centre console. It's slick, it's crystal clear with sharp graphics, and it's loaded with features, which includes Apple CarPlay and Android Auto, along with Hyundai's BlueLink connected car app suite as well. Another blessing is a row of physical buttons, so you don't always have to take your eyes off the road. Other neat touches are the cool blue ambient lighting, the knurled finish for the brushed silver AC knobs and the part-digital instrument cluster. The analogue tachometer is small and relegated to one corner, but the 7.0-inch screen at the centre of the binnacle looks sharp, gives you all relevant trip computer info and changes colour with the drive modes. Yes, the Creta has drive modes – Comfort, Eco and Sport for the road, and Snow, Mud and Sand for when you're off it – but hold your horses, off-road aficionados; there's still no AWD.
Panoramic sunroof is sure to draw a lot of customers.
The safety suite on offer is pretty good too, including six airbags, rear parking sensors and a rear-view camera, traction and stability control, and disc brakes at all four corners.
What's it like to drive?
There are five powertrain options, including a 115hp, 1.5-litre naturally aspirated petrol, a 115hp, 1.5-litre turbo-diesel and the 140hp, 1.4-litre direct-injection turbo-petrol we are driving here. The former two are available with both manual and automatic options, the turbo-petrol, which we're driving today, is only available as an auto.
While it's not being positioned as an outright 'performance' model, the 1.4 T-GDi engine, the same unit found under the hood of Seltos, packs identical numbers – 140hp and 242Nm – which imbues the Creta with pretty strong performance. It's a shame there's no manual on offer, but the quick shifting dual-clutch automatic does this engine justice as well. However, Hyundai hasn't quite mastered DCT tech the way the Germans have and there's a still a fair bit of jerkiness at slow speeds. However, shifts are noticeably smoother in the Creta than in the Seltos (which also uses the same gearbox) and it engages gears in a less abrupt manner. Surprise the gearbox with a sudden kickdown at low revs, and the gearbox fumbles a bit. Like most DCTs, this one too works well at high speeds and high revs. The real game changer here, however, are the paddleshifters – a first in class – which really let you take the reins of this powertrain and use it to the fullest.
Paddleshifters are first in class.
The engine is, overall, pretty refined, although it does get a little boomy when you rev hard. In most scenarios, however, you won't really feel the need to do so, thanks to a peppy low end and a strong mid-range.
You can improve things further by selecting Eco mode, which adjusts the AC performance and powertrain responsiveness, and the best part is, it doesn't dull the driving experience down to a frustrating level. This mode, which gets the gearbox to upshift as quickly as possible, is best if you spend your time in traffic, but if you're constantly on the move, Comfort (or 'normal') mode feels a bit more spirited. Selecting Sport takes the additional step of putting the gearbox into Sport mode (which you can also do by tapping the gear selector rightward), and this really gets the powertrain wired up and chomping at the bit. The gearbox hangs onto revs all the way to redline and upshifts feel more pronounced.
With its new platform, the second-gen Creta has matured beautifully on the dynamics front. It feels like an altogether larger and more solidly put together vehicle from behind the wheel, although it's still not quite up there with something from a European carmaker.
The new Hyundai Creta's suspension errs on the softer side once again, and you move around a bit in your seat but it's not bouncy like the old Creta, and you get superb stability at high speeds. The softer setup allows it to tackle smaller road imperfections really well.
The overall handling is tuned to make driving as easy as possible. All the controls are light and the steering too requires little effort, which is great for low-speed manoeuvrability. However, the light steering feel comes at the expense of feedback, which doesn't encourage mid-corner histrionics, and there's a bit of torque steer, too, when you whack open the throttle.
Should I buy one?
The 2020 Hyundai Creta's new look may not work for everyone, but frankly, that's not going to be enough to curb its almost certain future popularity – it bagged 14,000 bookings in just two weeks. Where it won't have it as easy as its predecessor is in the fact that the competition has stepped up its game on all sides. Apart from its most direct rival, the Seltos, the segment below is catching up, with the likes of the very capable XUV300, and larger SUVs like the MG Hector, offering some really tempting value for money. But Hyundai has played to its strengths, foregoing things like driving dynamics for greater comfort and an even longer equipment list. They've even given it an aggressive introductory price of Rs 9.99 lakh to Rs 17.20 lakh, which still points to pretty good value. What will clinch it, however, is those class-leading features –most of all the cooled seats and panoramic sunroof – which Indian buyers just seem to love and are willing to pay a premium for. No doubt, it's taken the fight to the Seltos' doorstep but Hyundai's target is to surpass the success of the previous Creta, which it probably will.
Also see:
2020 Hyundai Creta video review
Hyundai Creta 1.6 diesel long term review, final report
6,703 Hyundai Creta SUVs dispatched prior to lockdown
Maruti Suzuki Grand Vitara vs Hyundai Creta vs Kia Selto...
21991 Views|3 months ago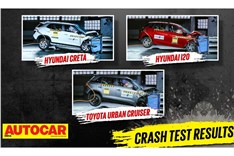 Hyundai Creta, i20 & Toyota Urban Cruiser Global NCAP cra...
9701 Views|9 months ago