Audi's flagship SUV, the Q8, is finally set to go on sale in India. We drive it in Dubai to tell you what to expect.
You could liken the porch of the Palace Hotel in Downtown Dubai I'm at to a runway for the
most exotic cars of the world. Name a car and you'd see it over the course of a day. So it speaks volumes that the Audi Q8 holds its own in this glamorous setting. Audi's flagship SUV is big on show value; something that I'm convinced will resonate with its target clientele of red carpet regulars.
Q8 previews edgy styling that'll be part of future Audi SUVs.
Only marginally shorter and lower (but also wider) than a Q7, the Q8 is a whole lot of SUV. And up front, you'll see a whole lot of grille. The latest evolution of Audi's single-frame grille is massive, yes, but you know what? It works on the big and bold Q8. Sharply cut headlights with Matrix LED tech and sporty air intakes add to its chiseled face. The Q8 has a squat stance, the flared fenders add muscle, and what makes it look particularly distinctive is the chunky C-pillar whose rake links it to Audi's Quattro rally cars from the past. Styling at the rear is sharp too, characterised by a gloss-black applique near the tail-lights and a light band that runs the width of the tailgate.
What's good to know is that Audi won't hold back on rim sizes for India. Offered in a variety of designs, 21-inchers will be standard, with 22-inchers offered as an option too. There'll also be over 50 body colour options, as well as a range of interior themes to choose from. Audi's idea is that no two Q8s in India should look the same, outside or in.
In take
Doors with frameless windows add more exotic appeal to the Q8, but there's also a sense of familiarity on the inside. The SUV sports Audi's new-age dual-touchscreen infotainment system setup, so the overall look of the dashboard is not too far removed from what we've seen in the A6 already. It's a point of note rather than a reason for complaint because the touchscreens, together with the superb Virtual Cockpit digital dials, make the cabin look cutting-edge. However, you do need some time to familiarise yourself with the infotainment system's interface. Haptic feedback does help, and you can get by using voice commands for many of the functions, but physical buttons for essentials like climate control would just make life easier.
Dash is new-age Audi. Interior will get a range of trim options.
Otherwise, the Q8 cabin is brilliantly done. Overall quality is impeccable, the richly trimmed front seats offer loads of adjustment, and even things like the adjustable ambient lighting do much for the experience inside. A panoramic sunroof is included too.
You can really stretch out at the back. There's enough headroom as well.
The chauffeur-driven have much to like too. There's immense legroom at the back, there's more headroom than the sloping roofline would have indicated, and you even get the option to adjust the backrest recline to your liking. However, a wide centre tunnel means the middle-seat experience isn't the comfiest. So, if you often travel with a full house, you'll be better off with a Q7 that also offers the flexibility of a third row of seats. The absence of a third-row does mean the Q8 offers loads of room for luggage, 605 litres to be precise.
Power up
The Q8 will come to India in 55 TFSI form. That's Audi-speak for a 3.0-litre, direct-injection, turbo-petrol V6 engine that makes 340hp and 500Nm, aided by a 48V mild-hybrid system. The engine immediately shines for its refinement on the steady speed drive on the expressway out of Dubai city. There's ready access to power, and getting up to the speed limit only requires a flex of my foot. The 8-speed automatic gearbox is also quick to gauge driving style, settling for the overdrive gears for the gentle cruise that makes up much of the route. It's on the camera-free side roads by the desert that I get to experience all that the engine has to offer. The V6 has a nice snarl and the build of speed is strong, but what's missing is that hard push back into my seat. The 55 TFSI is quick (0-100kph takes 5.7sec) but it's no brute. Before you ask, there won't be a diesel Q8 in India.
On the few corners around, the Q8 impresses with good poise and very balanced handling for something so large and heavy. And the drive modes give you enough ways to play around with powertrain, steering and air suspension settings. Dubai's perfectly surfaced roads are far removed from what we have back home, so allow me to gloss over the section of ride quality. All I can tell you is the standard air suspension comes across as well damped. Surprisingly, the 21-inch rims don't rattle the Q8 on the few cobblestone paths. Hopefully, our potholes won't prove to be a bother either. When things get really bad, it's handy that you can increase ride height.
Stand in Q
The Audi Q8 will come to India as a CBU and by extension, that means it will be a pricey proposition. Those who see the Q8 merely as a Q7 in fancy clothes will find it hard to digest the estimated Rs 1.5 crore price tag. However, this SUV isn't intended to be a volume product in India. On the contrary, the Q8's appeal in India, Audi says, will be in its exclusivity. Built-to-spec and loaded with goodies, this is an SUV intended for those who want their car to stand out, and don't mind paying the big bucks for it.
The original Q7 was once the ride of choice for India's celebs and industrialists. Something
tells me the Q8 could just take that mantle.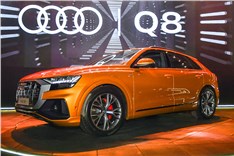 2020 Audi Q8 India image gallery
8288 Views|2 years ago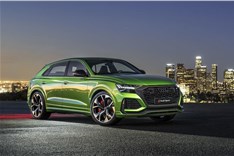 Audi RS Q8 image gallery
4776 Views|3 years ago
Audi SQ8 image gallery
7213 Views|3 years ago