The V-class is the most luxurious MPV you can buy and is aimed at those who like to travel in groups and in style.
Mercedes-Benz India has always had its eye on the luxury end of the minivan market, which is still an empty and elusive niche. It's a segment that Mercedes has had a crack at twice before, but with little success. In 1999, it launched the SsangYong-built MB100 and MB140 minivans, imported from Korea. Though the MB vans were pretty tough and durable they didn't offer the luxury and quality worthy of the three-pointed star and, as a result, they quietly died in 2001. In 2011, Mercedes launched the R-class but once again this MPV failed to pull in customers due to its unconventional design (for a Merc). Also, the lack of a diesel engine at launch (unthinkable for an MPV buyer at the time) ensured that it was pretty much dead on arrival.
Nearly a decade on, the India growth story continues but at an even faster pace. Businesses are growing, people are on the move and the need to travel in style and comfort has never been greater. This state of affairs is an opportune time for Mercedes-Benz to bring the V-class into showrooms but will it be third-time lucky? Can Mercedes make its latest minivan stick in a segment that has eluded the company all these years? These are questions Mercedes doesn't quite yet have the answers to and is hence testing the waters by importing the V-class directly from Spain (where it is made) in small numbers. And if the demand is good, the company will consider locally assembling the V-class at its Chakan plant. However, the trouble with completely built-up (CBU) imports is that they attract punitive duties and that can knock prices into the stratosphere.
One advantage of sourcing the V-class from Spain is that the lower cost of production there, compared to Germany, translates to a lower price, which in turn reduces the knock-on effect of the high customs duties on CBUs. Still, taking that benefit into consideration, the V-class isn't cheap and costs Rs 68.40 lakh for the Expression trim and the Exclusive version tested here is even pricier at Rs 81.90 lakh. So should you be paying so much for a minivan, even if it's got a three-pointed star on its grille? Let's see how far your money goes.
What is it?
That this minivan has not-so-mini proportions is immediately obvious the moment you come within five feet of it. This is a massive vehicle in every dimension, which – along with the price – sets it a class apart. In fact, the slab-like proportions, towering height and flattish body panels make the
V-class more van than MPV. Vans come with commercial vehicle connotations, which (for obvious reasons) Mercedes has tried to mask with a smart set of alloy wheels, glossy metallic paint and a nose that could belong to any Merc. No doubt it's the front end with the nicely detailed headlights, sculpted bumpers and large grille that elevate the V-class' image.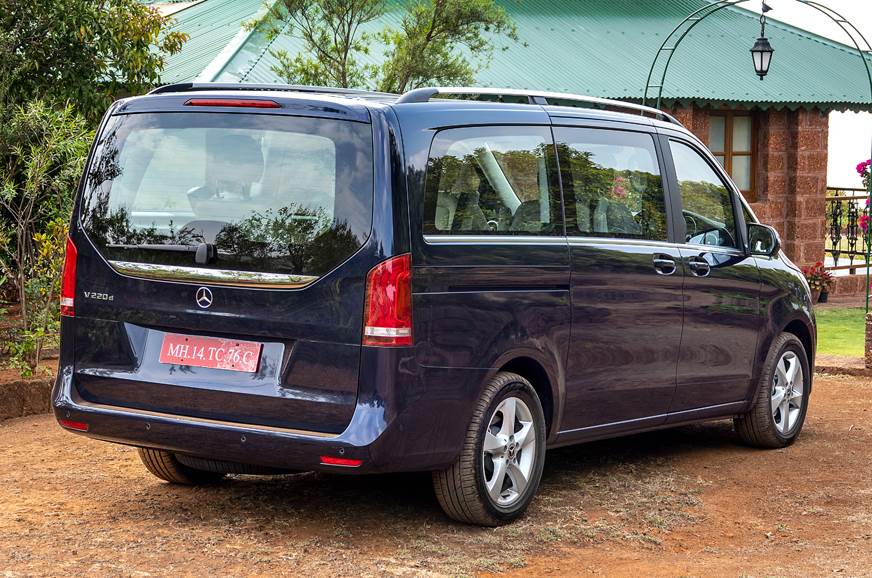 Overall, it's a smart-looking van but it's a van nonetheless, derived from the commercial Viano's front-wheel-drive platform. However, this platform – which is underpinned with sturdy mechanicals and an efficiently packaged suspension system of MacPherson struts up front and trailing arms at the rear – has its own set of benefits, with space being the biggest one of them.
The V-class comes in two body sizes – the standard length, which is 5,140mm, gets a 2+2+2 seating configuration, while the extra-long 5,370mm version gets a 2+2+3 layout which increases seating capacity to seven passengers.
The six-seater version we are testing is more for personal and corporate use and is aimed at CEOs and large families. So is the V-class versatile enough to switch between boardroom and family room?
Let's first start up front. The driver is instantly put at ease thanks to the lofty seating position which offers fantastic visibility and spot-on ergonomics. The dashboard is quite plush with leather all round, and the overall ambience and layout makes you feel like you're in a regular Merc sedan and not a 5-metre-plus-long MPV. In fact, the old-school dials are similar to the C-class', and the infotainment screen is the small and rather outdated 7.0-inch COMAND unit. Speaking of old, the engine too is the previous-gen OM651 2.1-litre unit, which has been upgraded to BS-VI spec. So while there's no stinting on quality, the V-class doesn't get the latest features found on its latest sedan siblings. You do, however, get features like heated and cooled seats, two USB ports and an optional 15-speaker Burmester audio system.
If the front row is business class, then the second and third rows offer first-class travel. The main cabin can be easily accessed even in a tight parking spot thanks to the electrically operated sliding doors that open wide. From the inside, the doors can be opened or closed with a touch of a button by both the rear passengers and the driver.
The flat floor and massive amount of headroom make it convenient for passengers to move around in the cabin and the seats themselves have generous amounts of travel. In the Exclusive version, the pair of middle row seats can be turned around to face the third row, which is an ideal configuration when conducting meetings on the move. The forward-facing seats in the third row have individual fold-out trays that can slide forward, and with both open, they form a table like in a mini conference room. However, facing passengers will have to watch their feet to avoid kicking each other. Also, the travel of the rearward facing seats is limited as they are pressed against the front seats. So with a really tall driver up front, there's a bit of jostling needed to find the optimum position.
As a family car or luxury people-mover, the V-class is best used with all three rows facing the direction of travel. However, rotating the middle row of seats by 180 degrees is a cumbersome process. The seats are heavy to lift and tricky to unlock and fix back onto their rails – something most owners won't have the patience or skill to do. The easiest thing to do is send the car to the dealer where a trained technician can switch the seats around in a jiffy.
The seating position is spot on with its high 'H-point' and great outside visibility but the panoramic side windows could do with a sunblind, at least as an option. The thing is, none of the six seats offer exceptional comfort; the overall seat cushioning is flat and hard and you don't sink into them like you would in an E-class. You can't recline the seat easily either as it fouls with the rear parcel tray. There are bottle holders and enough cubbyholes to store stuff, but you get just two 12V sockets to charge your devices. There's no AC output to charge your laptop and no USB ports in the back either.
The split-opening tailgate swings upwards to reveal a low loading lip and two-tier luggage area, which lets you make the most of the available space. Another very useful touch is the collapsible crates which when opened up are perfect to hold smaller items in place to prevent them from flying around the large boot area. And, if you remove the last two rows of seats, there's enough space to transport a pony. Space is one thing there is no shortage of in the V-class.
What's it like to drive?
A 163hp engine pulling a 3,100kg vehicle may seem inadequate on paper but, surprisingly, the 2.1-litre diesel is quite up to the job even with all six seats occupied. Sure, you're not going to be pinned back into your seats when you stamp on the throttle pedal, but the V 220d is fairly brisk and can crack the 100kph barrier from rest in under a claimed 11sec. What's more impressive is the linear way in which it builds power and that is crucial for a car that needs to be driven smoothly and seamlessly, especially if there's a heated board meeting happening in the back. The last thing passengers want is a sudden burst of acceleration which will send their files and papers flying across the cabin.
Overtaking, especially on the highway isn't as effortless though and you do need to override the smooth-shifting 7-speed automatic gearbox with quick tugs of the paddles for more urgency. This is not an engine that likes to be revved either, and, unlike the smoother OM654 2.0-litre seen on the latest Mercs, it has a gruff note beyond 4,000rpm.
That's not to say refinement is an issue. In fact, driven sedately, the V 220d is fairly hushed with little wind and road noise. The ride too is very plush by MPV standards and apart from a little bit of low-speed lumpiness this Merc, in true Merc fashion, simply smothers bad roads. There's a wee bit of pitching and some up and down movement when the road is really bad but, overall, the V-class, which has adaptive dampers, is really well composed and does a great job of not disturbing that ongoing meeting.
The big surprise, however, is how easy the V-class is to handle and is not in the least daunting to drive as its size would suggest. Yes, you do have to be mindful of that bus-like length, especially when dodging traffic, but you'll be amazed how quickly you adapt to the car's gigantic dimensions.
It's remarkably stable on the highway too, and the electro-mechanical steering (borrowed from the C-class) has a reassuring heft to it and gives you a sense of control despite the fair bit of body roll through corners.
Should you buy one?
Yes, it's a Mercedes; yes, it's built to a high standard, and yes, there's no other MPV or minivan that offers anywhere near the same level of refinement comfort and luxury. But then no other MPV costs anything near the V 220d either. As a conventional six-seater MPV, it's hard to justify the price, especially when for the same money you could get three top-end Innova Crystas and some change. No doubt it's overpriced for what you get, but you're paying a premium for what you don't get in any other MPV. If anything, it's only the sheer space and the unique seating configurations the V-class offers that can somewhat justify its price.
Also see:
In conversation with Martin Schwenk, MD and CEO, Mercedes-Benz India video