Come 2020, Volkswagen will be ready with an Indianised T-Cross to take on the likes of the Hyundai Creta in the small SUV segment. A drive in a prototype reveals there will be lots to look forward to.
What is it?
This is the closest look yet of the VW T-Cross – an SUV that will make it to India in 2020 after a full-scale process of Indianisation, so to speak. The SUV for India will be adapted for our market, heavily localised and will be built on VW's MQB A0 platform. What you see here is a prototype of the international-spec model that is, according to the car's engineers, "95 percent complete", providing a credible glimpse of what's to come.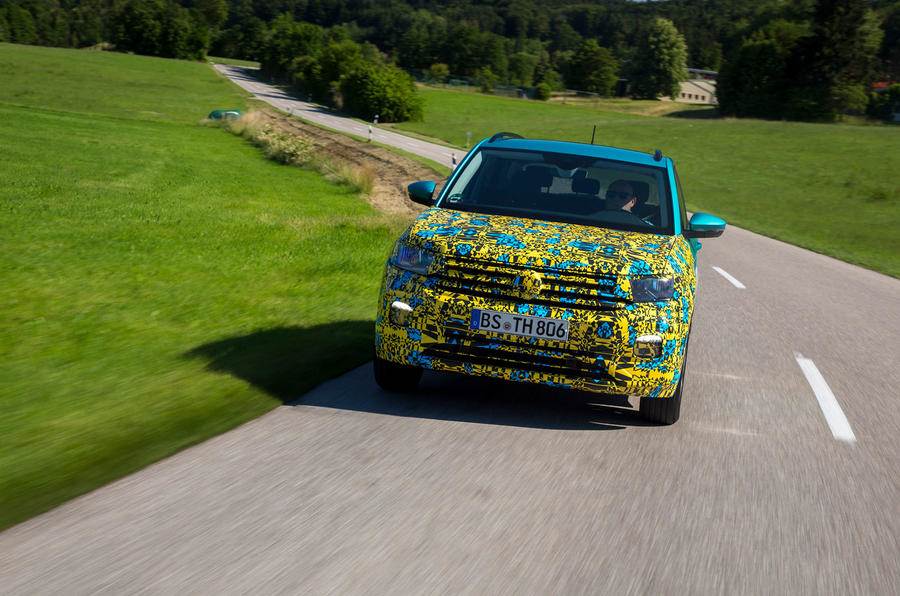 What's it like on the outside?
While the front and rear portions of the T-Cross pictured here are camouflaged, our colleagues at Autocar UK have seen an undisguised design prototype and report of an SUV with youthful styling. There's a very clear link to the T-Roc, particularly at the rear, where there's LED lighting and a reflector bar across the middle. The SUV also has an imposing nose and chunky chin and looks quite grown up for an SUV that is just 4.1m long. It isn't as bland as some of the models currently on sale and has the SUV-esque design down pat.
What's it like on the inside?
VW's engineers have packed as much safety and practicality as possible into the T-Cross, so it gets a full suite of driver assist technology, including VW's latest front assist area monitoring system that can prevent impacts with vehicles ahead or approaching from the side. Plus, the T-Cross can devour a class-leading 455 litres of luggage when the 60/40-split rear bench is slid forward by 20mm (a feature that's unique in the segment) and the two-level boot floor is set to its lowest. It swallows 1,281 litres with the rear seats completely down.
This provides the T-Cross with "unrivalled flexibility", according to VW small cars boss Andreas Krüger; although, the prototypes driven by Autocar UK featured a strengthening bar that stretched across the front of the boot floor (just behind the seats), which created an inconvenient raised lip about an inch high. This could be 'engineered out' before production starts, we're told, but it might not be, which would hinder the usability of the boot floor's space.
The higher-spec trims of the T-Cross will feature VW's slick and functional 8.0-inch touchscreen infotainment system and the active info display instrument cluster as well, carried directly over from the international-spec Polo hatchback. There are also vibrant trim finishes available with an optional 3D print design on the dashboard to spruce things up.
How does it drive?
The prototype is powered by the 115hp, three-cylinder, 1.0-litre turbo-petrol engine that is mated to a seven-speed dual-clutch gearbox (a six-speed manual will be standard). Incidentally, it is this engine that VW has plans to localise for the Indian market. For international markets, the engine also comes in a 95hp state of tune and is mated exclusively to a five-speed manual. There will also be a 150hp, 1.5-litre turbo-petrol and a 95hp, 1.6-litre diesel.
On the road, the T-Cross, which is available in front-wheel-drive only, feels only marginally larger than a Polo, so it remains easy to thread along the narrow sections of Bavarian country lane on the test route. The 1.0 TSI, familiar from the international Polo and Golf, remains impressive in this application, offering strong lowdown torque with a pleasing three-cylinder rumble. It feels eager and free revving in the T-Cross, even if not particularly potent, and the DSG dual-clutch gearbox is quick to shift. We noted a slight hesitation to kickdown under heavy throttle loads on a few occasions, but VW's engineers say there is still some calibration work to do.
The diesel is expected to remain a low-volume option because oil burners are not in particularly heavy demand at this end of the market. But the 1.6-litre unit feels effortless in the T-Cross, with its healthy peak torque seemingly available from under 2,000rpm. (Specifications aren't confirmed yet.) It allows the seven-speed auto to hang onto higher gears for longer to make the whole driving experience feel more effortless.
Interestingly, the diesel test car rode slightly better than the petrol one – both were on 17-inch wheels, although 16s and 18s will also be offered – soaking up ridges and cracks without the thuds and vibrations we'd felt in the 1.0-litre car. This could be linked to the slightly firmer front springs used in the heavier diesel doing a better job of keeping the body composed, but we suspect it's evidence of an undecided final set-up and variations between these very well-used development cars.
What does this mean?
Let's make no mistake, here. It's difficult to come to conclusions about a production car so far from it being signed off, so we won't. But it's clear the T-Cross has a lot going for it, particularly in terms of practicality.
If VW's engineers can iron out the remaining creases and be confident enough to give the brand's smallest SUV the interior it deserves, you'd be hard pressed to doubt the glint of confidence in their eyes.
When it comes to India, the T-Cross will rival the likes of the Hyundai Creta, Renault Captur and the upcoming five-seat Tata Harrier. It could just be the VW model that marries desirability, practicality and affordability in one package.
SAM SHEEHAN