The mid-life update for the popular luxury sedan adds much modernity and a new BS-VI-compliant diesel engine.
What is it?
It's a mid-life update for the C-class that hopes to bring it up to date with newer rivals. It's also the first car to be launched with Merc's new 2.0-litre, four-cylinder BS-VI-compliant diesel engine (yes, we sampled this engine in the E-class All-Terrain a little while back, but that car has yet to be launched at the time of this review). It's available in two states of tune – a 194hp C 220d and a 245hp C 300d; the latter replaces the C 250d and is the one we're driving today. No petrol variants are available at launch, but those, along with high-performance AMG versions, are likely to join the line-up in the coming months.
What's also nice is that, this time, they've done a better job of differentiating the more powerful diesel from its lesser sibling. The C 300d comes with the AMG Line body kit (think of it as Mercedes' version of M Sport or S-Line) and this includes more aggressive bumpers, side skirts and larger, 18-inch alloy wheels. Also of note, is that the attractive 'diamond' grille from the previous AMG C 43 is now part of this AMG Line package, and that this one gets the higher-spec 'Multi-Beam' adaptive LED headlamps (the C 220d gets a simpler full-LED setup). At Rs 48.50 lakh (ex-showroom, India), it's not too much of a jump from the Rs 44.25 lakh of the C 220d Progressive.
What's it like inside?
Here too, it's familiar, as you might expect, but again, there are a few changes of note. The wood grain is now 'open pore' or unvarnished, which is less prone to scratching and just looks a bit classier. The steering wheel is brand new and similar to the one in the S-class, with metallic control buttons and dual touchpads. And, since this is the AMG Line variant, it's a chunkier, flat-bottom affair. The dials remain analogue, but look good in their big hooded enclosure, and also have a larger colour multi-info screen between them now. Thankfully, Mercedes offers a wide-screen 10.25-inch infotainment screen as standard on the C-class now, and you no longer have to contend with the previous car's small, tacked on unit that felt like an afterthought. This one is big, crisp and high on resolution, and uses the version of the COMAND interface from the E-class and facelifted S-class. In fact, Mercedes threw out and replaced 80 percent of the C-class' electrical architecture in order to do this; it's the biggest change on the car.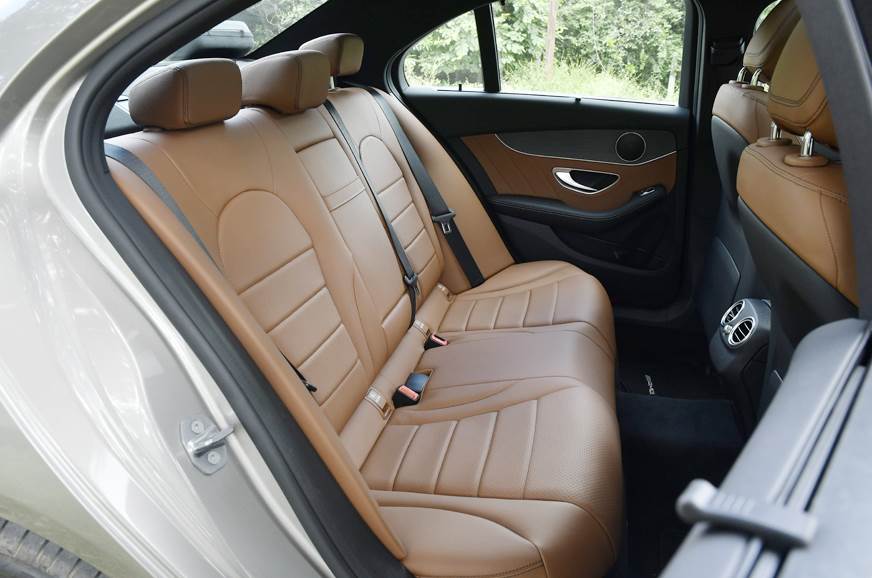 Those aside, it's all quite familiar, and this means a big, comfy set of powered front seats (memory function and bolster adjustment for the AMG Line), and a back seat that, though well cushioned and good on leg room, lacks thigh support and is tight on head room. A nice change is the addition of tan upholstery on the AMG Line as an alternative to black; the lesser trims still use beige.
10.25-inch screen an upgrade from the previous one's 7-inch unit.
What's it like to drive?
The engine is a stonker. 245hp and 500Nm would have required at least six cylinders not long ago, but today we have that output from a 2.0-litre four-cylinder (codename: OM654). Initial responses off the line are incredibly strong (thanks in part to the excellent 9G-Tronic automatic gearbox) and if you keep the accelerator pedal pinned, it just pulls and pulls. Mercedes claims a 5.9sec 0-100kph time and that seems entirely plausible. Kickdown acceleration, too, is impressive, once again helped by the gearbox.
It's also quite a deal more refined than the engine it replaces (the outgoing 2.1-litre OM651), but not quite as quiet as Audi's 2.0-litre diesel in the A4. It starts out very well, being very hushed up to 2,000rpm, but beyond that you're treated to a loud boom and a bit of clatter. Still, it's not bad enough to ruin the experience at all, and if you're just cruising, it's silent enough.
This motor, as mentioned at the start, is Merc's first BS-VI emissions compliant four-cylinder engine, a follow up to the 3.0-litre six-cylinder engine that debuted in the S-class facelift. Like that motor, this one uses a host of technology – a diesel particulate filter (DPF), selective catalytic reduction (SCR) unit and AdBlue supplements – to allow the car to run at BS-VI emissions levels while using BS-IV fuel.
We've found the outgoing C-class to be a bit stiffly set up in the suspension department, and while there is still a firmness to it, it feels a whole lot more compliant this time around. This means it's more comfortable without rocking you around the place over undulations. And that's saying something considering this AMG Line variant runs 18-inch wheels (although their thick-rimmed design makes them seem smaller). You can feel the larger wheels as you thunk hard through sharp bumps, but overall, the ride has seen a considerable improvement. And it hasn't come at the detriment of handling either, as you still get that lovely, quick steering and well managed body movements.
Should I buy one?
The C-class facelift, on the surface then, is what you'd expect from any facelift. New bumpers, wheels, head- and tail-lamps, some equipment revisions and a spruced up cabin. It's only once you start driving that you start to appreciate what it's really about. The new engine is a vast improvement on its predecessor – not to mention future proofed for BS-VI emissions, the updated infotainment brings it up to the cutting edge, and incredibly it seems to be a touch more comfortable too. At a price that isn't wildly higher than before, the updates haven't even come at a huge premium. Just as the C-class' shine was starting to fade, then, they've brought it right back up to date.
Also see:
2018 Mercedes C-class facelift launched at Rs 40.00 lakh
Mercedes-Benz E-class All-Terrain India launch on September 28
Mercedes-AMG C43 image gallery
7430 Views|1 year ago
2021 Mercedes-Benz C-class image gallery
16277 Views|2 years ago
New Mercedes-AMG C63 photo gallery
5222 Views|9 years ago