Following the recent facelift, the Jaguar F-type now gets a smaller 2.0-litre, four cylinder engine. Can it still deliver big punches?
Jaguar describes the F-Type P300 as "the feisty young brother". Well, that could be quite arguable; yes, it's still the F-Type and it does put out a decent 296hp but it's still just a 2.0-litre, four-cylinder turbo-charged engine. Compare that to its 543hp super-charged V8 sibling. Feisty? There was only one way to find out. We have the coupé version (there's also a convertible) and I head out with it at the break of dawn to Aamby Valley. The thing about driving here from Mumbai is that the route offers a great mix of rough and smooth roads with moderate traffic that thins out progressively and ends up in a delightfully fast and twisty section.
Mid-mounted exhaust unique to the 2.0-litre F-Type.
Considering the fact that I had already driven the 543hp super-charged V8 model, I wasn't very excited with the thought of the all-new 2.0-litre engine putting out just 296hp. But as traffic thinned, these thoughts soon proved to be misgivings. At every open stretch I put my foot down and the motor responded quickly, along with the 8-speed gearbox that kicks down a couple of gears and provides pretty decent grunt.
This motor belongs to the Ingenium family and also powers other JLR cars like the XE, XF, Evoque, Discovery Sport and the Velar. The only difference, though, is that in the P300 it makes a bit more power, at 296hp, and 400Nm of torque. These figures are comparable to its rival from Porsche's stable – the Porsche 718 makes the same power and has only 20Nm less torque. These figures don't really sound impressive for a sportscar; but in reality, they aren't bad and are adequate enough to provide a decent adrenaline rush. Jaguar claims it will do a sprint to 100kph in 5.7sec and in our test conditions it managed a run of 6.1sec with the help of dynamic launch control. Thanks to its quick 8-speed gearbox, the in-gear times were fairly brisk, too. It timed 20-80kph in 4.14sec and 40-100kph in 4.64sec.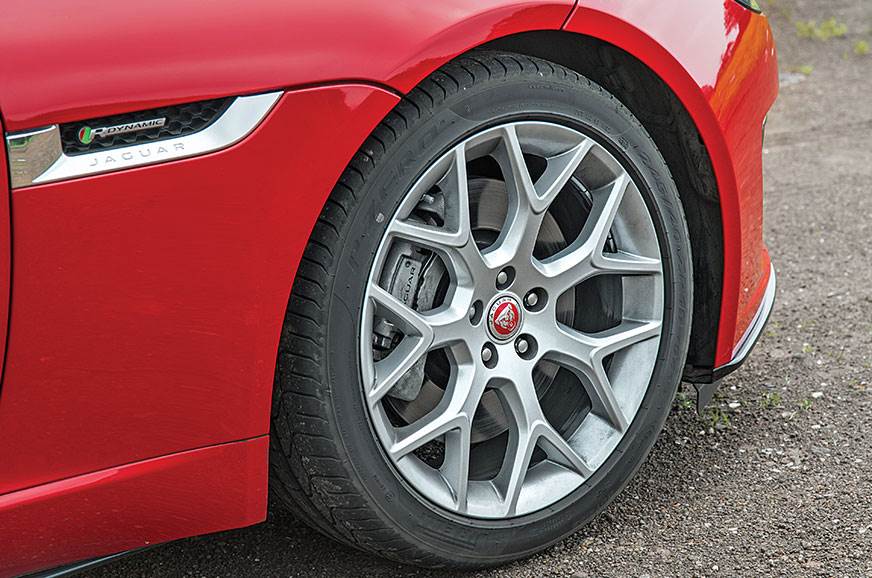 Gets smaller 19-inch alloys. Pirelli tyres offer good grip.
The later hours of the morning in Lonavala saw some traffic and the motor proved to be very easy to modulate and quite tractable, with power coming in nice and low at 1,500rpm. The steering, though, is a bit heavy at these slow speeds but the weight does disappear as you climb higher. The engine loves to be revved. Keep the throttle pinned and it will gradually ease into its 6,400rpm rev-limiter rather than hit it like a wall. On the fast bits there was ample opportunity to do this and the little Jag provides plenty of thrills. It definitely doesn't feel outright fast or anywhere close to what the V8 motor is but it's brisk enough.
New LED cluster design looks great.
I had another concern before I set out with the P300, and that was the exhaust note! The Porsche 718's note wasn't impressive and I wondered if this would be the case with the smaller-engined F-Type as well. Happily, it wasn't so – I have to say Jaguar engineers have done justice to the exhaust of this four-pot turbocharged motor. What's more, it features an active sport exhaust (part of the R Dynamic trim) which, when activated, amplifies the note. There is a semi-throaty growl as you accelerate hard, and lift-off produces a nice crackle every now and then. The soundtrack doesn't bark as loud as its V8 sibling; but sounds good, for sure.
As for the ride, a broken, monsoon-ravaged section of road showed another positive side of the F-Type. Unlike most sportscars, the Jag didn't crash and rattle over the exposed surface, and handled them quite nicely. As soon as I reached the twisty bits and the roads smoothened out, I switched driving mode to Dynamic, turned off ESP and slotted the gear lever into S – party time!
Updated tail-lamps get LEDs too.
Past a series of fast corners and some really tight hairpin bends, the weight-reduction of the P300 is instantly apparent. On the whole, the P300 is still a heavy car that tips the scales at 1,525kg, but it's over 100kg lighter than its V8 sibling and with a lighter nose, it now feels more agile compared to the bigger V8.
Though it still felt like a typical front-engine rear-wheel drive (which characteristically displays understeer) this cat can put its tail out. Take a wider line carrying just about enough momentum and flick the flat-bottomed steering before booting the throttle fully – and voila, it rewards you with a neat
and tidy oversteer.
It doesnt feel outright fast, but its quick enough.
Coming to the styling, as before, the F-Type integrates classic and modern design cues superbly and the P300 carries on with the changes from the 2018 F-Type SVR launched just a month back. The most obvious change on the exterior is the Lamborghini-like centre-mounted exhaust, which looks really neat. The 19-inch alloys get a fresh design too, while other updates include redesigned bumpers and new LED headlamps and tail-lamps. The huge spoiler that deploys automatically once you cross 120kph is quite neat; you can also manually deploy it via a button and though you won't really feel its effect in most driving instances, it's worth it for sheer visual drama alone.
Comfy seats offer good support.
Plonking-in a smaller engine hasn't really taken away the F-Type's soul. Sure, it's not a hooligan like its V8 sibling is but what the P300 offers is the versatility of everyday use and good fuel efficiency (for a sportscar) while still managing to bring a smile to your face. Plus, the biggest benefit of offering a smaller capacity version is that the 2.0-litre, four-cylinder engine now attracts much lower taxes – which makes this F-Type way more affordable. While the top-spec F-Type SVR costs Rs 2.65 crores, this one costs just Rs 93 lakhs. Pocket-friendly rocket? You bet!
HOT LAP: Jaguar F-Type P300 Autocar India Track Day 2019 ...
17460 Views|3 years ago
Jaguar F-Type P300 video review
10789 Views|3 years ago