The manic Mercedes G63 SUV gets a new edition with 'crazy colours' and some minor cosmetic changes. Here are our impressions.
What is it?
As if the Mercedes-Benz G63 AMG wasn't mad enough already, it can now be had in colours bright enough to warrant the use of industrial grade sunglasses just to be able to see it. Meet the G63 AMG 'Crazy Colour' edition (Merc's words, not ours!) that's available in Solar Beam (think Ferrari yellow), Sunset Beam (think Lamborghini orange) and Alien Green (think Kawasaki green) paint options. Yes, the colours are wild and over the top but they do work rather well with the eccentricity that is the G63 AMG. Flamboyant body paint aside, the Crazy Colour G63s are also different from the standard G63s in their use of matte black wheels and a black finish to their bumpers, grilles, headlight shrouds, wheel arches and roofs. The classic, block-like shape from the 1970s with its cliff-faced sides carries on unchanged, though. Not that you'll hear anyone complain.
The G63's cabin, however, is more in line with the Mercs of today in layout and quality. While it's true the shallow dash does give this up as a car from another era, the whole treatment is still very modern Mercedes. What aids the familiarity are elements like the busy-looking centre console and the floating tablet-like screen for the infotainment system. The system is up to date and allows you to use a paired phone's 3G network to browse web pages and stream internet radio. There's satellite navigation too. Crazy Colour edition cars also get all-black cabins with sporty carbonfibre trim and rich diamond pattern stitching on the seats. And to keep with the look, there's exterior colour coordinated stitching on the seats, dash and grab rails. Detailing is quite special, actually.
Owing to the G63's ladder frame chassis, the cabin sits quite high so you have to use the footboard to clamber in. The benefit is that you get a commanding view out, helped in no small measure by the large windows and slim pillars. Front seat comfort is good and can be fine-tuned with options to adjust lumbar support. The rear bench isn't quite as nice – the backrest is upright and legroom is surprisingly average only.
Brabus 800 Adventure XLP image gallery
6711 Views|3 years ago
Mercedes-Benz G 350d image gallery
9757 Views|3 years ago
Mercedes-Benz G 350d video review
27492 Views|3 years ago
2019 Mercedes-Benz G 350d off-road video review
13111 Views|3 years ago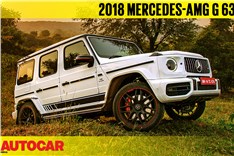 2018 Mercedes-AMG G 63 video review
12466 Views|4 years ago