Porsche has just taken the wraps off the new Cayenne Coupe, which is essentially a restyled version of the standard Cayenne SUV. This new model will directly take on the BMW X6 and the Mercedes GLE Coupe.
On the design front, Porsche has adopted a shallower windscreen and a curvier roofline that extends back to form a liftback-style tailgate. The redesigned rear doors and wider bumpers increase overall width by 18mm, completing the Coupe-look. The Porsche Cayenne Coupe is also equipped with an active spoiler on the boot, which works in conjunction with the roof-mounted spoiler. The active spoiler extends by 135mm at speeds above 90kph to provide added downforce.
The interior of the Cayenne Coupe has a four-seat layout, with the rear bench divided by a central armrest. Porsche provides the option to add the regular three-seat bench at the rear from the standard Cayenne at no additional cost. Rear occupants sit 30mm lower than in the Cayenne in order to free up more rear headroom due to the sloping roofline. Up front, the dashboard, digital instrument display, touchscreen infotainment system and other controls are shared with the Cayenne.
The Porsche Cayenne Coupe will initially be offered with just two engine options – a 2.9-litre turbocharged V6 petrol unit producing 340hp and 450Nm of torque on the entry-level variant and a 4.0-litre, twin-turbocharged petrol V8 that produces 550hp and 770Nm of torque in the Turbo variant. Both engines will be offered with Porsche's own 8-speed torque convertor automatic transmission. Porsche claims that the Cayenne Coupe V6 will do the 0-100kph sprint in 5.9 seconds while the V8 Turbo variant will do it in 3.9 seconds. The brand is expected to add a pair of petrol-electric plug-in hybrid drivetrains, which will be shared with the Panamera, to the line-up in the future.
While there aren't definitive details about the suspension changes made to the Cayenne Coupe, Porsche has confirmed that all models will receive speed-sensitive power steering, 20-inch alloy wheels, Porsche Active Suspension Management (PASM), the Sport Chrono package, Park Assist and a rear-view camera as standard. It also comes with a panoramic glass roof featuring a glazed area and an integrated roller blind as standard, which can be upgraded to a contoured, carbon-reinforced plastic roof similar to the one featured on the 911 GT3 RS.
In India, Porsche launched the third-generation Cayenne at a starting price of Rs 1.19 crore (ex-showroom, India) in October, last year. There has been no statement at this point by Porsche regarding an India launch for the Cayenne Coupe.
Also see:
Porsche Cayenne Coupe image gallery
Click here for Porsche Cayenne prices, reviews, images, videos and more.
Click here for all Porsche models, prices, reviews, images, videos and more.
Porsche 911 GT2 RS sets new Buddh lap record
Porsche Cayenne Coupe India video review
33253 Views|1 year ago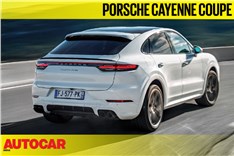 Porsche Cayenne Coupe video review
11353 Views|2 years ago