In its third generation, the Cayenne remains all too familiar. But, for the most part, that's only a good thing.
What is it?
My first few moments with the new Cayenne are spent scratching my head. Usually, photos don't do a car justice, and when your eyes are allowed to absorb all three dimensions from every possible direction, nuances that you perhaps missed before emerge. Not this time. The Cayenne looks exactly as I saw it in the pictures – almost identical to its predecessor, apart from the rear, where an LED light band connects the new, slimmer LED tail-lamps. I do another walk-around and give it a twice-over, and perhaps, from the rear, it looks a bit stockier and not quite as curvaceous (the glasshouse appears to have been widened and lowered). Also contributing to the blockier look are the big, rectangular air intakes on this Turbo version (which open and close depending on cooling needs, incidentally). I do have to admit, I am a fan of the 'four-talon' light signature on these top-spec PDLS Plus Matrix LED headlamps. Ordinarily, I'd avoid so much design criticism (Lord knows Porsche loves to cling tightly to old designs), but remember, this is the high-end SUV market in India – image matters. The last thing you want is for your peers at the golf club to think you've bought the old version.
But if, rightly so, you're not bothered about what other people think, it's the mechanicals that are really the substance of the new Cayenne. As before, it shares its platform – this time, the VW Group's new 'MLB Evo' – with the latest Audi Q7 and VW Touareg. However, also sharing the same nuts and bolts now are the Audi Q8, Bentley Bentayga and the Lamborghini Urus. Porsche, however, has always gone out of its way to re-engineer the hell out of its cars to make them feel distinct, and that's true this time as well. I've been fortunate enough to drive most of these platform-shared SUVs (save for the Q8 and Touareg), and the Cayenne feels just a little bit different. As with all Porsches, you feel a greater sense of robustness through the suspension, steering, the door shut, and even just the stalks behind the steering wheel. Everything clicks firmer, feels weightier and thumps harder – and yes, this means the suspension too.
What's it like to drive?
The ride, even in the air suspension's softest setting, feels a bit on the firm side, and what doesn't help are the 21-inch wheels. It's flat and absorbent enough on a smooth road, but you'll feel those monstrous tyres (315-section, 35-profile at the rear!) jiggle over lumps and slam through bumps.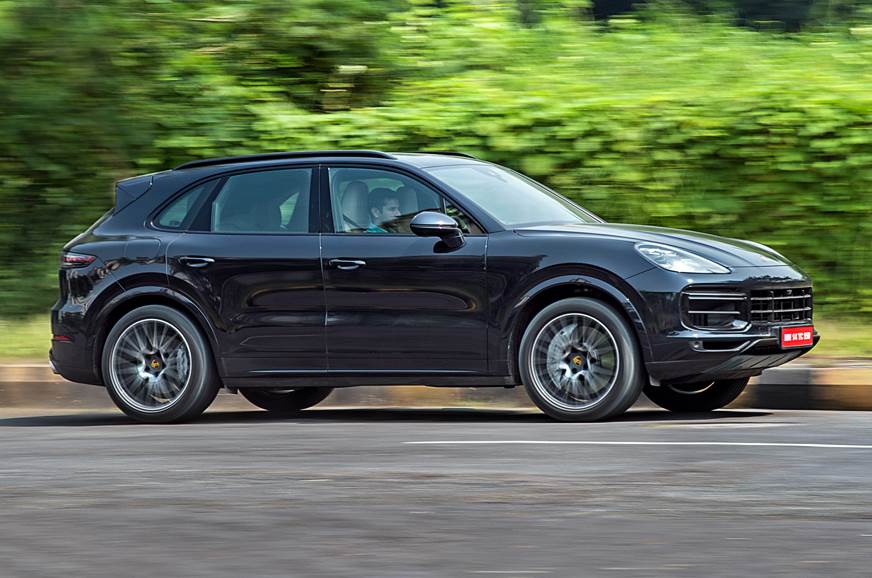 So the impression you get at first is of a big, hulking piece of metal that pounds the ground into submission. And, if you show it an off-road course, that's exactly what it'll do. For a maker of cars designed expressly for going quickly around corners (we'll get to that shortly), they sure have committed a lot to making their SUV a proper off-roader. It may have long forgone the locking differentials and transfer cases of the first-gen car, but with off-road-specific driving modes, clever electronics and air suspension that can yield 245mm of ground clearance and 500mm of water-fording depth, this one is no softie. Despite those big wheels and thin tyres, it simply crushed the muddy, gravelly quarry we drove it through, complete with a few harrowing ascents and slippery descents.
But here's the beauty of the new Cayenne, and indeed every Cayenne before it. Take it out onto the road and it's even better. In Sport and Sport+ mode it hunkers down to just 162mm off the tarmac, the electromechanical 48v anti-roll bars are working at full strength, and you can feel the rear-wheel steering in action as the big Porsche practically pirouettes around corners, with the sort of physics-defying composure that's barely believable from a car this large and heavy, let alone one with air suspension. Also baffling is just how pinpoint accurate the steering is. Most luxury SUVs dial in a little bit of slack in the interest of comfort (again, the rest of the MLB Evo fraternity comes to mind) but not here. The Cayenne's helm is unabashedly quick and sharp, although perhaps lacking some of that wonderful feedback we remember from the previous car. There's also a lot of heft in the wheel that gives you the same feeling of authority in the middle of a corner like a 911 would. Talk about DNA! What this particular specification of Cayenne Turbo is missing is the optional torque vectoring system, which would have made for even stronger performance through the corners, but even without it, it'll show most sportscars a clean pair of heels down a twisty road.
What also helps in putting serious distance between you and every other car on the road is the engine. As before, the Cayenne Turbo uses a turbocharged V8, but it's smaller and more powerful, and you'll also find it in the Panamera, the Bentley Bentayga and the Lamborghini Urus. It's a tremendous motor, this 3,996cc biturbo V8. Compact, direct-injection, with its turbos nestled between the cylinder banks for quicker responses and even the ability to run on just four of those cylinders under light load, for better fuel consumption. It's also good for 550hp and 770Nm of torque, which means this 2.2-tonne SUV is no slouch. We tested a 0-100kph time of 4.2sec and it cracked 200 in just 15.2!
Unlike the Panamera, which uses a new 8-speed PDK double-clutch auto, this one uses the tried and tested ZF-sourced eight-speed torque converter. And that's just as well, because it allows for smooth shifts at ambling speeds, while swapping cogs as quickly and seamlessly as any PDK. What I like is that Porsche has made the shifts quick and efficient – unlike Lamborghini that dials in some ferocity for the sake of drama. The Cayenne's gearbox just goes about its business behind the scenes; whether you're in Comfort or Sport+, it's like it's barely there.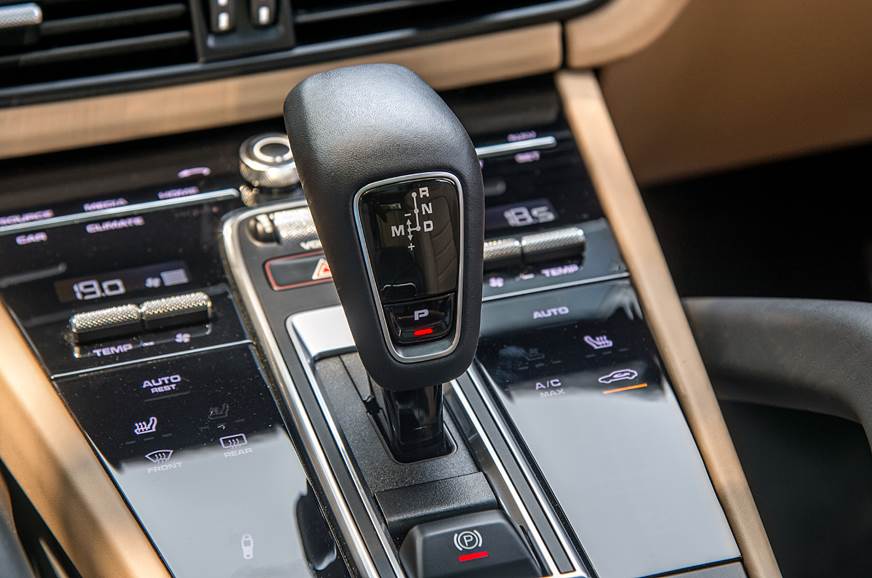 And its business is the business of hurling you forward at breakneck speeds. Flatten your foot from a standstill or on the move and everything hooks up so quickly, you barely have enough time to process it. The amount of thrust has to be felt to be believed.
What's it like inside?
'Sportscar Together' – that's the slogan of the new Cayenne, and so far, this Turbo has lived up to the first half of that catchphrase just fine; but what about the second part? Yes, the Cayenne is a little bit longer and wider now, but its wheelbase has stayed the same. The result is, while there's a bit more room in the back seat, it's not a huge improvement, but then it wasn't bad to begin with. The bigger issue, though, is that the two 'outer' seats of the rear bench are so heavily contoured, a middle passenger would be rather uncomfortable with the small squab he or she's left to sit on. Plus there's a huge central tunnel and AC unit to contend with. Things are much better at the front, where the Cayenne Turbo gets generously cushioned, 18-way adjustable front seats as standard. Just the variety of adjustment on offer is impressive, and you can really put the memory settings to good use, tailoring your seating position down to the last degree.
The dashboard layout is familiar if you've been in the latest Panamera, but mercifully, they've toned it down a little bit. Where the Panamera was digitised right down to its touchscreen-actuated air-con vents, this one is a bit more analogue. That said, the interface is still made up of mostly touch surfaces – a huge 12.3-inch touchscreen that looks crisp and responds even crisper, and a series of glossy black touch-sensitive surfaces replaces most of the buttons. These are prone to fingerprint smudging and, though they offer haptic feedback, will take a lot of getting used to before you're completely fluent with their functions. The dials, of course, mimic the 911's classic five-dial layout, but as with the Panamera, only the centre dial – the tachometer – is analogue, while the rest of the instrumentation is digital. While I find that quite cool, I'm less a fan of the way this car is trimmed; the wood 'inserts' look a bit like afterthoughts and some of the plastics aren't quite as nice as you'd expect in a two-crore-plus SUV.
It's nice to see that Porsche no longer sells its cars in a barebones spec, forcing you to cough up big money for what most luxury buyers would consider essential. Sure, the cars are more expensive now (the days of the Rs 75-lakh Cayenne are long gone) but they are at least endowed with the equipment you'd expect, and since the Turbo sits higher up the pecking order, it gets more standard equipment too. However, there are still many expensive boxes left to check while you place your order, some of which we think should have been standard. Matrix LED headlamps, for instance, Park Assist and the Sport Chrono package come to mind; surely on the Turbo at least, right?
Should I buy one?
The Cayenne has always been the SUV that does everything, and that hasn't changed with the new one. In fact, the biggest criticism one could give it is that it hasn't changed enough from the previous car, but rarely is there a stronger case for the old 'if it ain't broke' adage. It's an absolute engineering marvel – a car that's able to accelerate and handle like a sportscar, but yet be comfortable and luxurious out on the highway, and – if you're crazy enough to oblige it – dominate a rally stage as well.
Some might say a Rs 1.92 crore starting price is a bit steep and that only grows as you pile on the options, but think about how many other SUVs can do what this Cayenne Turbo does. A Range Rover SVR or AMG G63 are great off-road and pack a solid punch, but could never handle like this. A BMW X5M or X6M could do the on-road stuff but aren't great at roughing it. A Bentley Bentayga is more luxurious but isn't a driver's car and a Lamborghini Urus might match it for thrills, but both those are far more expensive. If you want it all, this simply is the super-SUV you must have.