Carlos Ghosn is set to be removed from his role as Nissan chairman after an internal investigation found that he has under-reported his salary to Japanese authorities. The firm said it has also uncovered evidence of "numerous other significant acts of misconduct" by Ghosn such as the personal use of company assets.
Nissan said the misconduct, which involved both Ghosn and Greg Kelly, the firm's representative director, came to light following a whistleblower report prompted an internal investigation that the firm claims has been ongoing for several months.
In a statement, Nissan said, "The investigation showed that over many years both Ghosn and Kelly have been reporting compensation amounts in the Tokyo Stock Exchange securities report that were less than the actual amount, in order to reduce the disclosed amount of Carlos Ghosn's compensation."
In addition to his role at Nissan, Ghosn is also the chairman of the Renault-Nissan-Mitsubishi Alliance – which encompasses ten brands and is one of the world's three largest car groups.
"Nissan has been providing information to the Japanese Public Prosecutors Office and has been fully cooperating with their investigation. We will continue to do so," said the company's statement.
Nissan said that since the misconduct "constitutes clear violations of the duty of care as directors," Hiroto Saikawa, the firm's chief executive officer, will propose that Nissan Board of Directors promptly remove both Ghosn and Kelly from their roles with the company.
Ghosn joined Renault in 1996, and was named chief operating officer of Nissan in 1999, when the French firm bought a major stake in its Japanese rival. He was named Nissan's chairman in 2000 and CEO the following year, although he stood down from the latter role last year.
Since 2005, Ghosn has also served as CEO and chairman of Renault and had been set to continue in that role until 2022. He has been chairman of Mitsubishi since 2016, when Nissan acquired a stake in that firm. There is no official word yet whether any of those roles will be affected by the news.
The news that the Tokyo District Public Prosecutors Office was set to arrest Ghosn first came from Japanese newspaper the Asahi Shimbum, which claimed Ghosn had under-reported his Nissan corporate salary by "hundreds of millions of yen."
Following that report, Nissan global depository receipts fell more than 11 per cent in Japan, while shares in Renault have dropped by more than five per cent, reaching their lowest level in nearly four years.
James Attwood
Also see:
Renault: Kwid EV logical for India but not imminent
In conversation with Thomas Kuehl, President, Nissan India
Nissan Kicks to get segment-first features
2019 Nissan Kicks vs rivals: Specifications comparison
Nissan Cars
Nissan Kicks
₹ 12.45 - 19.60 lakh
Nissan Magnite
₹ 5.57 - 11.02 lakh
Nissan Magnite, Renault Kiger, Honda City & Jazz Global N...
5957 Views|3 months ago
Skoda Kushaq vs Nissan Kicks drag race video
8699 Views|3 months ago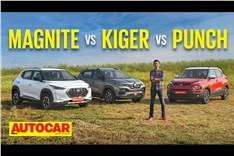 Tata Punch vs Nissan Magnite vs Renault Kiger comparison ...
21091 Views|3 months ago