Ferrari has publically debuted the F8 Tributo at the 2019 Geneva motor show, after having revealed the 488 GTB's replacement just last week. What's important to note is that this model is set to be the last non-hybridised V8-powered Ferrari supercar, and will be followed by the carmaker's first hybrid model.
Sales and marketing boss Enrico Galliera told our sister publication Autocar UK at the Geneva motor show that while it was "unfair to say it will be the last, it is fair to say the next will be hybrid".
To that end, Ferrari has already confirmed plans to launch hybrid models as well as a new downsized V6 engine. Michael Leiters, Ferrari technical chief, said: "V6 is the next step to follow downsizing without losing emotion or speed of the car."
It's likely the next mid-engined supercar will use a hybridised V6 powertrain, meaning the turbo V8 of the F8 will be given its swansong in the current car.
Ferrari's first hybrid model will be revealed within the next three months, Galliera confirmed, one of five Ferraris due this year and one of 15 planned before 2022.
In 2022, the firm will launch its long-awaited SUV model. Company boss Louis Camillieri said he was "not concerned on being too late" to the market with the car but "more concerned on being the best and I'm quite confident we will be".
He added: "It takes time to get the best thing. I'm confident it will be spectacular and within our DNA."
Also see:
Ferrari F8 Tributo image gallery
Ferrari Cars
Ferrari 812 Superfast
₹ 6.00 crore
Ferrari Portofino
₹ 4.04 crore
Ferrari 296 GTS image gallery
2752 Views|1 month ago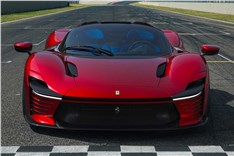 Ferrari Daytona SP3 image gallery
3199 Views|6 months ago
Ferrari SF90 Spider image gallery
9860 Views|1 year ago
Ferrari Portofino M video review
4541 Views|6 months ago
Ferrari 812 GTS first look video
5879 Views|1 year ago
Ferrari meets ferry: Mumbai to Alibaug in under 1 hour
14353 Views|1 year ago