Having revealed the new F8 Tributo earlier in the year, Ferrari has now taken the covers off of the supercar's drop-top sibling, the F8 Spider.
Described as "less extreme than the 488 Pista Spider but sportier than the 488 Spider" it replaces, the F8 Spider gets the same 720hp version of Ferrari's 3.9-litre, twin-turbo V8 as the F8 Tributo. This brings power output to the same figure as that of the limited-run 488 Pista and the car's biggest rival, the McLaren 720S Spider. Its torque output is rated at 770Nm.
Along with the power advantage over its predecessor, the F8 Spider is also 20kg lighter than the 488 Spider, weighing in at 1,400kg.
Ferrari says that the F8 Spider has a 0-100kph time of 2.9sec (0.1sec faster than the 488 Spider), 0-200kph time of 8.2sec and a top speed of 340kph.
To help achieve the power upgrade over the 488 Spider, the new intake line is derived from the 488 Challenger track car. Ferrari has moved the air intakes from its flanks to the rear on either side of the blown spoiler. The Italian carmaker says that this ensures greater air flow to the engine.
The F8 Spider retains the retractable hard-top synonymous with Ferrari Spider models. As compared to the F8 Tributo, the design shifts the line between the body and roof from its conventional position at the beltline, to above the B-pillar.
The convertible roof is more compact than the 488 Spider. It takes 14sec to deploy at speeds up to 45kph and is stowed on top of the engine.
Ferrari also says that the F8 Spider's performance is now accessible to more drivers "thanks to vehicle dynamics systems that make driving on the limit easier."
As with its predecessor, expect the F8 Spider to be priced at a premium over its coupé sibling.
Take a closer look at the F8 Spider in our image gallery
Click here for Ferrari India models, prices, reviews, images, videos and more details
2023 Ferrari Roma Spider image gallery
4506 Views|6 months ago
Ferrari Purosangue image gallery
6808 Views|1 year ago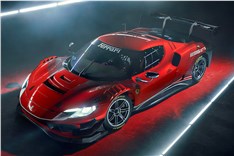 2023 Ferrari 296 GT3 image gallery
8920 Views|1 year ago