Toyota in Brazil has introduced a rather interesting direct sales channel, focusing on customers in the agricultural sector. Under this new sales model, which is dubbed Toyota Barter, buyers can exchange soybean and corn for a new Toyota vehicle, like the SW4 (Fortuner in India).
Market value of corn and soybean to be considered

Customers have to be certified for production of the crops

New sales model introduced in 6 states in Brazil initially
Toyota Barter: more details
As reported by motor1.com Brazil, the Japanese brand announced the launch of the 'Toyota Barter' sales channel in Brazil on August 4, aimed especially at agri-business customers. With this sales model, farmers will be able to exchange their produce of soybean and corn for either a new Toyota Hilux pickup truck, a Toyota SW4 (Fortuner) or a Toyota Corolla Cross SUV.
The company will consider the value of the corn and soybean as per the market price (by weight). However, before the transaction is completed, Toyota will check if the customer is certified for rural production of these crops to ensure that they are from sustainable plantations and are of good quality.
"The Toyota Barter started as a pilot project in 2019, so it was the first sales channel in Brazil to accept grain to purchase of a car. Now, we have the opportunity to make this facility official for agribusiness and expand Toyota's presence and contribute in an important way to what is one of the main economic sectors of our country", said José Luis Rincon Bruno, direct sales manager of Toyota Brazil.
The new retail model was initially launched in the states of Bahia, Goiás, Mato Grosso, Minas Gerais, Piauí and Tocantins in Brazil, but the brand is considering expanding it to more states like Paraná, São Paulo and Mato Grosso do Sul. Currently, the agribusiness sector accounts for 16 percent of Toyota Brazil's direct sales and with this new channel, they expect it to grow further.
Toyota in India
Toyota currently sells the Glanza hatchback, Urban Cruiser compact SUV, Yaris sedan, Innova Crysta MPV, Fortuner SUV, Camry Hybrid sedan and Vellfire luxury MPV in India. Moving forward, Toyota is expected to introduce two new mass market products – a mid-size sedan and an MPV. The mid-size sedan will be based on the Maruti Ciaz and is expected to be rebadged as the Toyota Belta, while the MPV will be based on the popular Maruti Suzuki Ertiga. Toyota is also likely to launch the aforementioned Hilux pickup in India in the coming months.
Do you think this sales model would work in India? Let us know in the comments below.
Also see: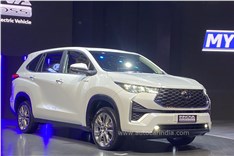 Toyota Innova Hycross image gallery
65367 Views|11 days ago
New Toyota Prius image gallery
8202 Views|20 days ago
Toyota Innova Hycross video review
8972 Views|18 hours ago
Toyota Innova Hycross walkaround video
20133 Views|11 days ago