GOOD FOR: Spacious, reliable, comfortable.
LOOK OUT FOR: Worn-out clutch, brake judder.
Since its introduction, the Innova name has gained the reputation of a kevlar helmet. The new Innova Crysta introduced in 2016 carried forward the baton and despite a premium price tag (almost the same as the previous-generation Fortuner), customers flocked Toyota showrooms for this new MPV, such its the brand value. So, if you want a spacious, 7-seater MPV, the Crysta makes perfect sense, as it is very comfortable, has acres of space inside, all the equipment and safety you would want and an engine that can outlive you and your next generation.
VX and ZX trims get 17-inch alloy wheels which look a lot more proportionate.
You can choose between three engine options: two diesel and one petrol. While not a popular choice, the 2.7-litre petrol engine is good for those who predominantly commute in the city and would choose refinement over range. You can also choose between two gearbox options: a 5-speed manual and a 6-speed automatic. For those that want a diesel, you can have the Crysta with either a 2.4-litre engine that makes 150hp or a larger 2.8-litre engine that makes 174hp, both of which come with the same manual and automatic transmission options as the petrol. The smaller engine is the better choice it offers a good balance between performance and efficiency. The bigger engine is better for long-distance touring. So if you are the sort that travels often, you would like the extra power and torque on this one. Efficiency is decent too, with an average of 15.1kpl for the 2.4-litre and 14.2kpl for the 2.8-litre.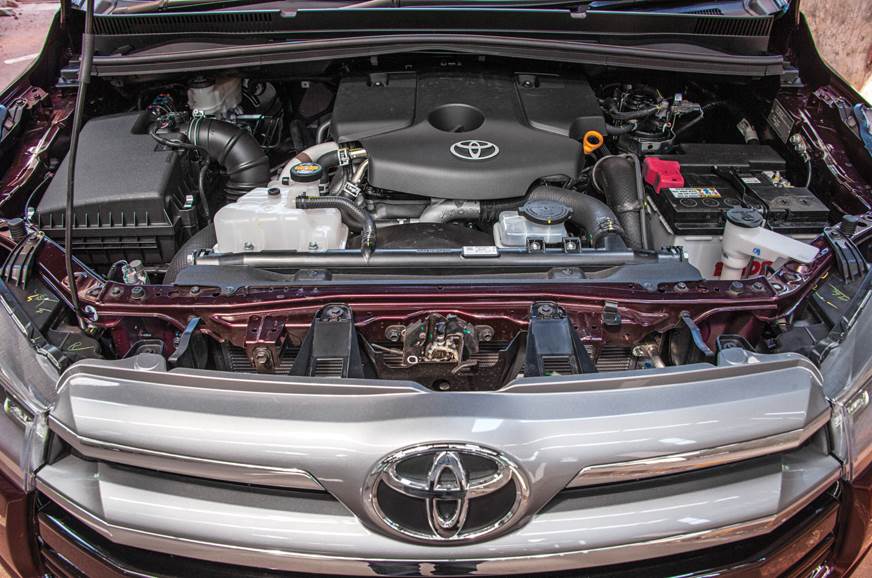 Ownership costs are relatively affordable. A basic service will set you back by around Rs 10,000 and annual insurance is around Rs 50,000. Toyota also has a fantastic aftersales and service reputation, and parts availability is never an issue. Not that you would need them because they are known for their reliability. Having said that, if you are looking for a used Innova Crysta, there are a few issues and niggles. A small recall was made for petrol models manufactured between July 2016 and October 2016. The fuel return hose had a connection issue with the canister hose and that caused the fuel to leak every time you topped up the fuel tank. Also check the brakes while on a test drive to see if they judder during braking. Replacing the faulty brake pads isn't too expensive, but changing discs is a pricey affair. Next, on manual versions, check the condition of the clutch, especially if the car has done more than 40,000km. A heavy clutch and clutch-slipping are usually telltale signs of a worn-out clutch. Ensure electricals like power windows and the infotainment system function properly. Importantly, check the suspension for wear, as some owners tend to overload their cars and travel longer distance, even over bad rural roads at times, and that can take a toll on the springs and dampers.
HOW TO GET ONE IN YOUR GARAGE
Buyer, beware…
CLUTCH
Check if the clutch is unusually heavy or if it is having trouble engaging. A worn-out clutch cannot be repaired and needs an all-new assembly, which is an expensive fix at Rs 20,000, including labour charges.
BRAKE JUDDER
A common issue owners have faced is brake judder. While on a test drive, apply the brakes like you would in an emergency situation and check for any judder. A new brake set, including discs and pads, costs Rs 10,000.
PETROL RECALL
Models manufactured between July 2016 and October 2016 were recalled by Toyota to fix a faulty fuel hose line. If not done, this can cause the fuel to leak every time the fuel tank is topped up. It is a free fix, so you just need to visit your local Toyota dealer.
Also worth knowing
Some owners have complained of electronics failure due to faulty wiring harness. If the car is under warranty, Toyota will replace the harness free of charge.
How much to spend
Rs 15 - 17 lakh
Thanks to Toyota's strong aftersales and reliability, there is a big demand for the Crysta in the used car market. Used car dealers prefer this as it is an easy sell, so expect asking prices to be high. For a top-spec model that has covered under 40,000km, asking prices start at Rs 16 lakh for the diesel. The rarer petrol versions are even cheaper thanks to low demand. Make sure to verify all the documents and preferably look for privately owned cars.
Factfile
Years produced
2016-present
Price when new
From Rs 13.83 lakh
Engine
4-cyl, 2694cc, petrol; 4-cyl, 2393cc, diesel; 4-cyl, 2755cc, diesel
Power
166hp; 150hp; 174hp
Torque
245Nm; 343Nm; 360Nm
Ground clearance
167mm
Boot space
300-1800 litres
Click here for Toyota Innova Crysta prices, reviews, images, videos and more
Click here for Toyota India models, prices, reviews, images, videos and more