BMW will conduct the launch of two new cars, the 8 Series Gran Coupe and the M8 Competition, digitally, with the online launch expected to take place before the lockdown is lifted. While dealers are already speaking with prospective customers, and in some cases taking provisional bookings, the launch will allow dealers to put an exact value on the cars. Once M8 and 8 Series Gran Coupe prices are revealed, customers will be able to buy them via the BMW Contactless Experience - the brand's recently launched online retail platform.
Both the models that will be launched are from BMW's flagship 8 Series range, but come from opposite ends of the spectrum. The more affordable one, with an expected ex-showroom price of Rs 1.4 crore, is BMW's stunning shark-nosed 840i Gran Coupe. This 5m-long, four-door coupe has loads of presence, which somewhat brings to mind the leggy presence of a supermodel that mixes well with loads of interesting details you can gawk at. In fact, the 840i has already garnered quite some attention, according to dealers. In addition to the stunning looks, the 8 Series Gran Coupe also possesses a fine balance between genuine rear-wheel-drive driving pleasure and strong straight-line performance courtesy the 340hp turbocharged straight-six engine. The cockpit isn't very flash and it is quite understated, but what you get are the highest quality levels.
The rear seat experience is also quite unique. Yes, the tight-fitting roof means space and comfort aren't as good here as on something like a 7 Series and headroom will be tight if you are much over six-feet. Still, the long centre console that extends back from the dash at the front makes for a unique rear seat experience.
The M8 will be far more expensive, with an expected starting price tag of Rs 2.3 crore (ex-showroom). Thanks to BMW's most powerful twin-turbo V8 engine under the hood, the 625hp M8 Competition is something that will work both as a grand tourer as well as a sports car. While it's not something that'll give a car like the Porsche 911 Turbo a run for its money, especially when it comes to pure driving pleasure, if you want something more practical and almost as quick, the M8 is what you need to be looking at. It's the sort of car you can use everyday, enjoy driving at speed and travel long distances in. It even comes with a four-wheel drive system - good for wet and slimy roads - that you can switch off, making it a two-wheel drive affair.
Both these are a special pair of cars from BMW, and are set to get a unique launch. Stay tuned for more details.
Also see:
2020 BMW 8 Series Gran Coupe review, test drive
Why BMW and Mercedes-Benz were nearly level on sales in Q1 2020
BMW 2 Series Gran Coupe first look video
New BMW i5 image gallery
2095 Views|7 days ago
New BMW 5-series image gallery
5906 Views|7 days ago
2023 BMW XM Label Red image gallery
2690 Views|1 month ago
BMW i7 India video review
6946 Views|21 days ago
Triumph Trident 660 vs BMW M340i drag race video
3330 Views|1 month ago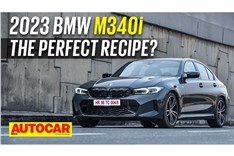 2023 BMW M340i facelift video review
9228 Views|2 months ago