Our tenure with the Polo 1.0 TSI is over. The car will go back soon. Time to go for a short drive, take some pictures, reminisce.
As I exit our office parking, the Volkswagen Polo quickly reminds me why every drive in this car is so eventful, so exciting, so exhilarating. Why even driving this car in relaxed manner delivered such a sensory overload, and how, even 12 years on, it still manages to put a smile on my face. Also, while this may only be a hatchback on the outside, honestly it's so much more. A way for everyday car buyers to tap into Volkswagen's robust engineering and high quality, it is and was a hatch that stood apart.
We hit some traffic, and I take the opportunity to look around the cabin, specifically the dash. Still can't get over the solid build of this car, and more specifically the massive gulf between the Polo and any of its rivals. It just feels solid, hewn from a single block, built to last, and this is reinforced every time you 'THHHUUNNK' the door shut; something that's carried over from the time of the VW Beetle. While rivals age considerably over the span of a year, our Polo feels showroom fresh, everything still tightly screwed together.
Overbuilt by design, engineered to be tough, build quality is superb.
The gunmetal and grey colour scheme does the cabin no favours, it just looks monotone, and initially I didn't quite get it. But over the months, I've made my peace with it, and then where it works is that it provides a clean slate for when you switch on the cabin lights. The alabaster white numerals with red accents, the classy design of the monotone touchscreen, and then there's the military spec (and Audi-like) red lighting in the cabin; done so that the lights inside don't dazzle your eyes.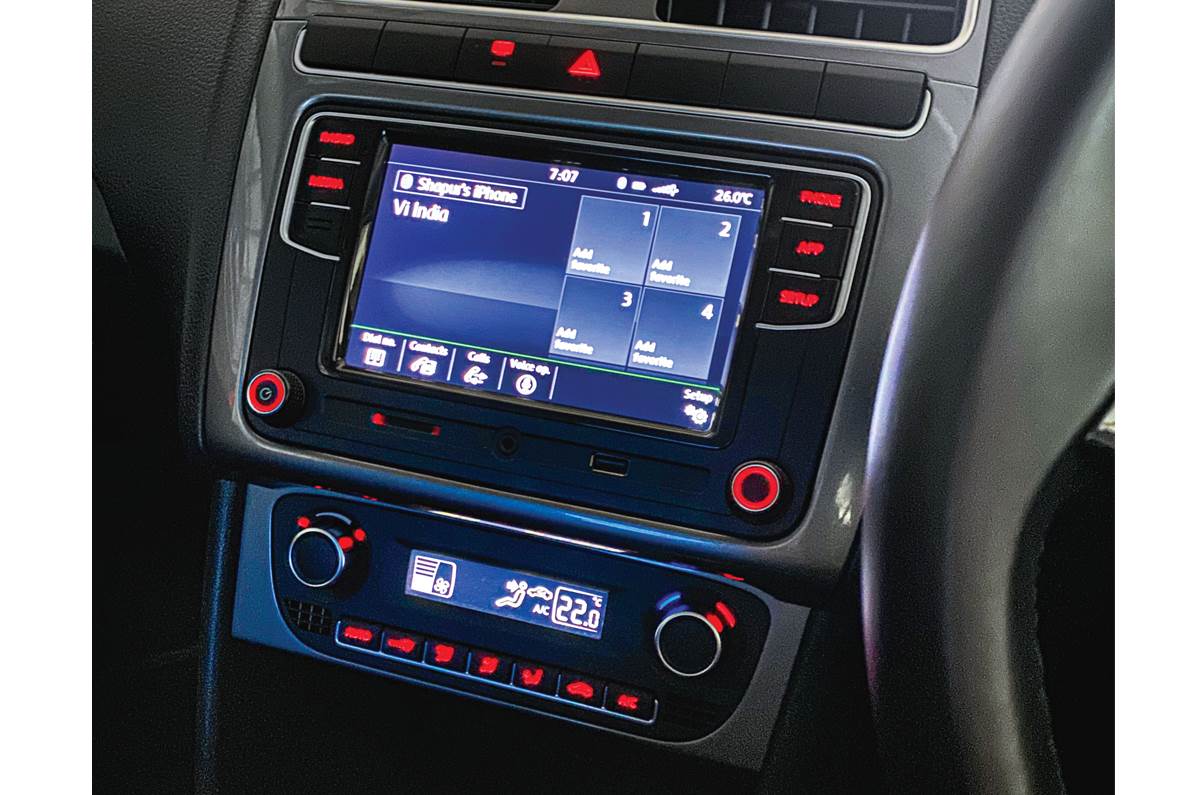 Many features missing due to expensive mechanicals and body shell.
We eventually reach some quiet roads near Mumbai's dockyards, and it's here that I finally get a chance to reacquaint myself with the fantastic 1.0 TSi engine and its punchy performance. The small amount of lag as I put my foot down makes me work a bit for the power, but what I absolutely love soon after is how steeply the power kicks in. Over the months, I've even gotten used to the rorty thrum as you wind the three-cylinder engine and the fact that it isn't as smooth or as well balanced as some rivals. Still, what makes it all fade into insignificance is the endless wave after wave of torque you get when you shift up at around 5,500rpm. Wish the gearbox were a bit slicker though. Not as smooth as the one on the new Taigun, or for that matter many of the competition, it is a gearbox that you need to put a bit of effort into and be accurate and deliberate.
That kick in performance when the boost comes in is delightful.
What gets me smiling next is the weighty and feelsome steering. That extra 'weight' as you turn in feels just great. It isn't a talkative steering in the truest sense of the word and it isn't entirely linear either, but having it weigh up nicely as you tip the Polo into a corner makes such a difference. It was the car you bought if you wanted a connected steering rather than connected tech. And then what I loved about it was that it had plenty of grip, loads of poise and delivered an analogue driving experience free from overly sensitive driver aids. You could just hurl it into a corner and then enjoy sorting it out.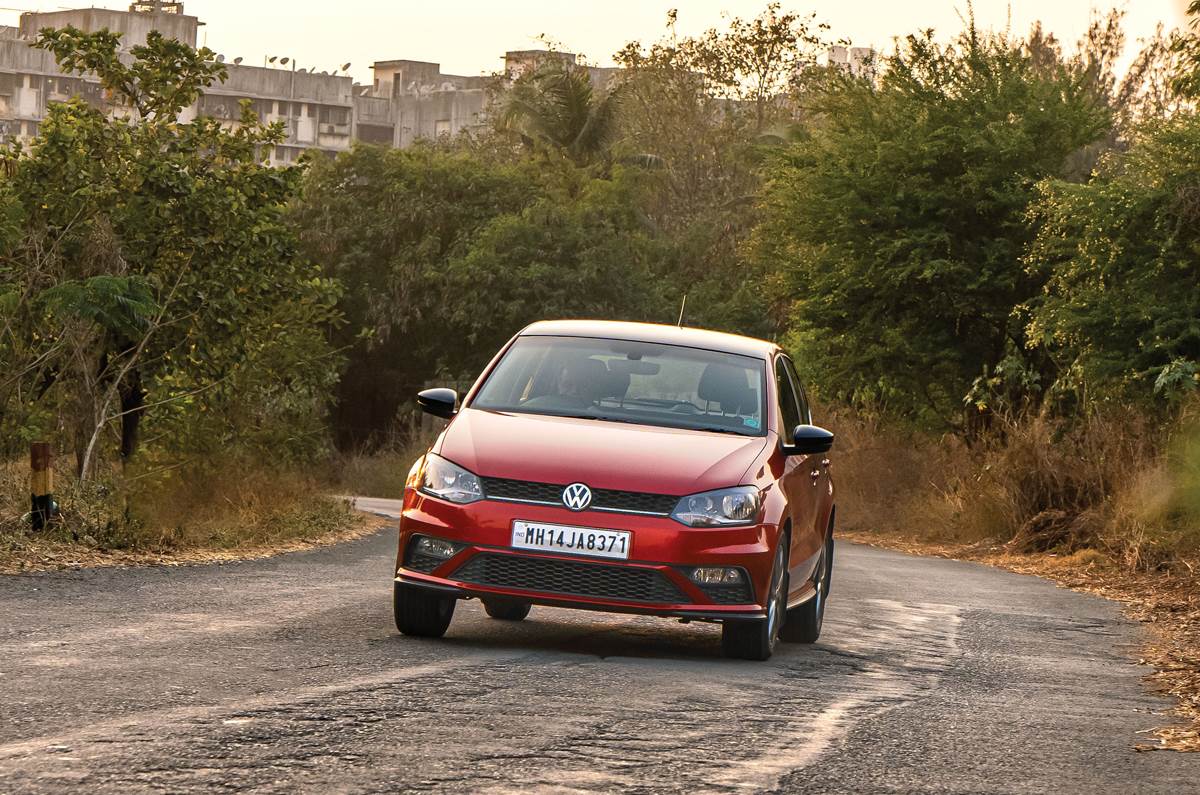 The torquey motor, weighty steering and good grip levels combine to make for an engaging driving experience.
Space in the rear of this European hatch clearly wasn't a strength and the ride is only semi comfortable. Still, it did have a fair amount of boot space. And the fact that you could fold down the rear seat and place large objects in the back made it even more practical. It did also, sort of, have a laundry list of missing features – some important, others not so. The lack of a rear camera made reversing tedious, we're so used to having one now; the driver's seat is only semi-comfortable; and the only secure place to put your phone is in the elbow rest, which itself fouls your elbow when you want to execute some quick shifts.
Space for rear seat passengers, especially legroom, isn't great.
Still, as hot or warmed up hatches go, this was one of the best, a fitting way for VW's Polo to ride into the sunset. Buy one if you still can, especially the manual, the smiles and the thrills come as part of the standard equipment list.
Considering its price, a dual-horn set-up would have been appreciated.
Also See:
Volkswagen Polo 1.0 TSI long term review, third report
Volkswagen Polo 1.0 TSI long term review, second report
Volkswagen Polo 1.0 TSI long term review, first report
Volkswagen Virtus vs Volkswagen Taigun drag race
4805 Views|3 months ago
Hyundai Verna vs Skoda Slavia vs Volkswagen Virtus video ...
18815 Views|4 months ago