10,922km and 7 months later, we bid adieu to our long-term Jetta 1.4 TSI.
On the face of it, the Jetta's 122hp 1.4 TSI engine doesn't make the VW executive sedan the most exciting car in our long-term fleet, but after racking up 10,922km in its tenure with us, it has strangely become a favourite for long drives. I say strange because on the highway, you want as much power as possible to waft past slower traffic but there are other attributes that have made the Jetta a great car for the job.
Its stability is fantastic, the boot is huge and it has an extremely tall sixth gear, which makes it quite relaxing to drive at highway speeds. This was something I had yet to experience, so when the opportunity presented itself, I took it.
The plan was to take it to the family farmhouse in Dahanu, on the Gujarat border, around 200km away, but I wasn't sure how well it would stack up compared to our regular drive, a slightly larger previous-gen Toyota Camry.
Luggage capacity was certainly not an issue and we easily stuffed all our gear in the car's large, 510-litre boot. After packing up and getting ready for the drive, I was a little worried for my grandfather who suffers from lower back pain. Would the long drive in the slightly low-set back seat give him aches and pains? Surprisingly, he settled in comfortably without much complaint and noticed how good the all-round support and bolstering of the seat kept him snug. More compliments from the other passengers about the cabin ambience also flowed in. The ride of the car was much appreciated, especially on the way out of Mumbai, where some of the roads are just terrible. The silent cabin which effectively filtered out road and wind noise made it easy to chat and we settled into a good rhythm once we hit the highway. Whilst the others were discussing world affairs, I was quietly enjoying the Jetta's driving manners. Despite being quite big, the Jetta still felt very nimble. Sure, it isn't really a sporty sedan and doesn't pretend to be one either, but it's great body control gave me lots of confidence to breeze through long sweeping corners at a good clip. The sure-footedness with which it does everything is one of the Jetta's strengths. I've driven this same route a hundred times before, but have yet to experience a sedan that feels as well planted as the Jetta at speed.
I prefer a manual gearshift, especially on the highway and the rifle bolt action of the gear lever actually made me reach for the short throw lever more often than required. And what I came to enjoy even more was the soft and lurch-free clutch; it just makes all the difference. The engine felt a bit overwhelmed at times with five passengers and luggage, and I had to wait for larger gaps when executing overtaking manoeuvres. But that apart, the Jetta felt right at home as a transporter.
You don't need to stop and refuel often. It has a range of about 900 kilometres that reflects a highway average of around 16.5kpl, which is pretty good for a large petrol sedan.
All things considered, the Jetta really does deliver the full European car experience, and that, at a price of Rs 16.72 lakh (ex-showroom, Mumbai), is not too overpriced.
What we did miss on the Jetta over the time it spent with us though were some of the more upmarket features. The dashboard feels well built, but is boring to look at, there's no touchscreen infotainment system. The manual adjustment for the seats makes it feel cut-price too. Still, if you are looking to be predominantly chauffeured around and don't mind a slight lack of features against great value and tough build, the Jetta 1.4 TSI makes for a great companion.
Rayomand Buhariwalla
Volkswagen ID Xtreme concept image gallery
2484 Views|2 months ago
2022 Volkswagen Virtus image gallery
24018 Views|8 months ago
2019 Volkswagen Virtus image gallery
48098 Views|3 years ago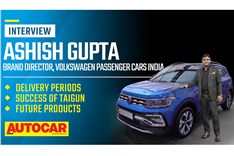 VW's Ashish Gupta on success of the Taigun, brand's futur...
2233 Views|1 month ago
VW Taigun, Skoda Kushaq crash test video
5510 Views|1 month ago
2022 Volkswagen Virtus 1.0 TSI MT video review
7746 Views|4 months ago