The 'tough guy' of the Autocar India fleet, the Kicks always felt like more of an SUV than any of its competitors.
With all the buzz surrounding SUVs in India (and across the world) at the moment, there are a lot of ordinary everyday cars that are re-dressed and marketed as SUVs. You've got compact SUVs, sub-compact SUVs, heck, you even have urban SUVs! How paradoxical is that! We part ways with our long-term Nissan Kicks after many months of faithful service, and this midsize SUV has done quite a lot more to live up to that tag than some other cars that wear it. Sure, it doesn't have four-wheel drive or even a diesel engine option, but the robustness you feel from behind the wheel and the take-anything-in-its-stride ride quality have earned it a lot of SUV brownie points.
SMOOTH RIDER: Excellent ride quality flattens out the worst of our roads.
At low city speeds, you do feel an edge of firmness from the suspension, but it's certainly not jarring enough to tire you out on your daily commute. And once you up the pace, the set-up really comes into its own, superbly flattening out Mumbai roads that could easily have been used to fake the moon landing. Not having to slow down too much for the rough stuff affords you the luxury to simply drive around the sedans and 'urban SUVs' of the world that are painstakingly protecting their bellies, going 3kph. And isn't that one of the joys of a genuine SUV?
Further helping that cause is the fact that the Kicks feels like a rather tall car. Indeed, it packs in more ground clearance and stands taller than something like a Hyundai Creta, and this puts you in quite a commanding driving position, confident that you can take on almost anything. Our shoots often see us venture quite far off the beaten track, and the Kicks has taken it all in its stride, never really complaining about being out of place.
IT KICKS!: Turbo-petrol engine can really haul when you need it to.
Of course, like a pukka SUV, you also feel quite a lot of kickback through the steering wheel when hitting mid-corner bumps at speed, and the wheel isn't exactly what you'd call feelsome, but hey, it's all part of the experience. And speaking of speed, the 1.3-litre turbo-petrol engine has done a pretty great job of it. Especially when mated to a CVT, as it has been in our long termer. Floor the throttle and the car responds surprisingly promptly, darting forwards with an urgency that belies its heft. But then, with 156hp and 254Nm on tap, it's one of the strongest powertrains in its class, so it shouldn't come as a surprise.
As intoxicating as this rush may be, with our current fuel prices, you refrain from doing this too often. Because when driven hard, this car can really guzzle its gas. If you've got a heavy right foot, you better make sure you've got an equally heavy wallet, because put that foot down and you'll struggle to keep the fuel economy in double digits! The magnified fuel gauge only makes things worse, allowing you to see every minute drop in fuel level. And at 50 litres, it's not like the fuel tank is tiny. This tremendous thirst is probably why despite all its likeable features, the Kicks is probably the most seldom-used camera tracking car on our shoots.
THE THIRST IS REAL: Fuel economy can really drop when you're driving hard.
On the occasions when it has been used, it has proved to be a hardy companion on what can quite often be a rather arduous day at the office. It may not pack in a third row of seats, but there's ample room on offer for five, and the swiftness with which the air-con cools the cabin has been greatly appreciated on hot shoot days. It isn't just the occupants either, there's loads of room in the boot as well, which our camerapersons have made full use of, stocking it full of their equipment.
But while it does rank highly on space, there's no getting around the fact that the cabin is missing a feeling of premiumness. Hard plastics cover most of the dashboard and door panels, and while they have proven to be fairly hard-wearing, they don't exactly scream luxury. Neither does the fairly basic instrument console. I'm also not a fan of the stalk-style steering column-mounted infotainment controls, and would have preferred conventional buttons on the steering wheel. Other touch points like the power window switches and air vents also feel fairly average, and this built-to-a-cost perception becomes an issue when you consider that the Kicks is swimming in almost the same waters as cars like the very feature-rich Hyundai Creta and the rather well-built Skoda Kushaq.
INNER SECRETS: Cabin feels built to a cost, lots of hard plastics used.
All in all, the Kicks has come across as a sturdy and robust car with a strong powertrain and many SUV-like qualities, and this is certainly one of the more underappreciated offerings in the midsize SUV market.
Also see:
Nissan Kicks Turbo CVT long term review, second report
2021 Nissan Kicks Turbo long term review, first report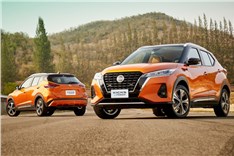 2020 Nissan Kicks e-Power image gallery
8282 Views|3 years ago
2019 Nissan Kicks India image gallery
31367 Views|4 years ago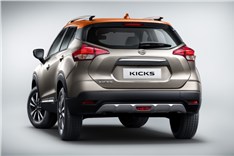 2019 Nissan Kicks image gallery
38349 Views|4 years ago