Back from an extended stay in Goa, the Creta is still happy as a clam in the city, unlike its temporary owner.
Having grown really fond of the Creta over a COVID-extended trip to Goa and loving the 'work-from-Goa home' setup, I wasn't at all enthused with having to deal with the madness of city traffic and polluted air again. So, I decided to hold on to the Creta's key a little bit longer.
For one thing, the car's in-built air purifier would certainly be handy in Mumbai. Some very unscientific tests in Goa – lowering the windows for a minute while driving – showed that it worked!
WASTED SPACE: With a phone on the wireless charger you can't really make use of the large space above.
The air quality index (AQI) reading would jump to about 150 to 200 and then over a couple of minutes with the windows closed, would drop to low single digits. Incidentally when I do this in Mumbai the reading shoots to 300, sigh!
But the biggest reason for holding onto it is the powertrain. The diesel-manual combination is incredibly fuel efficient and if you've read our reviews, you'll know we really like this engine's power, refinement and efficiency, which is pretty much class leading. And so with a thrice a week office commute that exceeds 100kms each day (Dahisar to Byculla via Ghorbunder road), efficiency is exactly what I need.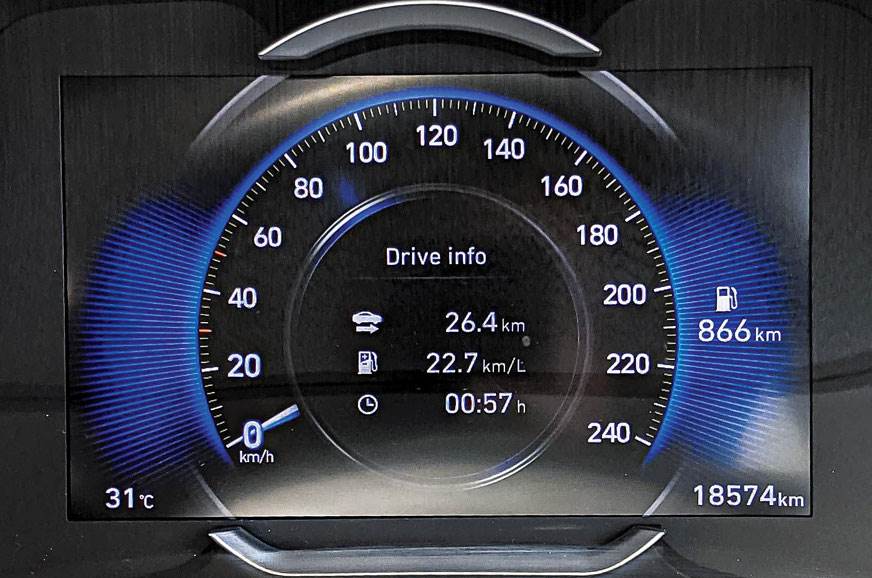 EASY SIPPER: With low to even moderate traffic, highway mileage figures in-city are impressive.
On our trip to Goa and back we easily managed a figure of around 22kpl and what's an absolute delight is the fact that my office commute also sees the same figure. Choosing slightly off-peak hours and the earlier mentioned longer but largely freeway route, I still get close to 20kpl, even with moderate traffic it never dips below 15kpl. The manual gearbox really makes a big contribution here.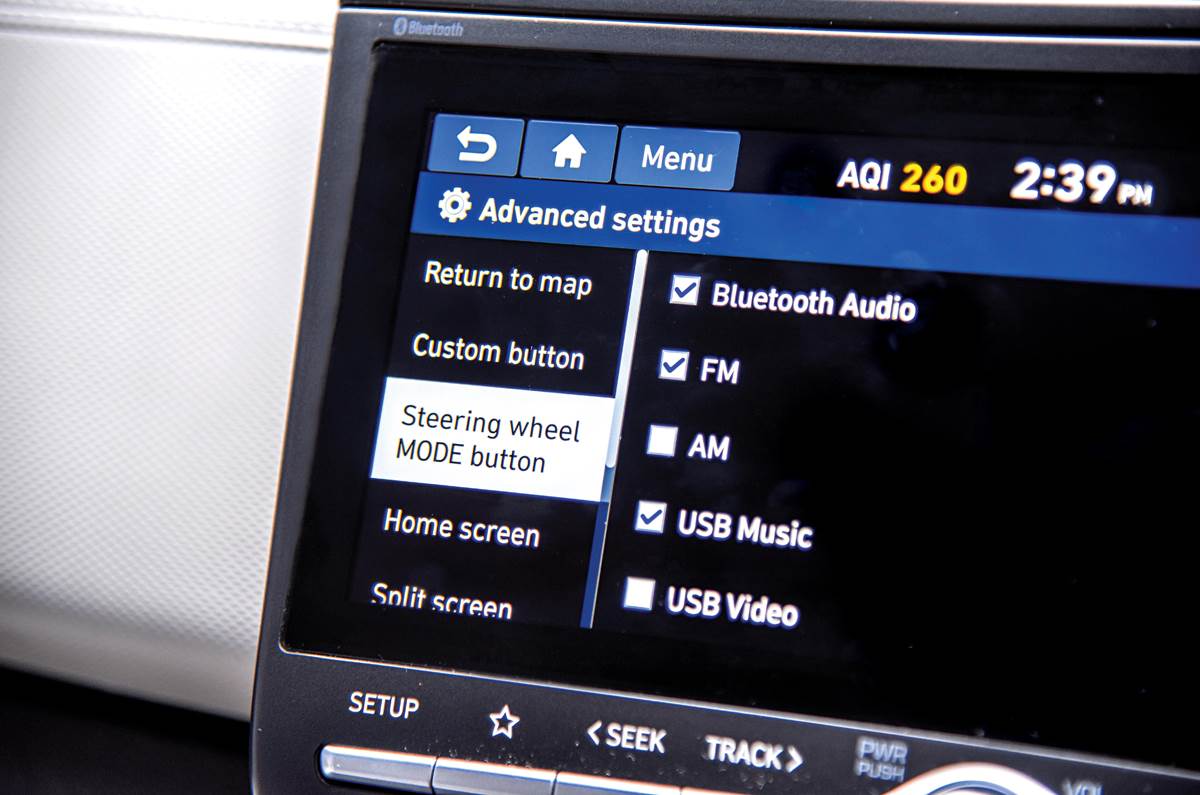 YOUR WAY: The steering wheel 'mode' button can cycle between functions that you can select.
I would have liked an autobox for sure, but working my left leg is saving me a few more rupees. Besides the city runs, I've also managed a few out-of-town drives to enjoy the monsoons and the broken roads to really punish the Creta. It does well in terms of cushioning you, but we noticed an odd thing with the parcel tray. With all the jostling around, stuff on the parcel tray can move and fall through the large gap between the seats and the tray. We've had umbrellas, magazines and even the tissue box disappear through that gap.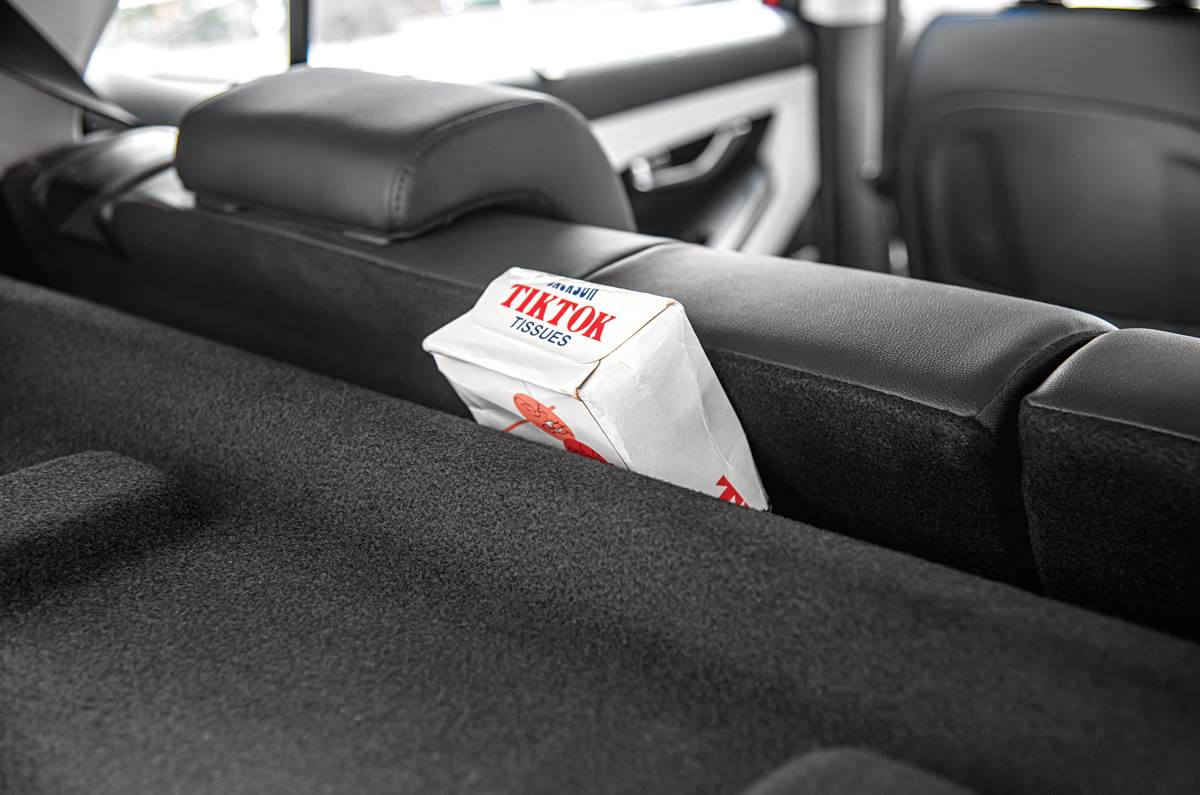 MIND THE GAP: The gap between the seats and parcel tray is large and stuff moves around and falls through.
That aside though, there's virtually nothing to fault with the Creta, it has been a real delight. It's also proved itself useful on the soccer run, where after our son's practice sessions it's easy to wipe the seats clean. The upholstery is light and shows stains easily, but it also wipes clean with a damp cloth.
So as things stand, I can't see myself wanting to switch to another car just yet. Although there is another diesel SUV that has caught my attention and it's also an auto.
Also See:
2021 Hyundai Creta long term review, first report
Maruti Suzuki Grand Vitara vs Hyundai Creta vs Kia Selto...
27068 Views|4 months ago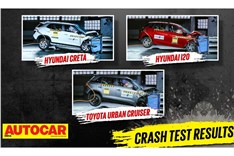 Hyundai Creta, i20 & Toyota Urban Cruiser Global NCAP cra...
10802 Views|11 months ago