Despite being roomy enough for passengers and luggage, the Amaze is compact enough to fit just about anywhere.
Honda's plucky little saloon joined our long-term fleet not too long ago and, to be honest, at first it was a little out of place. When the priority was a short blast through Mumbai's agonising traffic, we'd hop into one of the smaller hatchbacks. If we had to leave the city for a shoot in the hills, it would usually be one of the bigger, more powerful saloons. As a result, the poor little Amaze got left out of a lot of the fun. But I've been driving it recently, and I realise now how wrong we were.
We gave it a nine-star rating when we road-tested it back in May 2013, and it impressed us with everything from its linear and powerful diesel engine to its amazing boot and interior space. Now so far, most of our time driving this car has been within the city, but its core strengths still shine in these conditions.
BIG BOOT: It is impressive that Honda has managed to carve 400 litres of space out of such a small car.
For instance, if you had to pick up a family of three and their luggage from the airport after a long international trip using a compact car, you'd probably be thinking about hiring a cab as well, just for the luggage. Heaven knows it's what I was thinking just the other week, but as it turns out, I didn't need to. It was a bit of a squeeze, but the 400-litre boot devoured all the luggage, with only a small soft satchel having to make its way to the rear seat.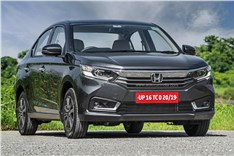 2021 Honda Amaze facelift image gallery
6250 Views|11 months ago
New Honda Amaze image gallery
90189 Views|4 years ago
2021 Honda Amaze facelift video review
12435 Views|11 months ago
2018 Amaze vs Dzire vs Ameo comparison video
27440 Views|4 years ago