After it entered our long-term fleet, we discovered Citroën's maiden model for India is not your regular SUV.
After living with the Citroën C5 Aircross for over a month, I can't understand why only 50-60 of them sell every month. Sure, it is expensive for what you get, and that's reason enough for the majority to look at other options, but there's also a lot to like about Citroën's maiden model for India, which is reason enough for more than 50-60 people to justify paying close to Rs 40 lakh (on road) for what is a one-of-a-kind SUV. And it's the uniqueness, the fact that it is different from anything else out there, and that it has broken the mould in terms of design and purpose, that is the C5 Aircross' biggest draw. Refreshingly different, yes, but is it refreshingly better? For one, it's good to have a strong, torquey diesel engine under the hood in an age when other European brands have abandoned diesel for turbo petrols. The engine is also a lesson in French diesel technology, which I have felt has an edge over what the Germans gave us, and I don't mean Dieselgate! The Renault K9K diesel still remains the best 1.5 diesel we've had, and I dare say, this 2.0-litre diesel in the C5 Aircross is a new benchmark.
ADVANTAGE DIESEL: 2.0 diesel is smooth, punchy and pretty fuel efficient too.
Mated to a smooth shifting 8-speed torque converter gearbox, the torquey diesel, which has good low down oomph, makes city driving a breeze. My home to office run is just 7km, but it takes a good half an hour, and sometimes more, as traffic has gone haywire with lockdown restrictions gone and people preferring private cars to other forms of transport to get about. It's in this dense, stop-and-go traffic that you realise the value of a torque converter and a diesel with good low end torque. The step off is smooth, there are no jerks like you get with a twin-clutch unit and inching forward in bumper-to-bumper traffic is seamless.
RIDE STUFF: Suspension filters out bad roads remarkably well.
The C5 Aircross emerged as a better city SUV than I expected it to be. An easy and predictable power delivery that doesn't leave you second guessing like a hesitant gearbox or sluggish engine would, is one thing. Threading through traffic is another and again, here's where the high seating position and good all-round visibility makes a big difference. And then there's the ride. But before I go further, let me begin with a rider (pun intended!) – the much vaunted Citroën doesn't quite have the hyped up magic carpet ride (I'll give that billing to the Maybach S-Class I just drove) and you do get a slight jolt when you hit a rut or broken paver blocks (lots of them in Mumbai) and ruts. But apart from very sharp edges, the C5's ride quality is in a different league and no other SUV within a mile comes close to offering the same cosseting ride. On the highway, it's even better, because the softly sprung suspension, which does a great job of cushioning you from bad roads, doesn't sacrifice body control at speed, and other than a slightly floaty feel on long wave undulations, the C5 feels rock solid.
Any long termer that enters our fleet opens its account with a ritualistic drive to Mahabaleshwar, and sure enough, the C5 Aircross was packed and loaded for a weekend in the hills. The boot is reasonably spacious and swallowed a weekend's worth of luggage and lots more, without the need to remove the parcel shelf or drop the seats.
C5's spacious boot easily accommodates a weekend's worth of luggage.
What the Mahabaleshwar drive revealed more than anything is how genuinely comfortable the C5 Aircross is. Yes, the long-travel suspension filters out bumps and potholes, but it's the driver's seat that contributes significantly to comfort. The foam density of the seat, which is not too hard and not too soft, is simply spot on. After five hours behind the wheel, I emerged with not a twinge or hint of stiffness. Having lived with lower back injuries for the past 30 years, I am acutely sensitive to how good or bad a seat is. Full marks to the C5 Aircross in this regard.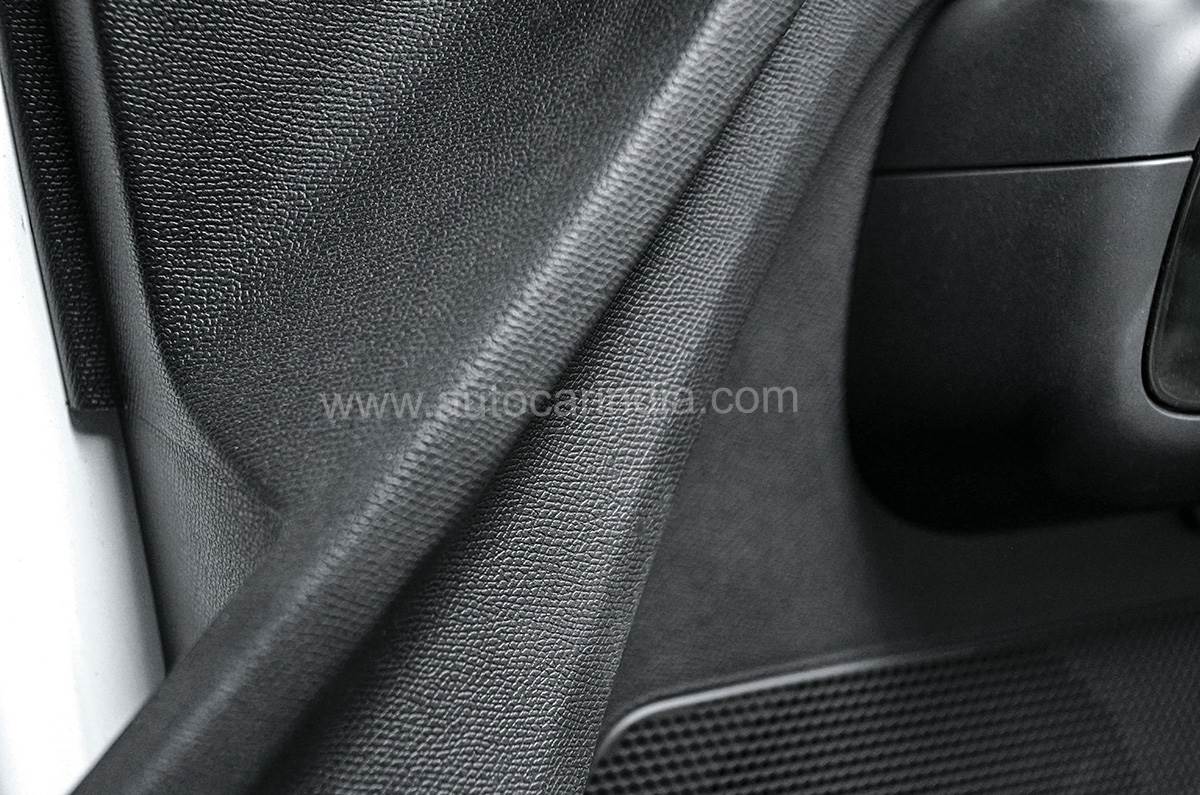 SHADE OF GREY: Dull cabin and the plastics aren't befitting of a Rs 40 lakh car.
In fact, the seats are plusher than they look. The seat fabrics don't look like they belong in such an expensive car and after just having just driven the superbly appointed Kia Carens, which is half the price, you can't help but feel that Citroën hasn't bothered with basic niceties in the cabin. The plastics aren't great, the grey cabin is a bit dour and the infotainment system just doesn't belong in a 2022 car. The small screen picks up reflections, the graphics are outdated and it's not very intuitive to use. The two-step operation for the air-con (something you tend to keep adjusting) makes you take your eye off the road.
OUT OF TOUCH: Touchscreen feels dated, picks up reflections and isn't intuitive to use.
Fuel efficiency is pretty decent for a 2.0-litre diesel and certainly a lot better than the turbo-petrol SUVs that struggle to deliver double-digit figures. No such problems for the C5, an overall figure of 11.4kpl, which included a mix of highway cruising, charging up the ghat to Mahabaleshwar and city runs, is quite acceptable.
Now that the C5 has settled into our garage, we'll start discovering its typically French quirks for our next report.
2022 Citroen C5 Aircross facelift image gallery
14392 Views|1 year ago
India-spec Citroen C5 Aircross image gallery
43194 Views|2 years ago
Citroen C5 Aircross image gallery
20055 Views|4 years ago
2022 Citroen C5 Aircross facelift video review
16542 Views|1 year ago
Roland Bouchara talks about Citroen's India entry, dealer...
9306 Views|2 years ago
Citroen C5 Aircross India video review
47966 Views|2 years ago