All-electric Audi SUV is quietly making its mark; 'quietly' being the operative word.
Say hello to the Audi e-tron, the latest addition to the Autocar India long term fleet. Being an all-electric car, it's big on novelty value and there's genuine curiosity in our ranks on what it'll be like living with the strong and silent Audi. It's been Hormazd's daily driver for the bulk of its time with us so far, but participation in an EV rally in Pune was a reason as good as any for me to snag the keys for a few days.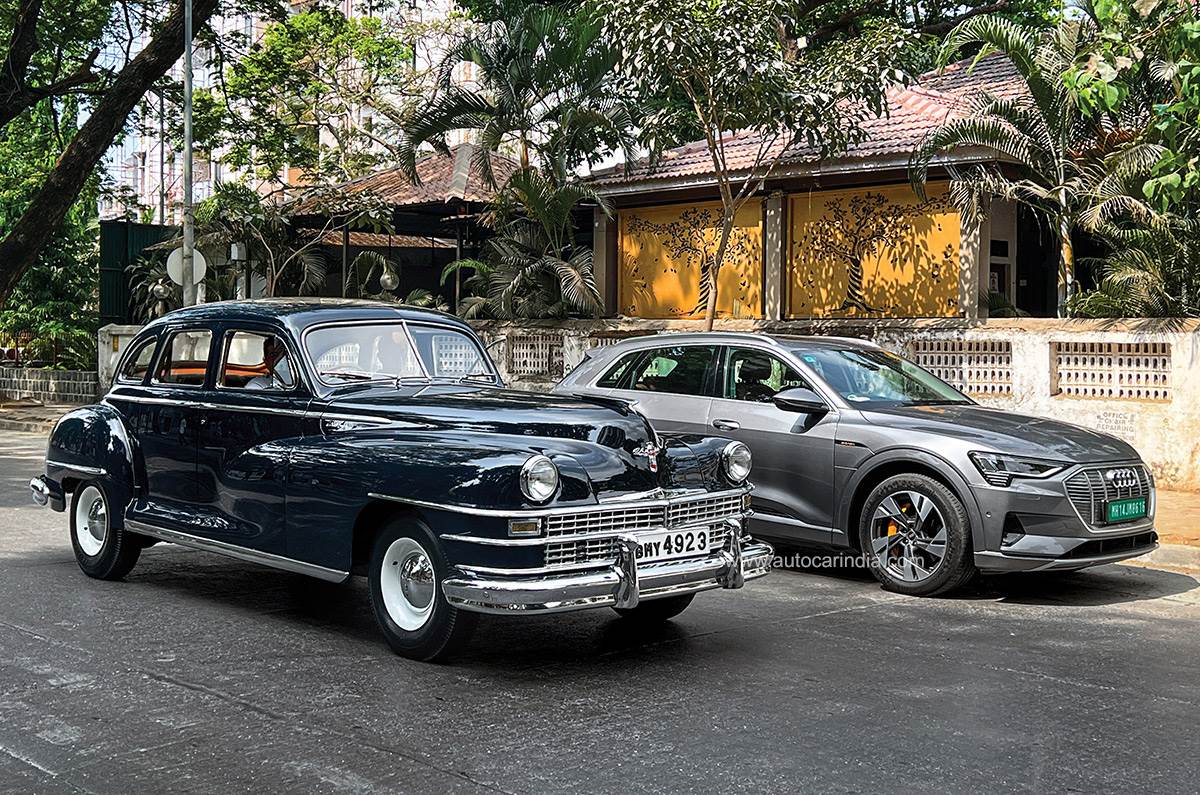 e-tron's colourful calendar included playing support vehicle at a vintage car event.
Suffice to say, the drive was my quietest and most relaxing ever to Pune. With just a distant whirr from the electric motors and superb all-round noise insulation, the e-tron just cocoons you from the world outside. In fact, so refreshing was the level of calm, I didn't even play music! The plush ride only added to the sense of tranquility.
There was no reason for concern, or, ahem, anxiety, on range either. The car wasn't 'topped up' at the start, but with the 95kWh battery at 80 percent and an indicated 276km of range for the 160km journey, there was enough to safely go the distance. Flowing traffic out of Mumbai and an 80-100kph cruise on the expressway in Efficiency mode yielded a best displayed economy of 5.2km/kWh over the first 70km of the journey, which works out to a theoretical 450km or so on a full charge.
HIDDEN DATA: Crucial EV data like battery charge level is not the easiest to refer to.
However, it helped to be mentally prepared for the dramatic drop in range over the climb to Lonavala. Displayed range plummeted by 66km over the 15km ghat! Big and heavy EVs (the e-tron weighs a portly 2.5 tonnes) sure don't like fighting gravity. The gradual descent that followed helped make the most of the regen braking and by the time I rolled into the hotel at Pune, the Audi still had a range of 159km with 40 percent charge left. That's 117km of indicated range used up for a 160km journey, which is pretty damn good. Talking numbers, I do wish the EV data was presented on the dials in a friendlier manner. The battery charge indicator, for instance, is tiny.
LIGHT 'EM UP: Matrix LED headlamps provide brilliant illumination. Light projections very cool too.
Of the other takeaways from the drive, I'd give the Audi's Matrix LED headlights full marks. They beam a carpet of light ahead of the car with very precise coverage and also put up a light show with slick projections on locking/unlocking... it's quite the party trick. I do wish the horn was easier to toot though. You need to put quite a bit of pressure on the steering boss; not ideal when you're moving through a swarm of Pune's kamikaze bikers.
EV, EV everywhere... our e-tron was one among over 400 electric vehicles at the Pune EV Rally.
The EV Rally held the next day, as part of the Alternate Fuel Conclave, made for a fun outing. Said to be India's largest EV rally, the event saw participation from over 400 electric vehicles across genres of two-, three- and four-wheelers, buses, and also included some quirky EV conversions like an all-electric Fiat 1100. The 28km route had us drive past some of Pune's famous landmarks and roads, and the overwhelming feeling among the proud participants was of being first movers amidst a transformational change in the automotive sphere.
HORN (NOT) OK PLEASE: Horn on steering boss needs a very firm press. Should be easier.
Sadly, my conviction towards EVs got a rude reality check when it was time to charge the car later in the day after a bit more driving around town. The Tata Power EV fast charger at Agarkar Nagar just didn't register the e-tron (or the Tata Tigor EV that attempted a charge after me). I decided to head to the MG showroom on East Street only to learn that not all MG showrooms have EV chargers. I was advised to try the Tata Power EV fast charger at Amanora Mall the next morning, but much to my disappointment it didn't work.
Now with only double digits of range left, the only failsafe option I was left with was to head across town to the Audi Pune showroom (thankfully on the highway to Mumbai itself) and use the AC charger there. The team at the showroom were very hospitable, but I'd rather have not been put into the position of having to wait over three hours to charge my car. You could argue that I should have planned my movement and stops better, but then malfunctioning chargers aren't part of the script either.
EASY CHARGE: 7.4kW AC charger installed at office takes care of most of our charging needs.
Back in Mumbai, we're making the most of the 7.4kW AC charger that Audi had very kindly installed at our office last year when the e-tron first came for a test. The charger comes complimentary with the e-tron and buyers can have it set up at a location of their choice. Our e-tron supports 11kW AC charging, which works out to just over eight hours for a full charge. The e-tron can also be optioned with 7.4kW AC charging, which halves that time. Within city limits, we've not needed to plug the e-tron in elsewhere (save at a Tata Power outlet to confirm compatibility; no problem, thankfully) and it really is convenient to have your charger at home or office. Plugging in is easy and it sure beats visiting a petrol pump and shelling out thousands on fuel. On the subject, a 0-100 percent charge at office would cost about
Rs 750. For a range of 300+km, that's an absolute steal. There's more we'll be uncovering over the e-tron's time with us. For now, peace out. Literally.
Also read:
Audi e-tron 55 quattro India review, test drive
Audi e-tron 55 quattro India video review