The popular family car in our fleet attends India's biggest motorcycle event.
Behind every photograph of the motorcycles you see in the 'Autocar Two' section are some of the company's most hard-working camera cars. They don't just act as rigs for our photographers, but are also responsible for ferrying equipment and entire teams. When the time came to plan our massive shoot for India Bike Week 2019, our usual camera cars were out getting serviced. This meant we had to find a car that could accommodate at least five passengers, all their luggage, and loads of camera gear. It would also have to offer ride quality that is good enough to get crisp photos out of and be decently fuel-efficient; all while keeping us comfortable enough for the long journey.
550L of space with the third-row folded - that's plenty for ACI motorcyclists!
The only car capable of doing this (and a lot more; something I found out later) at the time was the Maruti Suzuki Ertiga – Autocar India's 2019 Car of the Year. It was my first time driving the MPV and I got to know it intimately on this trip.
We made our way out at 4am, and I was already on my third cup of coffee. We had a long day ahead of us, and with enough caffeine in my system and the Ertiga fuelled up, I was ready to keep up with the Harley-Davidsons my colleagues were riding.
Coming Through: When revved, the engine is quite audible in the cabin.
To say I was pushing the 1,462cc, K15 petrol engine would be an understatement, but do this and you'll easily hear the engine inside; it gets extremely audible beyond 3,500rpm and sounds coarse. The issue here is the short fifth gear, which keeps the engine spinning at higher-than-usual RPM.
As the day progressed, I began to notice a few more things about the Ertiga. First was just how much more premium it looked on the inside! This version felt and looked twice the price of the earlier one. The faux woodgrain doesn't look tacky, and while the mixed finishes on the dashboard may seem like too much at first, it does grow on you rather quickly. Speaking of the dashboard, I really like how neatly the controls and instrumentation have been laid out. It's in your field of vision for hours on end and that's something you'll really appreciate on a long road trip.
The seats also proved to be really comfortable and the front row offered a good amount of support too. What wasn't great, though, was the colour and texture of the seat fabric. The light beige colour stains easily; in fact, we ended up doing that in just the first couple of hours. Bikers! And that's not surprising, considering the colour, but the fabric doesn't allow for a quick clean either. MPVs are family mobiles and their seats are expected to take the brunt of kids' muddy shoes, food spills and a lot more. I recommend getting darker seat covers at some point.
'BASS'IC Needs: Speakers can't cope with as much bass as we would have liked.
Another change I'd recommend is to upgrade the speakers. The ones on the Ertiga began to distort quite easily when it comes to songs with even a little bass. I've come across more competent speakers on cars that cost half the price. All this might make it seem like I wasn't enjoying my drive, but let me tell you, if minor things like the fabric and speakers were the only problems I found after having spent 14 continuous hours in the Ertiga, it sure is an outstanding vehicle.
Yes, the Ertiga's ride has an underlying firmness but it performs exceptionally well. It rounds off bumps and bad roads competently, and body shocks hardly filter into the cabin. Even at speed, there's a planted feel, and vertical movement is barely noticeable, making it more comfortable while cruising on the highway. What we also liked is how the steering is adequately weighted and remains predictable.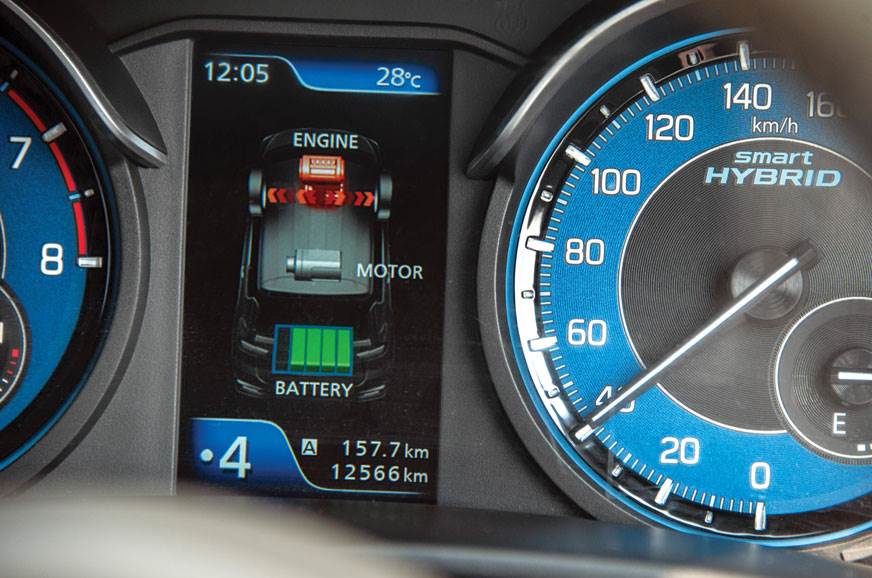 Geared Up: Tractable drivetrain allows for 40kph in 4th gear.
On my way back from IBW 2019, I decided to drive the Ertiga how it was designed to be driven – unhurriedly. This was when I really began to understand it and came to realise that I was downshifting unnecessarily at times. The MPV would cruise and build speed comfortably in higher gears from even 40kph. The tractable drivetrain will let you slow down for a speed breaker in the third gear and build speed after, without downshifting. I began appreciating just how easy the Ertiga was to drive, and made my way back cruising to Mumbai; this also helped with fuel consumption.
The Ertiga returned a respectable 14.5kpl on the way back, as opposed to 9.4kpl on my way to Goa – although much of that is down to us trying to keep pace with the bikes!
At the end of the day, the Maruti Ertiga proved once again why it's the award-winning MPV it is. It took on almost everything we threw at it and then some. It did everything so well, we wish it could join Autocar India's fleet permanently.
Also see:
2019 Maruti Suzuki Ertiga long term review, third report
2019 Maruti Suzuki Ertiga long term review, second report
2019 Maruti Suzuki Ertiga long term review, first report
Suzuki Ertiga Sport image gallery
92491 Views|3 years ago
2018 Maruti Suzuki Ertiga image gallery
41512 Views|4 years ago
2018 Suzuki Ertiga image gallery
112850 Views|4 years ago